Reflections of Racism
by Erikah Abdu
Erikah Abdu is an MLT MBA Professional Development Fellow pursuing her MBA at The University of Texas at Austin – McCombs School of Business. She writes about a powerful video, in which she has collected the stories of other Black MBA candidates discussing their experiences with racism.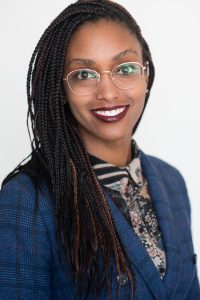 By now, most have seen the video of George Floyd's murder. Some of us could not bear to watch for the entire eight minutes and forty-six seconds as a police officer pressed his knee into Floyd's neck— taking him from the land of the living. This encounter has shaken many to the core. It is especially traumatic to the Black community that has continually witnessed our men and women being murdered, with little or no recourse.
As classmates reached out to console and discuss the countless Black men and women who have been killed, including Ahmaud Arbery and Breonna Taylor; we learned of yet another victim, Elijah McClain. These conversations were all welcomed, but one was troublesome. A fellow MBA candidate described interactions riddled with stereotypes — many so rooted in ignorance, they aren't worth mentioning. This conversation sparked the idea to collect the raw and painful stories in My Black Experience: 1st Time Series by MBAs. This video is a lens into the lives of Black people who are too often accosted, attacked, interrogated, demeaned, and murdered.
I reached out to friends at McCombs, Darden, Fuqua, Ross, Wharton, Goizueta, and Booth — many of whom I met through Management Leadership for Tomorrow's (MLT) Professional Development program. I asked if they would be willing to record a video as they relayed the first time they recall experiencing racism. I used the following prompt:
Some in society believe that the issues of police brutality and over-policing are isolated to individuals engaged in criminal activity and in neighborhoods they associate with criminal behavior. I hope this video allows people to see that our blackness evokes feelings that we cannot control and experiences that we do not deserve at every walk of life.
My fellow Black MBA candidates wanted classmates to understand our realities, and the response to the prompt was tremendous. I was not equipped to professionally edit the video, but reached out to Bred Hampton, a videographer who shares amazing photos and videos on his Instagram feed. I sent Hampton an email, explaining that I did not have a budget, and detailing the vision and objective of the video. He responded, "Let's do it!"
I watched each video as it was submitted, and it became increasingly clear why this video was necessary. Tyrone Smith's description of being interrogated by police when he was just eight years old brought tears to my eyes. I cringed with empathetic despair as Sarah Getachew recalled the indignity of being falsely accused of shoplifting and searched before being allowed to leave a store. Unfortunately, these stories are all too familiar, and constant reminders of what it means to be Black in America. I wanted to shine a light on these experiences, which are both extraordinarily traumatizing and remarkably commonplace. I hope the My Black Experience: 1st Time Series by MBAs opens eyes to the pervasive and insidious nature of racism in this country.
George Floyd's death was nothing short of horrific. As his daughter stated, however, there is power in the movement it sparked. We are Black MBAs, interning and working at top firms. We number just 12, but there are thousands more. In the video Rotimi Ogunbiyi submitted, he states there is something in the air. He says it really feels like a change is coming. We are ready. We will continue to share our stories, our time, and our resources in a concerted push toward real and lasting progress for our people. The time is now.
MBAs in order of appearance: Tyrone Smith, Alysha McFall, Anthony DePina, Erikah Abdu, Chis Anen, Sarah Getachew, Maurice Watkins, Fred Clark, Kristen Little, Nolan Melson, Briana Jones, Rotimi Ogunbiyi