Is Company Location a Deal Breaker for MBAs?
by Chad Murphy
One of the most significant factors that people consider when choosing a job is where that job is located. Your career trajectory can depend on it. Being in Silicon Valley offers a higher trajectory for those in tech jobs, New York is advantageous for those interested in finance, and Washington, D.C. is ripe with opportunities in politics. For people of color, the decision about where to be located can be more complex, as there may be additional considerations with respect to racial diversity and community. To learn more about this important topic, Management Leadership for Tomorrow (MLT) asked current MBA Prep Fellows — program participants preparing for their MBAs — to tell us whether location is important to them, and, for those who do think it's important, what they are looking for.
83.2 percent said that location was an important factor. Clearly, location matters and companies in desirable locations have an advantage in recruiting Fellows.
The first question asked was "Is location important for you when choosing a company?" This was an easy one for respondents. 83.2 percent said that location was an important factor. Clearly, location matters and companies in desirable locations have an advantage in recruiting Fellows.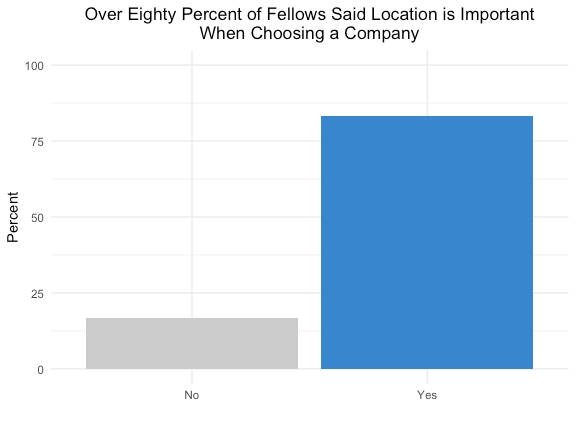 The next question asked those who said "yes" to the previous question how important location is to them on a scale ranging from "somewhat unimportant" to "very important." Most respondents (61 percent) answered that location was "somewhat important", and another 34 percent said it was "very important" to them. While location is clearly important to most Fellows, it doesn't reach the highest level of importance for the majority of them.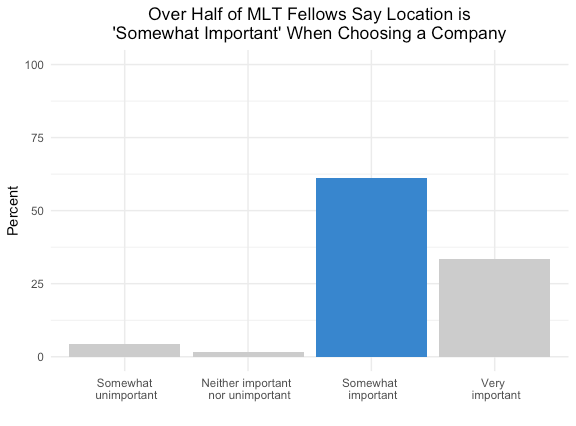 Finally, participants were asked to rank the importance of the following factors when choosing a company: proximity to your industry's major center (e.g. New York City for finance, etc.); living close to people who look like me; affordability; proximity to family; and amenities (nightlife, diverse food options, etc.). On a scale of 1-5, with 5 being the most important, amenities ranked as the most important aspect of location to Fellows. Scoring an average of 4.1 out of 5, amenities — having things to do, good food, and a vibrant nightlife — are clearly important to MLT Fellows. The lowest priority was affordability, rating a 3.4 out of 5. This is unsurprising, given the high-trajectory career paths MLT Fellows typically pursue, and the negative correlation between affordability and other aspects of location they want.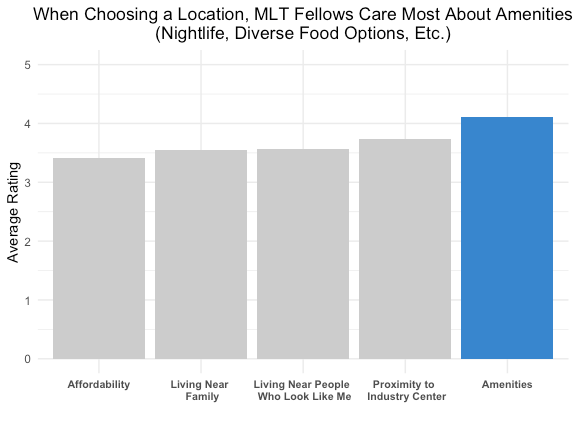 Location matters for MLT Fellows, and it's an important factor when choosing where to work. While proximity to the industry center was the second most desired aspect, there is good news for employers not located in typical industry centers. MLT Fellows find places with good amenities most desirable, so showcasing proximity to restaurants and nightlife may be a better strategy than highlighting affordable housing for companies seeking to recruit underrepresented minorities.
---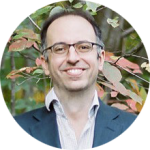 Chad Murphy is the Director of Analytics at MLT. He was a Professor of Political Science for ten years before moving into the educational non-profit arena in 2019. He holds a BA in Political Science from Baldwin Wallace University, and an MA and Ph.D. in Political Science with a focus on political behavior and quantitative methodology from the University of California, Riverside. Chad grew up in Cleveland, Ohio. Click here to contact Chad.