"Humble, Hungry, and Smart" at Chick-fil-A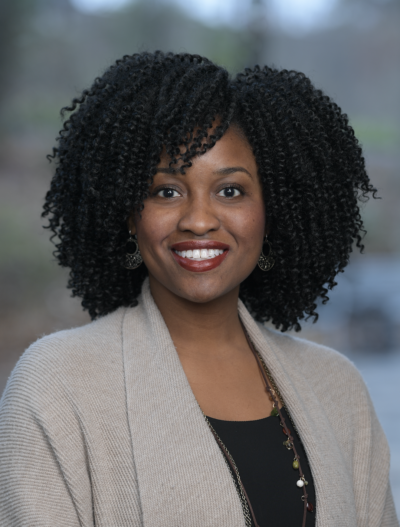 By: Melinda Halpert
Not many little girls want to become "mad scientists" when they grow up, but that was Khalilah Cooper's dream. "It was Bill Nye, The Science Guy, who got me most excited about working in a lab of my own, conducting experiments and solving problems," said Khalilah. "I wanted to be that mad scientist!" she laughed.
Khalilah followed her passion for science to Cornell University, coincidentally Bill Nye's alma mater, where she majored in Engineering. She stood out, not only as one of the few women engineers then, but also as a woman of color.  "At times I felt isolated," she recalls, "and the coursework was rigorous, but I was determined to graduate in four years." She developed grit and resilience, two traits she says have served her well.
After graduation, Khalilah landed a coveted job as a research scientist at Johnson & Johnson. There she helped launch many new products for Aveeno's Face, Baby, and Sun Care lines. Given her close collaboration with colleagues in marketing, she realized "I wanted to have the ability to grow in my decision-making responsibilities and understand how to drive business strategy." Pursuing business school seemed to be the best next step for her career path.  "I didn't have business experience, so I didn't know what it would take," recalls Khalilah, but "MLT helped set me up for success." Khalilah particularly noted the guidance she got from her MBA Prep coach, saying that Kendra Crook, "challenged me, pushed me, surrounded me with so much care and intentionality."
Coach Kendra remembers that Khalilah had the "savvy to propose a shift in her scientific responsibilities at Johnson & Johnson to include marketing projects so she could get a taste of her post-MBA career." Moreover, it took grit for Khalilah to stay "focused on her MBA goals despite having family members who didn't understand why she needed a graduate degree after earning an engineering degree. I will never forget how much we laughed and cried the morning she was admitted to Harvard Business School," Coach Kendra added.
As a newly minted MBA, Khalilah put her analytic skills to work at McKinsey where she enjoyed deconstructing clients' problems and getting to root causes and solutions. No stranger to the scientific approach in which data points methodically build to a conclusion, she learned that in business you must reverse that process. "You lead with the big summary idea and then drill down to show the supporting data," Khalilah explained.
At McKinsey, Khalilah not only juggled a demanding career and considerable travel, but she also had a husband and a young child to care for. "I was ambitious in my career, but I realized I couldn't do that at the expense of my family," she said. Khalilah left consulting to find a position that would align with her personal and professional desires – and that would afford her better work/life balance. She found both at Chick-fil-A's Atlanta Corporate Support Center where she now directs service and hospitality at more than 2100 restaurants nationwide.
To say Khalilah loves her job would be an understatement. "We have great food and a great environment," she laughed, adding that she gets "pleasure from helping Owner Operators and team members best serve guests in our restaurants each day." Her analytic skills and product innovation experience are put to good use. So is her knowledge of queueing theory, the mathematical study of waiting lines, since she is currently overseeing the launch of a new outside meal-delivery service to improve on the traditional drive-through option.
Khalilah thinks about how successful leaders use emotional intelligence to drive top performance and results. She takes seriously her role in setting the right tone and example to ensure healthy interactions on her own team and those she cross-manages. A fan of Patrick Lencioni's books on leadership, Khalilah echoes his philosophy that the ideal team player is "'humble, hungry, and smart' – with humble meaning not thinking less of yourself, but thinking of others more." She asks herself what she can do to serve others and how she can add value to others' work.
Khalilah understands the importance of diversity and inclusion in the workplace. "I am passionate about D&I," she said, adding that she co-leads a "Women in Business" group to develop a pipeline of female leaders.
I see progress as we get into new markets, and understand what brand means to different people. We're leaning into that conversation more, and I'm happy to be a continuous voice in that dialogue.
Not long ago, Khalilah saw MLT Founder and CEO John Rice at an event. She had the opportunity to tell him that "your vision is coming true" because MLT is a catalyst for propelling more underrepresented minorities into senior roles. She sees herself as that living proof point. "I learned to be scrappy, to pull myself up and go after what I wanted," Khalilah reflected, adding that "MLT gave me the confidence to go to Harvard Business School, to learn, and to navigate my career."
Khalilah may not be the "mad scientist" she once imagined, but no doubt, Bill Nye would be proud of her trajectory and the role he played in inspiring it.