2018 MLTEntrepreneurship Challenge Winner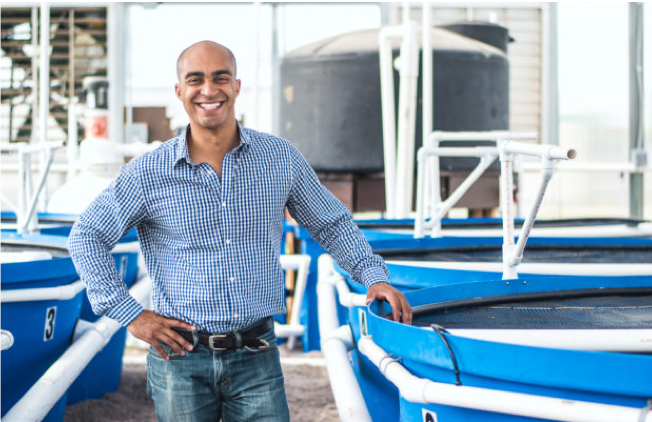 By Nomzana Augustin
Management Leadership for Tomorrow (MLT) held its Third Annual Entrepreneurship Challenge in New York City on Saturday, December 1st. The event was sponsored by entrepreneur and philanthropist Kevin Ryan, with support from Wendy Tsu who leads new business ventures at AlleyCorp — an organization that founds and builds companies like Business Insider, Gilt Groupe, Zola, and MongoDB. Nate Stewart, VP of Product at Cockroach Labs — which supports business-critical applications for some of the world's top companies — was also a member of the three-judge panel.
Six startups founded by MLT Rising Leaders were selected from a competitive and impressive batch of ventures that cut across a wide range of industries — from fintech and e-commerce, to hair and beauty. And while all of them did an outstanding job of engaging the judges and making the case for their ventures, there could only be one winner.
Chaz Shelton (MBA Prep '13) successfully pitched Merchant's Garden, a Tuscon, Arizona-based company that aims to use sustainable methods to feed communities with local produce. He is one of the many MLT founders working to solve issues that impact their communities, and the world. We caught up with him to find out more about Merchant's Garden.
Chaz, can you describe what Merchant's Garden AgroTech does and what inspired you to found the company — and in Arizona for that matter?
Merchant's Garden AgroTech is an indoor urban farm that grows, sells, and distributes fresh produce to restaurants, schools, and grocery stores. While working in Philadelphia at the Department of Health, I had a chance to see the realities of the health outcomes people struggled with as a result of poor food access. This experience helped me understand the "what" in regards to business ventures. Fortunately, during the same time, I was afforded the opportunity to go to business school where I learned the "how." We launched in Arizona because of the urgency to find sustainable food production methods to serve communities in arid climates. We are hyper-focused on arid climates where Arizona provides a model that we hope to replicate internationally.
What was the deciding moment when you realized that Merchant's Garden AgroTech could work?
When we reached our production capacity of 500,000 units with nine months of operating.
When did you first learn about the MLT Entrepreneurship Challenge and what was your journey to becoming a finalist?
I learned about the entrepreneurship challenge in late 2017. Unfortunately, I did not get to participate in that year's competition, but thankful to be a part of the 2018 participants.
What was the most accelerating conversation or moment for you at the pitch competition?
Kevin Ryan opened the day up talking about his failures and obstacles. Then, hearing him share how he pushed through and now leads a $4.7B company really encouraged and inspired me. Also, seeing the other finalists pitch was inspiring. The other companies are doing fantastic things.
What does 2019 hold for Merchant's Garden and how can the MLT community help?
Merchant's Garden is actively pursuing the development of our second commercial facility in the Phoenix metro area. We are looking to have conversations with seasoned investors and industry experts to help us get there. Additionally, we want to better partner with CPG (Consumer Packaged Goods) companies and retailers to provide more locally grown foods to communities. If anyone from the MLT community is connected in these industries and willing to chat or make introductions, that would be enormously helpful to us.
Knowing what you know now, what advice would you give to other MLTers considering entrepreneurship or competing in the 2019 MLT Entrepreneurship Challenge?
Despite not being a cash award, the introductions and connections made through the challenge have proven to be well worth the trip to NYC. I'd encourage all entrepreneurs to apply and come regardless of being selected as a finalist.
How is the MLT community championing entrepreneurship and what does that mean to you?
MLT's brilliant Fellows from all industries and functions have been willing to share their knowledge and experiences with me to help strengthen my venture. Additionally, MLT has been willing to connect me with their corporate partners by highlighting my venture's traction.
We applaud Chaz for his persistence and commitment to developing a sustainable solution while tapping into his MLT network as a resource. We also congratulate the six other alumni finalists who are exemplary Rising Leaders! See you at #MLTEC19!
Chaz Shelton (Merchant's Garden): Provides revolutionary and sustainable ways to feed communities with local produce
Lauren Washington (Fundr): Automates startup investing by creating smart seed portfolios
Regina Gwynn (TresseNoire): VC-backed by Backstage Capital, providing on-location beauty services for women of color across the country
Michael Crowner (Sparkl): Offers on-the-go car wash services that create time for the more important things in life, all while helping the environment
Orion Brown (The Black Travel Box): Gives people of color a brand they can trust for all of their personal care needs while traveling
Shironda White (CauseEDU): Crowdfunding platform that creates scholarships for students
Boris Moyston (Fundr)