MLT Entrepreneur Spotlight: Quinnton Harris of Bevel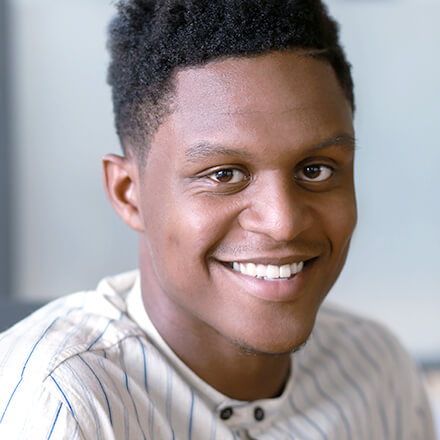 Quinnton Harris, MLT'er since 2009, talks to us about his company, his mentors, and Target's recent addition of Bevel's products to their shelves.
What is Bevel?
Bevel by Walker and Company, Brands Inc. creates products that provide a premium shave experience for people with coarse or curly hair, who especially suffer from razor bumps. The flagship product is The Bevel Shave System, a 5-part wet shaving system clinically tested to help prevent shaving irritation when used consistently. Our company's mission is to make health and beauty simple for people of color, and we hope to do this by developing products & services tailored to the unique needs of our community.
Did you have any critical moments where a mentor or interaction pushed you forward when you might not have done so on your own?
Most of those moments have been associated with failing to exhibit "the basics skills" needed on the job. I naturally provided value to company culture and industry thought leadership, but I needed to hone in on actually excelling at my core job function. I started my career at an advertising agency, and a few times, my manager essentially 'kicked me in the pants' to help me focus on developing the necessary conceptual skills and practical experience to be a successful art director.
However, those critical moments are different since I joined this start-up company. I am in more of a mid-level/senior position, so my critiques are less about mastery. My mentor and creative director Mari Sheibley has been coaching me more on process and project management—working with high efficiency under shortened (sometimes impossible) timelines.
I am currently working on a massive design initiative that requires careful planning and tons of user research. At a recent design review, my director politely informed me that "your work is great, but I don't think this trajectory will help address the critical issues of xyz". This definitely helped me think outside of my limited framework and focus my attention on finding the best process for solving the problems that aligned closest to our business needs. It's moments like these that push me to grow into an effective leader that possesses both laser focus and good discernment.
Bevel is now going to be available through Target. That's big! What excites you most about in getting products into Target?
I am most excited for the potential learnings we gain about our consumers. Target can supply us with invaluable data on how we can optimize the brand experience. With this data we can better hypothesize about trends while having our foot in the door with a high quality distributor that closely aligns with our values for Bevel. It's really exciting!
What do you hope for Bevel (and yourself) in the future?
My hope is that Bevel becomes a household name in the grooming space for all hair types. Whether someone has straight or curly hair, I want Bevel to be known for providing the best grooming products on the planet while remaining true to its core ethos: solving grooming problems for the historically underserved. I personally want to play a big role in crafting this brand experience through both design and advocacy.
Would you recommend MLT's programs for students planning to be entrepreneurs?
MLT is an excellent resource for students and young professionals who are looking to be the best leaders. I was a Career Prep 2010 fellow and I know many folks who have gone through the MBA Prep program. I loved the rigor of the program and I was impressed by the invaluable guidance provided by my career coach Valerie Griffin. As an engineering major in college, MLT exposed me to careers like marketing, advertising and consulting. I was connected with world class leaders at Fortune 500 companies. I developed lifelong friendships with peers from my cohort.
Most importantly, MLT taught me how to humbly follow in order to effectively lead. I gained insight on how to make the most of any job situation, and I am grateful for the experience. I would highly recommend anyone to experience what MLT has to offer.