Making Room for All in the Housing Industry
Leonard Henry is an MLT Career Prep Fellow and strong advocate for minority representation in the housing industry. Here, Leonard shares his journey to a career in commercial real estate, encourages other young people to explore the wide range of functions in the housing industry, and reminds us to "lift as we climb."  If you're a college sophomore looking to jump start your own housing industry career, click here to apply to the Future Housing Leaders Fellowship by December 30.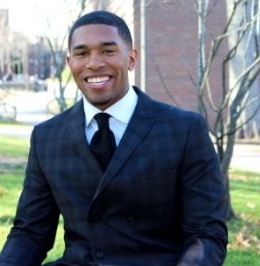 Q: How did you become involved in the housing and real estate business? Did you have any exposure before your internship?
As a child, my mother was a secretary at a residential real estate brokerage firm in Brooklyn, NY. My exposure was limited to overhearing terms like "closing" or "escrow" in passing, but I guess that left a mark. I always had an interest in the industry, but was in no way aware of the many roles that exist within the space — like the fact that there is a lot more to real estate than being a real estate agent.
I owe my current career within real estate to MLT. The guidance to be open to any opportunity came from my MLT coach, Valerie Griffin. I was dead set on becoming a management consultant— even concentrated in Strategic Management. But simply sitting in on an info session at a seminar when I was a Career Prep Fellow— and being open—led me to become aware of opportunities in the housing industry. I got a good understanding of where my skills align with potential roles, and that blossomed into a career that I have very much enjoyed to date. I took a risk and am seeing the payoffs daily.
Q: Why did you find this to be an attractive career path? 
The real estate business is fast-paced and high growth. I was interested in understanding how the wealthy do transactions of that magnitude, and wanted to be a stakeholder in helping decide how our neighborhoods are changing around us. After talking to mentors in the field, I decided on underwriting as the path into my real estate career. Commercial real estate underwriting is like a paid education. In this role, I get to see the inner workings of the multifamily real estate space, while earning an income. I saw an opportunity to sharpen my financial analysis tools, and I now know the important factors for determining a smart real estate investment. These skills help me do my daily job, but will also be useful in the future, regardless of what path I decide to take in life.

Q: We understand students might not appreciate the wide range of functions and careers one can have in the housing and real estate industries. Can you tell us what some of those careers could look like? 
The housing industry is not limited to one or two skill sets. Instead, this industry has room for everyone — those who like numbers, those who are creatives, and those who simply like working with people. AND it is extremely lucrative. As with anything else, some functions incorporate all of the above. Careers include property management, accounting, brokerage, trading, marketing, staging, underwriting, and much more. The best part is that as long as we live, people will need a place to live, a place to work, and a place to enjoy recreational activities. Once there is land, there is real estate. So this space, although ever changing, will never become obsolete.

Q: You're a huge advocate for Fannie Mae's new Future Housing Leaders program. Why?
Fannie Mae's Future Housing Leaders program (FHL) aligns with my passion for connecting people to opportunities, and they have the resources and platform to do so on a larger scale than I could on my own.
Today – when many individuals are looking for job security, new career paths, and new sources of wealth – the housing industry is a breeding ground for opportunity. It is no secret, however, that people of color are underrepresented within the industry. This is important because lack of representation in a space can act as a natural deterrent for those who may actually have an interest.
I compare FHL to my experience planning college events. No one enjoys an empty party. FHL acts as a promoter for the housing industry, filling the room at the onset, and making the housing industry more attractive to those looking to join in. As more people get through the door of opportunity, it becomes easier to then reach out to others who could also benefit from the knowledge and wealth being built in this space.
Q: What do you work on in your current role at Walker & Dunlop?
I am currently a Commercial Real Estate Underwriting Analyst at Walker & Dunlop. I evaluate the risks associated with lending to various individuals investing in multifamily projects throughout the United States. In addition to getting comfortable with who we are lending to, it is my job to vet the properties to assure that they are well managed, well maintained, and able to remain worthwhile assets throughout the term of the loan. I also audit financials for individuals, organizations, and properties; do property inspections; read engineers' reports; and work with our legal teams to assure that all involved parties are not at risk for litigation. With that information, I write a report providing my analysis on both the property and those backing their ability to repay the loan in the appropriate term.

Q: You've had the opportunity to talk to other young professionals about Commercial Real Estate. Why was that so important to you? More specifically, why do you think diversity in these spaces is so important?
I understand the power in "lifting as we climb" and leaving the door open for those behind me. I strongly believe that the way to a more diverse corporate America is through building awareness on both ends of the board. Corporate America needs to be educated on how to mix and interact with diverse individuals, and individuals from diverse backgrounds must be made aware of available opportunities so that more people can begin to set their sights on career paths that may not have been focused on in the past. People like the late Nipsey Hussle, Jay-Z, Sean Combs, and other pop culture moguls have championed the power of real estate for our community, but those who are not financially able to "buy back the block" can still assist through other roles. We all play a part in our progression, and business is built on relationships. Young people coming into the industry can help by being one more relationship for someone who is looking for funding, or one more advocate for the next borrower. Our progression is a collective effort, and as I help empower those within my reach, the ripple effect is endless.

Q: What gives you hope?
Programs like MLT and Future Housing Leaders, that gather dreamers and doers and give them the tools to be successful, give me hope. The transparency of the successful—hearing what others encountered on their journeys to success— provides hope in knowing that hard times do come, but they don't last forever. Companies like Walker & Dunlop give me hope, as they acknowledge that diverse talent is underrepresented, then take action to hire and retain that talent. Finally, my generation provides me with hope. Seeing young people who have a fervent passion to make change and do not ask permission to do so, reminds me that there is a larger community of people — who look like me — pushing forward to better themselves and our community. There is power in numbers, and seeing people come together for amazing causes has given me hope that anything is possible.
Q: Is there anything we didn't ask that you'd like to share with our audience?
Be open! Be willing to take the path that is not popular. Look at the early stages of your career as an investment in yourself. Take the time to learn, and don't always jump at the immediate pay day. We have years in our career to get to the proverbial "bag". Spend time building your skills and making yourself more of an asset. This puts the power back in your hands, allows you to dictate your career path, and empowers you to request what you are truly worth. Finally, take the time to give back. There is power in building a bridge for others. It will only make you and those around you better.

The Future Housing Leaders Fellowship application closes on December 30. Click here to apply.