Yellowbird Aims to Open Doors for Future Indigenous Leaders
Shyanne Yellowbird (Samson Cree Nation) is an MLT Career Prep Fellow, studying film and media at Columbia University. She's the first person in her family to attend an Ivy League institution, and says she is now on track to change the economic trajectory for herself, and for her family.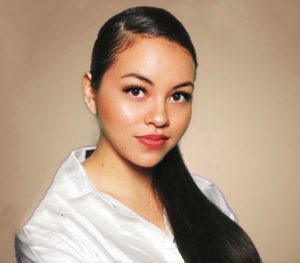 Though her Career Prep experience could sometimes be challenging, the obstacles proved no match for Shyanne's tenacity. She studied abroad in Australia during her junior year, which meant that she was meeting virtually with her MLT coach across vastly different time zones, completing Career Prep assignments, and interviewing for internships—all while studying and making time to explore the world. "It was a lot," she admits, "but I did it and I learned so much from going through that process. We have to work hard in every aspect of our lives and when things get tough, you push past it and learn even more about yourself."
One of the hardest things, Shyanne says, was staying motivated and hopeful during the interview process. When she wasn't able to land an internship right away, she became discouraged—that is, until she activated her MLT support system. "I had to lean back on my MLT coach, and my network, and see where I could improve while pursuing these roles," she says. Her Coach, Latia Young Fountain, was "very helpful, even emotionally, not just professionally." Shyanne says Coach Latia helped her navigate the search, learn from her mistakes, and rebuild her confidence.
Shyanne secured an internship just three days before returning from Australia. She credits the Career Prep program with providing her with a renewed sense of confidence, professional development, and a stellar network of high-achieving peers. These gains made for a strong start in the corporate world—a world in which Shyanne and her family had no experience prior to MLT.
Being at MLT allows me to change that financial trajectory and provide for my family in a way that has not been met for a lot of generations.
Engaging with diverse leaders at Career Prep sessions helped Shyanne internalize the belief that she belongs in these new corporate environments. "Having diverse speakers share how they made it has been really inspiring," she says. "What we're going to set in the future hasn't been done before. I am Indigenous, and there aren't a lot of Indigenous people in the corporate world. Being a part of this program and seeing how people are able to create change no matter their background has been really inspiring and motivating."
Shyanne says she knows the opportunity to secure a high-trajectory full-time offer will have a tremendous impact on her economic outlook, as well as that of her family. "Being at MLT allows me to change that financial trajectory and provide for my family in a way that has not been met for a lot of generations."
Shyanne says her multiracial family background enriches her perspective as a woman of color entering the corporate world. "My mom's Black and white and I'm Native, and since I was raised by a Black mom, I kind of grew up differently," Shyanne shares. She also shared that she has twenty-one first cousins, all of whom representing an array of racial and ethnic backgrounds. She believes that this experience, coupled with her access to institutions of varying wealth and diversity, produces a certain superpower: being able to communicate to a wide range of people. "I know people aren't going to come with my experience every time I enter a university or a new organization," she says, "but I balance and own that by just being me. As I gain more power and more professional experience, I'll be able to express that in different ways and hire more Indigenous people in the same places that I'm having access to."
Shyanne believes that she is creating history, and that gives her hope. "I am creating a new future for people in my family, for my friends, and for people who haven't had access to all the opportunities that we are just starting to break into. What gives me hope is being able to have an impact and being able to create a new future."