Leading By Lifting Others—From LA to DC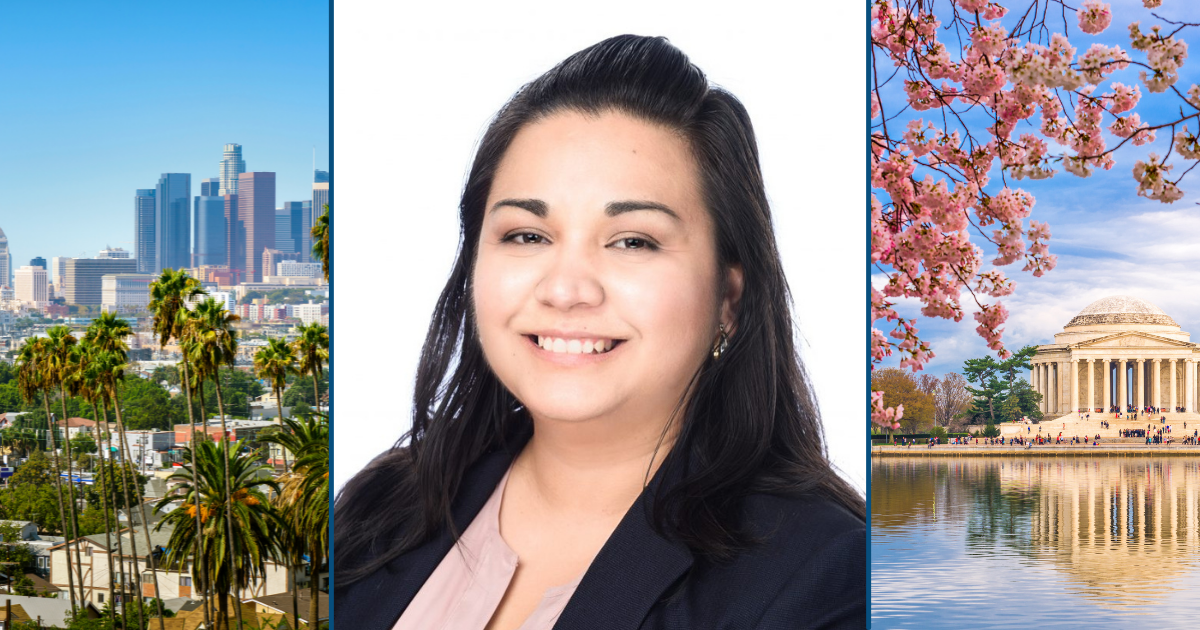 By: Cornelia Poku
Maria Razo is so bubbly, you'd never guess everything she's previously endured. Yet all of it led to her new role at MLT, where she's excited to help MLT alumni achieve their career and leadership goals.  
Early Life
Early in life, Maria experienced what it's like to hold on to hope, despite being vulnerable and afraid. At age six, she and her two small brothers were separated from their parents and led across the U.S.-Mexico border by a coyote. Once reunited, her family lived in poor conditions in a destitute Los Angeles neighborhood. Despite these challenges, Maria's mother was determined that her children would experience a high-quality education. 
She arranged to have her sons and daughter bussed to a better school in a wealthier community. "I was able to access resources that I didn't know didn't belong to me," Maria says of the experience. She did activities, read books, and attended field trips that her neighbors could not access.
Just weeks until her 18th birthday, Maria's father became a naturalized citizen which meant all the kids also became citizens. Overnight, she went from an undocumented person to being eligible for student aid to attend college. She started California State University at Long Beach with one goal: "Don't be poorer than my parents." 
After graduating college, Maria's grit, optimism, and inability to turn down a new opportunity made her the strong, eager, and empathetic leader she needed to be to drive change in the Los Angeles Public School System. She joined Green Dot, a non-profit dedicated to transforming public education. Maria focused on turnaround schools—a class of failing schools receiving targeted intervention to reach a minimum standard.
Combatting Systemic Challenges
Maria's hard work began to yield impactful results. One of her schools was on the brink of closing its doors before Green Dot took over. The students had been hardened by generations of disappointment. Maria and her team brought in new staff and ushered in a new school culture. Within two years, the school churned out the highest Academic Performance Increase in the entire state of California.
She called it, "the proudest moment of my life—and I don't think any job I ever have from now on, no matter how high I get or if I climb that ladder and become CEO or whatever, it's never going to compare to this feeling."
Despite that motivating moment, Maria admits there were many more lows. In Maria's eighth year, a new principal—who had been with the school for just one week—came to Maria sobbing. 
The principal cried, "It's not that I haven't seen fights every day, kids overdosing, shootings—it's not that I haven't seen that in my old schools, it's just it hasn't happened all in one week. This place is crazy, I don't know how you've been here so long, and you haven't cracked. But I'm going to resign."
Maria was unmoved; numb. At that moment, she realized it was time to go. As someone who leads with her heart, she felt she could no longer be effective if she wasn't being affected.  
She started working at the Broad Center, where she leveraged her first-hand experience to support public educators who want to change the lives of low-income students.
A New Chapter
After a few years, Maria accepted a position as Associate Director of Alumni Engagement at MLT. "I thought my 'why' was to continue working in K-12, I realized that was my how. That is how I want to impact, but the 'why' is just to create opportunities for people that look like me—for them to have social mobility and have a choice of what to do with their lives instead of being told 'This is all you're good enough for' by the system."
Now, Maria is bringing her "how" to work with MLT alumni, helping them grow their confidence, expand their networks, and realize their full potential.
___
Success is a Lifelong Journey. So is MLT.
MLT's programs are designed to accelerate the careers of high-achieving Black, Latinx, and Native-American individuals. From college to the C-Suite—find the right program for you!
Already an Alum? Access resources and services specifically designed with you in mind.