Yes! You Are Ready to Earn Your MBA
by Daven Hines
Daven Hines is an MLT MBA Prep alum currently pursuing his MBA at Yale School of Management. Daven shares three tips for navigating the business school application process. He also encourages MBA Prep Fellows to embrace their own genius, reminding them they belong at the top b-schools to which they will apply.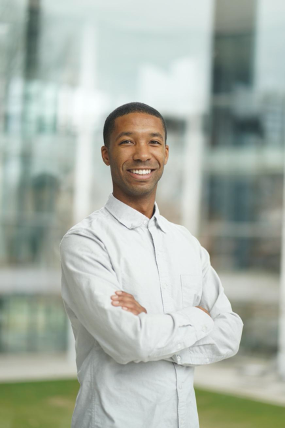 Many years ago, my grandparents left the Jim Crow South in search of greater opportunity in the North. What they found was a new type of racism. This racism didn't hunt them down at night. Instead, they were oppressed by institutional racism. This racism prevented them and their children from fully realizing the "American Dream." When I think about my grandparents, I am thankful that I have had the opportunity to make educational and professional achievements that were beyond their wildest dreams.
You have this opportunity as well. In starting your MBA application process, you're opening the door to achieving heights many who came before you couldn't fathom. You are investing in yourself and beginning a journey that will lead you to new friends, new challenges, and great success. Here are are a few tips that will help you along the way:
1. Aim High – Don't be timid in your applications. You are more than equipped to apply to these programs. To be frank, these programs are blessed to have you as an applicant. Self-doubt can show up in your story. It's so important to believe in yourself as you reach for higher achievements. You'll never know what could've been unless you go for it. You have the leadership skills and the experience to study with the best of the best; do not limit yourself in what you can achieve.
2. Be Curious – Talk to as many people as you can in order to truly understand the culture of the schools to which you are applying. Understand the mission and vision of each program, and try to imagine yourself operating in this space. An MBA is a huge investment—both financially and in the time you will commit. Ask questions, learn from the experience of others and discover what you truly want in an MBA program.
3. Buckle Up – The MBA application process is no joke, and neither is business school. The challenges you face in applying to MBA programs are foothills compared to the mountains you will scale with core classes and company recruiting. But fear not, you are ready. With focus, discipline and a bit of scrappiness, you can tackle any challenge you might face.
Not too long ago, I walked in your shoes. I remember being anxious about my GMAT scores, and not feeling confident about my essays. I felt inadequate, and undeserving of the opportunity in front of me.
Today, I am at the Yale School of Management. I am surrounded by a community of supportive family and friends. In class, I learn amongst peers from across the world. They challenge me in a constructive way. When our opinions or experiences have differed, we push at each other's assumptions and grow as business leaders. I'm stretched academically. I've gained a deeper understanding of the business influences that contributed to the end of apartheid in South Africa. I have learned what factors to consider when evaluating and acquiring an emerging startup. And there is so much more.
I have exceeded my own expectations, and I am sure those of my ancestors as well. Although there were definitely some rocky moments, I made it to the other side of the MBA application process. Guess what? You will, too! It is easy to feel the world wants to keep Black and Brown people down. Your efforts now help to ensure those who really feel that way will not succeed.
You are brilliant. You will make a positive impact at the school you choose to attend. The professors, faculty, and the peers you meet will be blessed by your presence. Remember, they are ones who are lucky to have YOU.