When Class Presidents at Top B-Schools are MLTers, Great Things Happen

In this season of graduations, we take pride in the accomplishments of our Fellows, including those newly-minted MBAs. It's a big deal to get an MBA from a top business school. And it's a big deal to be elected president of your class. But when the presidents of the graduating classes at four of the nation's most prestigious business schools are MLT Fellows, then we feel compelled to shout from the rafters! We celebrate these four leaders: Triston Francis (Harvard Business School '19), Darryn Lee (Dartmouth's Tuck School of Business '19), Ricardo Sutherland (MIT Sloan School of Management '19), and Christina Whatley (Yale School of Management '19). We hope you are inspired by them as we are.
Triston Francis noticed that the people he admired on campus—people he watched navigating with a certain inalienable confidence—were MLT Fellows, and they attributed much of their success to its programs. Similarly, Ricardo Sutherland recalls that he'd never seen an organization able to "harness a collective group of individuals of this caliber" until he joined MLT. He wanted access to a community of "like-minded people who had aspirations to do awesome things in the world." He says he got that, and more.
Three of these four presidents started their MLT journeys as undergraduates in the Career Prep program, where MLT's professional coaches drilled down on principles like boldness and accountability. Triston describes his MLT coaching experience as "tough love with an emphasis on the love part." As a junior at the University of Pennsylvania, Triston had completed a summer internship at Goldman Sachs with an offer to return, and he had just been elected President of the Black Wharton Undergraduate Association. But Triston's GPA was lower than it had ever been in college. His MLT Coach, Valerie Jackson, held Triston accountable. "Coach Val had me in tears," he remembers. "She told me, 'You're getting too complacent. This is all great, but there's no reason that any of this should come at the expense of your GPA.' She challenged me to push, and I did. I got a 3.9 GPA the following semester and kept it high. She helped me see the bigger picture, which is something that MLT does really well."
Christina Whatley says much of her motivation came from her MLT peers. "With MLT, I had people pushing me to achieve my goals, no matter what they were," she explained. "Surrounding yourself with a network of dedicated people who also have really high goals pushes you to be great."
Darryn Lee affirms that this "ecosystem" of encouragement is central to the MLT difference. "MLT brings together these highly-talented individuals who are all trying to take over the world," he says. "We've all been keeping each other honest, supporting each other when we're down, and praising each other when we're high." Darryn reflects that had it not been for MLT, he simply would not have had the confidence to go after some of the life-changing opportunities that have proven to be pivotal to his career.
That confidence to pursue opportunities—the "scrappiness" as it's known to MLTers— is another core principle that drives success for MLT's Fellows. "They really drill that into you," says Christina. "They teach you to throw everything you've got at the opportunity, and to hustle your way up because nothing will be handed to you." Darryn feels that this has been the biggest lesson of his MLT journey, saying "Now, I don't wait for anything to come to me. I go get it." That confidence was critical to Darryn's race for student body president at Tuck. He says that when he ran, there hadn't been a Black student body president in more than ten years. "I was nervous, but it wasn't a function of 'I can't do this'; it was 'How will they receive me?'" Six people ran for president and Darryn won the election, with over 50 percent of the vote and no runoff.
The presidents recognize the value of a competitive advantage like MLT, and are eager to pay it forward. This, according to Triston, is the true beauty of MLT. "Everything the organization does is about you plus the benefit to others in your community. It's about excelling individually, but it's also about bettering the lives of those who come after you."
This was the resounding theme across all four presidents' stories. MLT helped to intensify an already fervent commitment to leveraging institutional power for the good of underrepresented minorities. Being student body president gave Christina, Darryn, Ricardo, and Triston the platform necessary to make that kind of impact.
"I knew that being a leader on campus and being active in diversity events would make others feel like they belong and increase the pipeline of diverse candidates."

Ricardo Sutherland
At MIT, Ricardo worked to make Sloan more attractive to underrepresented students. "Sometimes [as minorities], we don't see these highly-ranked institutions as places where we can feel at home," he explains. "I knew that being a leader on campus and being active in diversity events would make others feel like they belong and increase the pipeline of diverse candidates." When Ricardo was elected to Sloan's Student Senate during his first year at MIT, he found himself in the company of other MLT Rising Leaders who were each working on their own diversity initiatives. They collaborated to amplify and promote inclusion on campus. Ricardo believes that diversity should be a top priority for CEOs too. "Diversity increases inclusivity, and inclusivity increases profitability," he says. "CEOs should know that their companies will be more profitable and all-around better environments if they prioritize diversity in the workplace."
Christina recalls the many people and opportunities that made her feel welcome during her first year at Yale School of Management. As she wraps up her final year, she's "reflecting and thinking about how to extend all that to the next generation." Christina believes that it's the responsibility of both students and the administration to ensure Yale SOM "is competing for top talent, and that pool of top candidates becomes even smaller for underrepresented minorities." She adds, "We have to be competitive and work hard to position SOM to be the school of choice for these individuals. That's part of being a great community." As a result of the collective leadership of the student government, with support from the administration, Yale SOM has committed an additional $1 million in scholarship funding for underrepresented groups. Christina says her ultimate goal is to make Yale SOM "extraordinarily diverse" and a place where it is "easier to be your full self."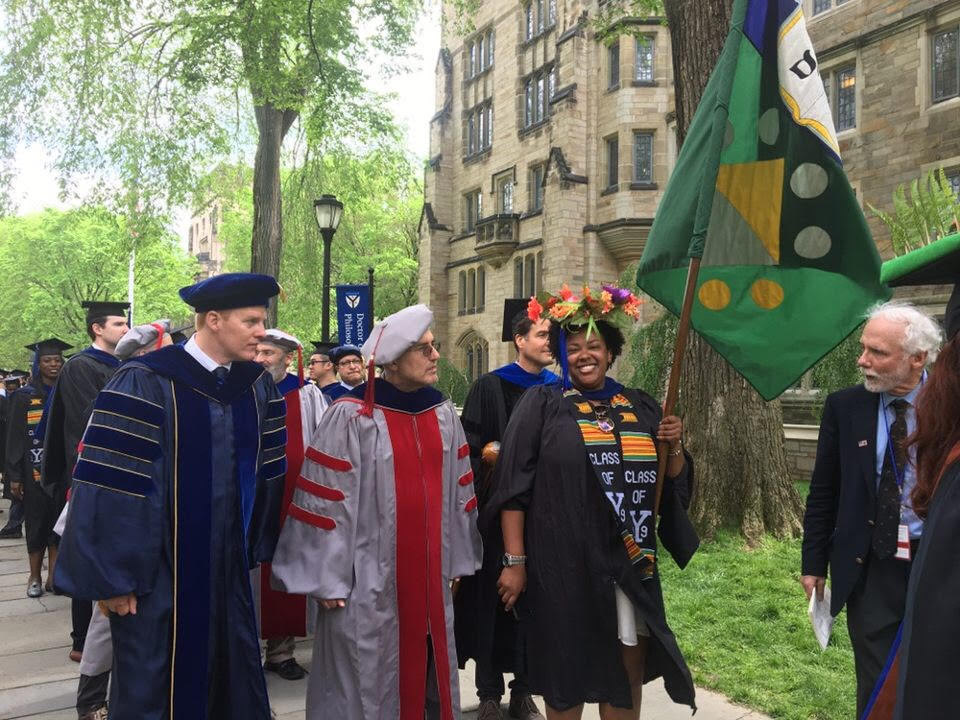 At Tuck, Darryn focused on creating a student body that is "deeply connected, culturally fluent, and confident in the support they'll receive beyond graduation." Darryn recognizes that part of getting a great return on a business school investment is walking away with meaningful, productive relationships. To that end, he collaborated with Tuck's student government to create environments in which students understand and appreciate one another's cultures. He also worked with the career development office to bolster the support that students receive as they pursue professional opportunities beyond Tuck. Off campus, he became the founding campus representative specifically focusing on recruiting diverse talent for BlackRock, a global investment management firm. He's been instrumental in funneling diverse, high-performing candidates into the firm's talent pool. "It doesn't matter if you're first," he says. "What matters is that there's a second, a third, and so on."
For Triston, MLT reiterated that no one succeeds in this world on their own. Before arriving at Harvard Business School, Triston hosted a speaker series in New York, where students from colleges with less access to sought-after employers like Google and McKinsey could have in-person connections with representatives from those companies. At the core of this effort was a commitment to sharing influence, and Triston brought that concept with him to HBS. He presented new service opportunities that make giving back part of everyday life, as opposed to a one-time campus event. "Business school is where you develop the habits that you're going to keep for the rest of your life," he says. "If service isn't part of your equation during business school, it's far less likely to be part of the equation afterward." Triston hopes that leaders in corporate America will make greater strides to share their influence as well. For example, he suggests that CEOs invite a high-achieving, low-income student to their office for a day. He believes these sorts of interactions can lead to "a life-changing experience for someone who might not view the corporate world as an attainable opportunity."
The presidents say they're encouraged by the wins they've already achieved as leaders on campus, and as advocates in the workplace. Those wins propel them to reach higher and bring others with them as they rise. For Darryn, it's important to be remembered as someone who had a broad impact and helped a lot of people. "I want to be able to say that I took risks to improve my own community and other Black and Brown communities." Christina hopes when people reflect on her tenure as president, they will remember her as someone who took action to help "influence systems and people to make them more equal, fair, and inclusive." Triston wants his legacy to be one of a leader who "opened doors for people to pursue things they might not have." And Ricardo wants to be seen as "someone who cared about helping people get to where they want to go and see their full potential." He says his MLT peers give him hope. "I'm part of an incredible community of individuals who are going to change the world of business for the better."