Overcoming Imposter Syndrome in College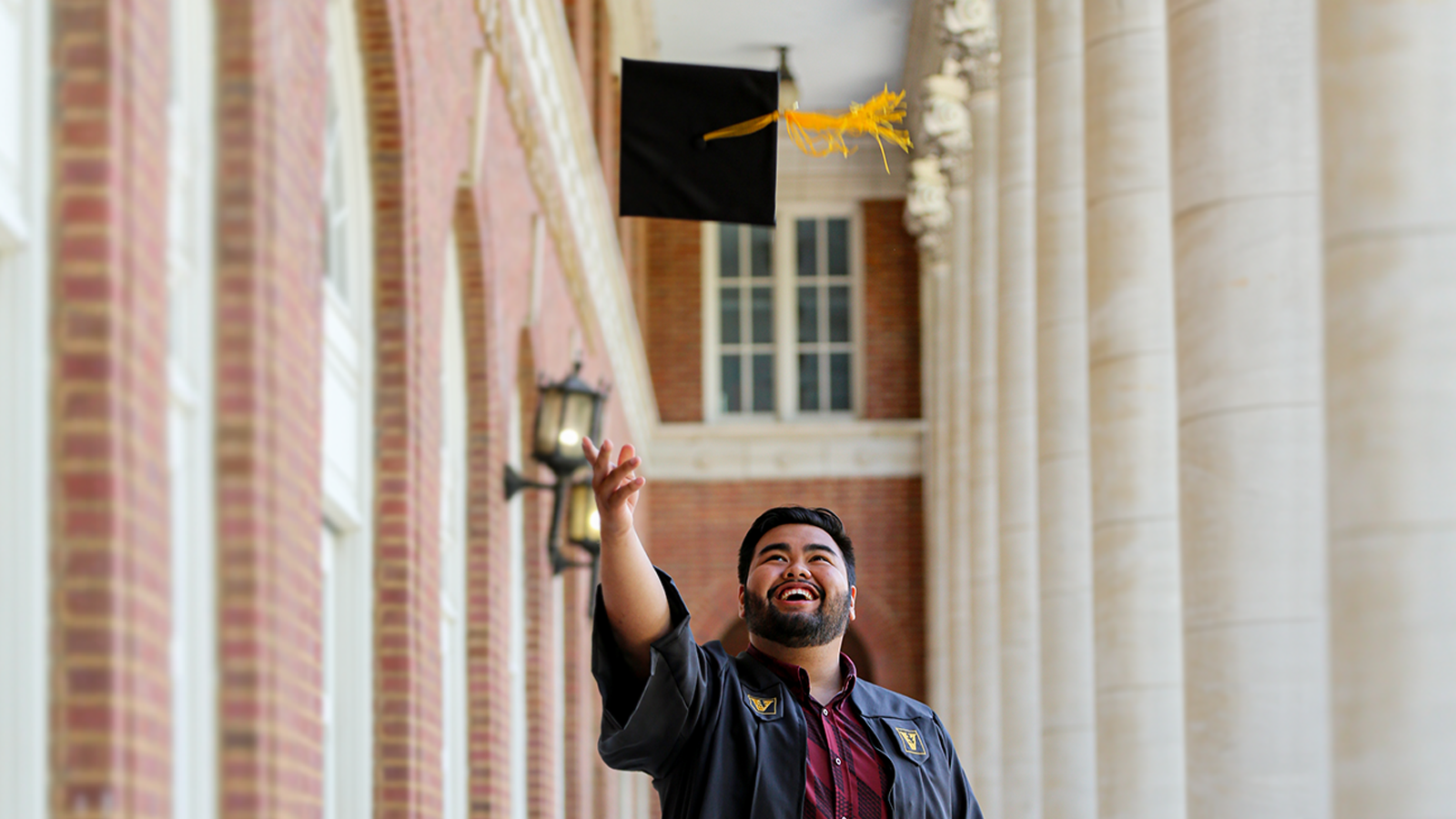 By: Day Rankin
As a Native Hawaiian with Filipino roots, MLT Career Prep Alum Douglas Finnegan says the theme of his journey is, "If you think your life is hard, remember your grandparents had it much harder." Being reminded of the social, economic, and cultural hardships his family endured gave Douglas the perspective he needed to persevere. After a battle with Imposter Syndrome, he's now inspiring others by sharing his story—transforming self-limiting beliefs into success.
What were some of the challenges you faced in your transition from high school to college? 
When applying to colleges, my high school counselor was not very supportive of me. In our first meeting, I said, "I want to apply to Harvard, Georgetown, Vanderbilt, and all of the "top schools." She looked at me, then went onto her computer and said, "What about these schools?" 
She named small liberal art schools in upstate New York and rural Pennsylvania saying, "These schools are more attainable for you. They're looking to increase their diversity numbers. You would be wasting your parents' money by applying to all these schools because they have such high application prices, and you're probably not going to get in."
I was really disappointed at first. I talked to my guidance counselor who was more like an emotional support counselor throughout high school, and she supported me. I listed her as my college counselor. She wrote my letter of recommendation because she believed in me. 
Because of her support, I got accepted to a lot of schools my original college counselor said I would never get into, like Vanderbilt University, where I ended up attending. I was able to graduate without student loans, which was a huge accomplishment for me, especially since I'm a first-generation college student.
You ended your first year at Vanderbilt with a 2.5 GPA. You even considered transferring. How did you turn things around? 
I got to Vanderbilt and the classes were hard. I met students who invented electronic arms, spoke 13 plus languages, were national merit scholars, and had so many accomplishments on their resumes. I was just a regular student, who had done a few extracurriculars in high school. 
I immediately thought, "My counselor was right. I shouldn't have gotten in. Obviously, something wrong happened. Obviously, I'm not supposed to be here."
I struggled in my classes. I wasn't in a good mental space and had no family nearby.
I remember feeling so unwanted, so undeserving of the things that I had in my life. I felt like people were taking risks and making sacrifices just for me to be a failure. 
I fully intended on transferring, but had a conversation with a recent alumn of my high school. She had gone to an Ivy League and transferred back to UH. She said it was one of her biggest regrets.
She was like, "I think a lot of us have this mindset that we're less than, that we got in because of the color of our skin, that we were these affirmative action applicants who are under-performers." She told me about others who went to colleges like Harvard, Columbia, and Yale, and then transferred back home. 
After hearing that, I realized that I don't want to contribute to that narrative. That really was a driver for me to push harder in the last three years of my college experience.
After you joined MLT's Career Prep, when did Imposter Syndrome start to go away?
Getting into MLT and doing the Anheuser-Busch internship, without a shadow of a doubt, 100% repositioned my career and catapulted me into a category that I was not previously able to perform in. 
I also had a really great coach, Sarah Deming. She was one of the people who was always in my corner. Having that as someone who was marked as an under-performer, was important for my ability to believe in myself and not have that same Imposter Syndrome. 
Let's talk about your journey from college to career. What was that like? Did you envision yourself working at Google? 
I was applying to big financial institutions like BlackRock, Blackstone, and Goldman Sachs. I got offers for internships from six or more different companies. Each was an offer that I was more than happy to take. The last offer I got was Google. I decided to take it. I was super intrigued with the work they were doing and the flexibility to continue exploring my curiosities. I loved my internship. 
And it's just funny because, during senior year, I forgot about my humble start to college. Everyone was asking me to look at their resumes, refer them to different people and help them network. It felt like I was someone at Vanderbilt who was seen as a high performer in the business world. 
At an MLT outreach event, there were students who mentioned, "I have a low GPA. I don't even want to apply. I don't think this is the program for me." I thought, "Wait a second, that was literally me two years ago."  
In front of everyone, I said "I was in that position. I literally couldn't get an internship. I had a 2.5 GPA. Through MLT, and my first internship at Anheuser-Busch as well, I was able to learn, grow, and have these accomplishments in my back pocket. Those accomplishments would lend a new lens to future employers that I could succeed outside of just my grades."
After that, I got multiple emails saying, "We're applying because of what you said in that call." 
What would you tell anyone else who may be experiencing Imposter Syndrome? 
I have two big tips. The first being, as cliche as it is, just do it. I think the biggest thing that holds back people from underrepresented minority backgrounds is disbelief. Don't be afraid to fail, don't be afraid to fall down. 
I was so afraid to keep trying and being disappointed by failure, but got that one person who believed in me, gave me that internship, which changed the trajectory of my career. There's no negative to trying for an opportunity or putting yourself out there.
My second tip is if you don't have a network, then build one. Your network is a constant growing process and a growing spider web that is constantly being weaved. If you do not have a strong network, there's always the opportunity to build one. 
As soon as you get one person who believes in you, that person can connect you to three other people. It's more likely that they'll respond, and they're more likely to believe in you because of the first person. After only a year of me putting myself out there, trying really hard, talking to people, I had a vast network that will support me in my career. 
___
Want to know how other MLT Alumni are conquering Imposter Syndrome?
Check out these blog posts: When a College Degree is Not Enough and Top Tips for Applying to Business School and Overcoming Imposter Syndrome.