MLT Featured in San Francisco Chronicle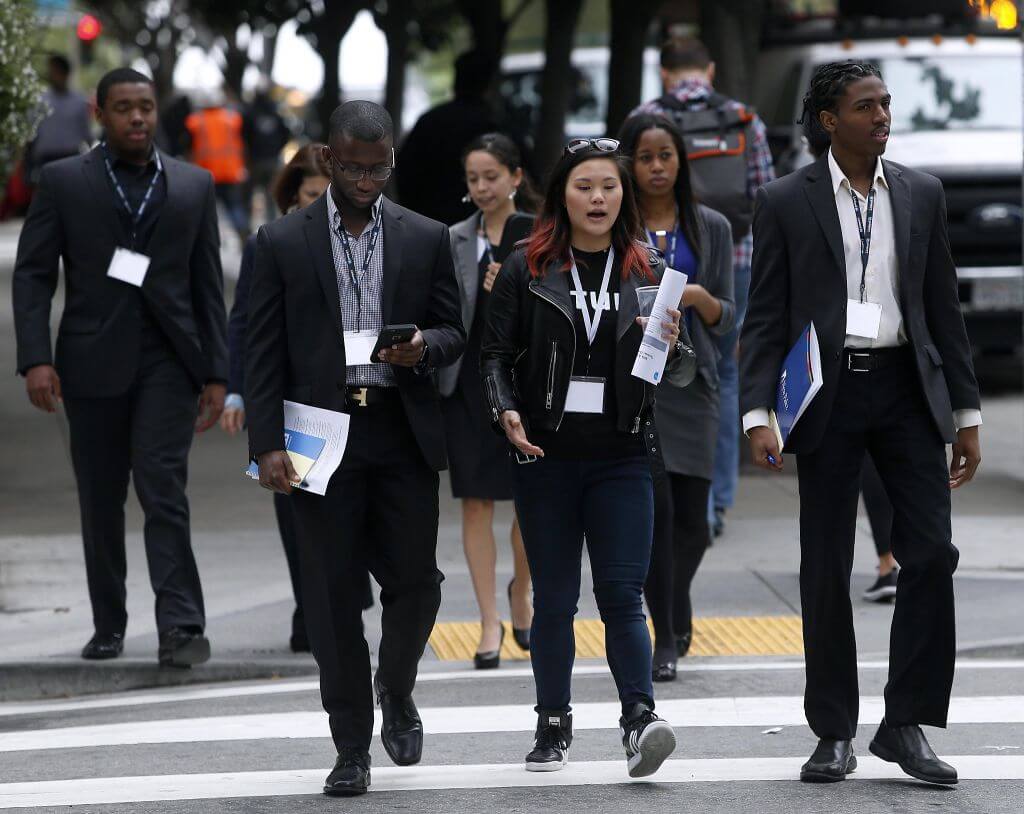 Stephanie Zau (center) from Intuit leads students attending the Management Leadership for Tomorrow program.  Photo Credit: Paul Chinn, The Chronicle
Photo Credit: Paul Chinn, The Chronicle
---
The child of Nigerian immigrants, Lolade Oshin was often the only black person in her class. In Toronto, she was one of five in her school. Developing her sense of self as a preteen meant understanding that it was not only OK to be different, but it was also a strength.
Hector Robles left his little sister and his mom in Mexico when he was 14 to start high school in Atlanta, where his father already lived. He spoke no English. His pace of life quickened. He had to adapt to life in a new culture — without his extended family.
Both Oshin and Robles will intern at Google this summer. Oshin studies business at Emory University, and Robles attends Georgia State University. Both were among 300 college juniors who visited LinkedIn's San Francisco office Friday as part of an intern preparation program offered by the nonprofit Management Leadership for Tomorrow.
The effort connects African American, Latino and American Indian students with leadership coaching, self-awareness exercises and networking opportunities in an attempt to prepare them for professional leadership opportunities and to broaden the pool of diverse leaders. The program boasts more than 5,500 alumni, at least 1,000 of whom now work in tech.
"The biggest key with MLT is really identifying yourself," Hampton University junior Anisha Carter said. "It's hard to add value when you don't know what your value is."
The leadership program teaches students to develop self-awareness in both their skills and ambitions. It encourages them to articulate those aspirations and offer them to companies, which program leaders told the students they should think of as teams.
Photo Credit: Paul Chinn, The Chronicle
---
"MLT has left me with so much more confidence than I had before," Georgetown junior Klarizsa Padilla said. Padilla is a first-generation college student.
Students participated in hands-on product development and revenue-building workshops, took advice from LinkedIn's vice president of global talent acquisition Brendan Browne and heard about the wide variety of career trajectories within the tech sector.
"I like to create things from nothing," Browne told the students in a fireside chat. "That's what tech is all about. … So much of what goes on in creating something from nothing is leadership."
Browne told the students to abandon the trope that they need special skills or technical majors to succeed in Silicon Valley.
"Forget skills," Browne told them. "The focus is do you have the adaptability and the ability to learn?"
Browne also emphasized consumer empathy as hugely important in the tech world.
Students then put their empathy to the test in product development workshops led by Google, Intuit, Pandora and LinkedIn.
"The whole idea of this experience is to show them what tech companies do, and a lot of it is product and revenue," said Deborah Mintz, vice president of external impact at Management Leadership for Tomorrow.
Oshin said the process of encouraging minorities needs to start sooner.
"Why don't we start looking at students in elementary school and letting them know you can get here too?" she said. She sees her ability to identify with her parents' immigrant culture as well as the people she met growing up in predominantly white spaces as a strength that has helped her in her business studies.
Photo Credit: Paul Chinn, The Chronicle
---
"Programs like MLT teach you your different identities and your background are great attributes and things you should be proud of," Oshin said.
Florida native and college junior Christopher Harmons, whose parents immigrated from Jamaica, likened the pipeline problem to those he's encountered studying mechanical engineering at the Massachusetts Institute of Technology.
"If you go all the way to the source, swap out the pump or increase the mass flow rate, you can solve the source problem at the beginning to make a better solution at all lengths of the pipe," he said.
Jessica Floum is a San Francisco Chronicle staff writer. Email: jfloum@sfchronicle.com Twitter: @jfloum