Q&A with MLT MBA Prep Alum and Ascend Coach Shauntel Poulson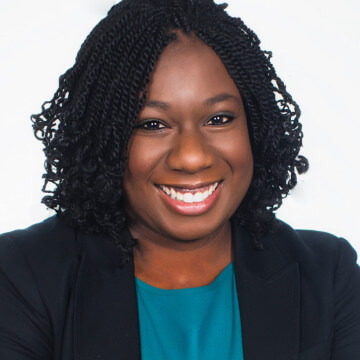 By: Shauntel Poulson , MBA Prep 2010

Our MLT Alum are always doing great things in the community! Recently Shauntel Poulson, one of our MBA Prep Alum and current MLT Ascend coaches, was featured in Yahoo's Article entitled "5 Black Business Leaders who are changing the face of Silicon Valley." Shauntel was featured for the financial fund 'Reach Capital", which she co-founded and also works as a general partner. We had a Q&A with Shauntel to get more insight into not only her business venture but also how MLT contributed to her career path.
Tell me about Reach Capital
Reach Capital is an early stage venture capital fund that supports the most promising entrepreneurs developing technology solutions focused on issues of access and opportunity in K-12 education.
How did you come up with the idea for Reach Capital?
As technology became more prevalent in our personal lives, my colleagues and I saw the potential that technology could have to improve education outcomes, especially for students from under served backgrounds. At NewSchools Venture Fund we began investing through the Seed Fund to support early stage edtech entrepreneurs when there wasn't a lot of capital flowing to the industry. We then spun out Reach Capital to access more capital and continue supporting our companies as they matured. One of the goals of Reach is to act as a catalyst, inspiring and enabling traditional and non-traditional investors to provide capital to build the edtech ecosystem.
Did you have any critical moments where a mentor or interaction pushed you forward when you might not have done so on your own?
A mentor once told me "The day you realize you are unhappy in your job should be your last day." I took that advice to heart and ended up leaving a comfortable career in consumer products development to pursue a career in education. MLT was instrumental in helping me identify career opportunities that not only matched my skill set, but also aligned with my passion for education and brought me fulfillment.
What is most exciting to you about being included as a Silicon Valley Business Leader?
It is exciting to get recognized alongside other business leaders from diverse backgrounds and see how all of our efforts are influencing Silicon Valley to become more inclusive. I hope that I can be a role model to others that want to pursue a career in VC or entrepreneurship, but may have never thought it was possible.
What do you hope for Reach Capital (and yourself!) in the future?
I plan to continue supporting education technology entrepreneurs through Reach Capital for the foreseeable future. My hope is that Reach will become a model for other impact investment firms and an example of how business and entrepreneurship can be a lever for social change.
Would you recommend MLT's programs for students planning to be entrepreneurs themselves?
I would highly recommend all of MLT's programs for entrepreneurs to hone their professional skills, especially "scrappiness" as this is the number one characteristic I look for in entrepreneurs as an investor. MLT is also a great way to build out your network and as an entrepreneur you will need to leverage your connections to gain users and customers, hire a team, raise money, build partnerships, etc.