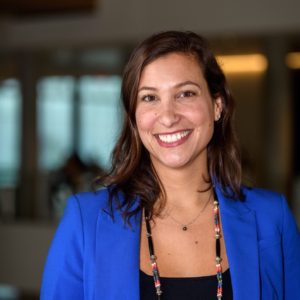 Caroline Ferreira
ORGANIZATION
DaVita
MBA Program(s): Northwestern University - Kellogg School of Management
MLT PROGRAM
MBA PD 2016
---
Complete this sentence, "If not for MLT..."
I wouldn't know where my career was headed next.
Please describe the impact MLT had immediately upon completing your program.
I learned about my new employer at the Core Skills Seminar and got an internship offer after interviewing through MLT. I don't know if I would be at DaVita today if not for MLT!
How has MLT changed the financial/economic trajectory for you and your family?
MLT has helped me stay on track financially while finding a job that's fulfilling. I thought I was going to take a huge pay cut going into healthcare and that's not totally true.
Has MLT elevated your personal and professional aspirations? If so, please provide an example.
While I informally mentored women and diverse hires at my old job, I now look to fill openings on my team with diverse candidates. I recognize the power of my leadership position, and how I can influence the lives of others by giving unconventional choices a chance.
How has MLT's community helped advance your personal and/or professional happiness?
The community and coaches helped me achieve personal goals as well as professional ones by helping me navigate difficult situations with friendships, and being a newcomer to a new industry that is a lot less diverse than my previous job.
Speak to a challenge MLT helped you overcome and how did that help your trajectory (i.e. confidence that you belong, growth mindset, vulnerability).
Confidence that I deserved a chance at my job and that I could succeed without a background in this industry.
Have you helped advance vulnerable people on their path to economic mobility? If so, how?
I've helped mentor others and actively look to add diverse talent to my team. I hope to continue to mentor others that come behind me.
Share 2-3 ways you've been able to accelerate your organization's journey toward greater diversity and inclusion.
I've shared my story with others and highlight diversity and the importance of mirroring our community with my teams.
Share your favorite song, movie, or book, and why it appeals to you.
I have too many favorite books but I'm enjoying Michelle Obama's Becoming. The book demonstrates how both Michelle and Barack had incredible potential for leadership and growth but had to harness that for good. It gives me hope that we can see greatness in others as long as we help them channel it in a positive way.
What is your superpower?
Empathy is my superpower.
What gives you hope?
What gives me hope is the potential we all hold to help others as we rise.
This content has been edited for brevity and clarity.
Published in 2019