Say it with me: Duke Few-Kwa School of Business
By Victoria Bright
Victoria Bright completed MLT's MBA Prep program in 2020, and is currently pursuing an MBA from the Duke University Fuqua School of Business. She shares information about the Fuqua community and the opportunities offered by the school, as well as provides some key advice for incoming MBA Prep Fellows.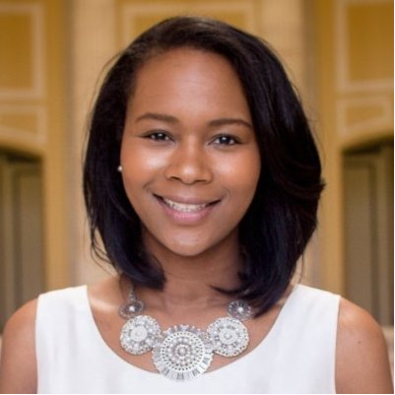 Welcome to the Duke University Fuqua School of Business! Let's start by addressing the elephant in the room—Fuqua is pronounced (Few-Kwa). The university is located in Durham, North Carolina, just a short drive to both the beach and the mountains. Durham is known for its rich ethnic diversity, local food scene, and progressive values. It is part of the larger Research Triangle area—sometimes called the Silicon Valley of the East Coast—and home to companies like Cisco and IBM. In other words, opportunities abound here! 
Unfortunately, as MBA Prep Kick-Off is taking place virtually, you aren't able to explore Durham and our physical campus. If you were at Fuqua, you'd see students walking the hallways, eating in the cafeteria, and going to class (with masks and social distancing, of course!). While other MBA programs have gone completely online, Fuqua has offered a hybrid of in-person and virtual classes since the school year kicked off in August. Students have the opportunity to choose whether they prefer to attend virtually, or in person. This highly personalizable plan is possible because of the massive investments Duke has made in testing, symptom monitoring, and contact tracing.
You can tell a lot about a school's values based not only on how it has responded to COVID, but also on the essay prompts used for its application. One of Fuqua's prompts is called "25 Things," and it asks applicants to share that number of unique aspects about themselves. This essay reflects Fuqua's focus on connecting and developing leaders that have diverse life experiences and interests. We often start meetings or events with someone sharing one of their 25 Things as an ice-breaker. It's a great way to get to know your classmates and learn about their stories, cultures, and values. I met one student, for instance, who shared that he was born in a town that did not have electricity. He went on to become an electrical engineer and years later returned to connect that same town to the electric grid. He is just one example of the talented, ambitious, and community-oriented people at Fuqua. 
The best part of my experience has been the #TeamFuqua culture, which prioritizes collaboration and teamwork. As a student with solely non-profit and government experience, I knew I wanted to go to a school with a supportive, collaborative culture. At Fuqua, each first year is assigned to a C-LEAD—a small group of five to six students—and a Section of about 65 students. The bulk of our assignments during the required first-year classes are completed with your C-LEAD team. I don't know where I'd be without my C-LEAD. They quickly became like a family to me. No matter what came our way—recruiting ups and downs, class presentations and assignments, family emergencies—we got through it together. Just knowing that I had this group of people I could go to for anything gave me so much peace. 
At Fuqua, I've had the opportunity to serve in several leadership roles. I was elected to serve as a representative for my C-LEAD section. In this role, I ensure that senior administrators are informed about the needs of my Section and work with the other Section Representatives to make the student experience even better. I am also part of the Black and Latinx MBA Organization (BLMBAO) Admissions Cabinet. Lastly, I am an Admissions Representative Coordinator, which means I help the larger community of prospective students learn about Fuqua. 
The MBA Prep program helped prepare me to be admitted to Fuqua, and to take on these leadership roles. I remember being excited and nervous to start my MLT journey. I was looking forward to meeting Fellows from around the country, but also concerned about how I would manage my job, study for the GMAT, and complete MLT assignments.
Here are some key tips for balancing the workload, staying grounded, and setting yourself up for success:
1. It's best to get your testing done ASAP.
Time slips by quickly in the program. I know Fellows who were still working on testing while working on MBA applications. That made the process much more stressful. 
2. Remember that your score on a test does not define you.
Admissions decisions aren't made on test scores alone. I was lucky to have so many MLT friends who helped me remember that. When I was a Fellow, I prioritized my mental health over testing. Once I got a score that hit within the range of what was accepted by the majority of schools I was targeting, I wrapped up testing and focused on things that made me feel more agency: essay writing and engaging with admissions officers. 
3. I encourage kicking your savings into overdrive to prepare for being in business school.
There are many unanticipated costs—like travel, conferences, social gatherings. Fuqua has actually refunded some fees, which has led to a lot of savings for students. Still, I'm happy to have saved funds for the experience. 
Congrats on being accepted into the MLT MBA Prep program, and welcome to Fuqua!
___
Join the Next MBA Prep Event!
MBA Prep regularly holds virtual events hosted by a variety of our partner schools in the fall. In these events, b-school admissions officers discuss the admissions process for MBA Prep and their MBA program. Sign up the next webinar.