NewProfit Reinvests in MLT's Growing Impact on Diverse Leadership
By: Avril Langevine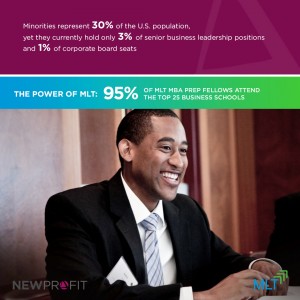 We're excited to announce that New Profit, a Boston-based venture philanthropy fund, is reinvesting in MLT to support our growth as we work to transform the face of leadership in America.  New Profit's generous $2 million over the next four years will help us scale our impact dramatically and develop a new generation of diverse talent that will profoundly influence our organizations, communities and society as a whole.  Read more about our partnership below:
April 21, 2015 (Boston): New Profit, a pioneering venture philanthropy fund working to break down barriers to opportunity in America, will invest $2 million over the next four years to support MLT as the nonprofit organization scales its efforts to transform the face of leadership in America.
Today, Black, Hispanic and Native American minorities represent 30% of the U.S. population, but hold less than 3% of senior leadership positions and 1% of corporate board seats. Over the last 12 years, MLT has worked to close this leadership gap by identifying and providing high-potential underrepresented minorities with a winning professional playbook, one-on-one coaching and door-opening relationships to accelerate their paths to senior leadership. MLT has created a thriving network of more than 4,000 rising leaders and is transforming the diverse talent pipelines at its partner organizations, including more than 100 leading corporations, nonprofits and graduate business schools.
MLT's bold vision is to develop a new generation of diverse talent in America – 1,000 senior leaders and 10,000 more in the pipeline – by 2030. MLT is not only changing the careers and life trajectories of the individuals it serves, but its rising leaders are also creating a multiplier effect that allows them to have a profound impact on their organizations, communities and society as a whole.
"If we fail to develop a large and growing segment of our talent pool who will represent over 50% of our population within 25 years, we are setting ourselves up for dire social and economic inequity," said John Rice, founder and CEO of MLT. "We see developing top minority talent as a national imperative, which will only strengthen our organizations and ensure our nation remains competitive," said Rice.
MLT's programs take talented minorities on a career journey that 95% describe as "life-changing." More than 95% of MLT's college fellows receive fast-track jobs prior to graduation, compared to about 20% of all undergraduates. MBA admission rates at the top ten business schools are three times greater for MLT's "MBA Prep" fellows than other applicants, and 40% of the underrepresented minorities at Harvard Business School, Wharton, Kellogg and Columbia are MLT fellows. Seventy-five percent of professionals who participate in MLT's mid-career advancement program are promoted within one year of program completion.
"MLT's approach is transformative for individuals and organizations. Our investment will help them scale to further build a network of diverse leaders who are driving critical change throughout America," said Elizabeth Riker, a New Profit senior partner who has been leading the engagement with MLT and a member of its board since New Profit's initial $800,000 investment in 2006. "The dramatic growth in impact that we have seen during our time supporting MLT gives us confidence in John Rice's vision and insight and the capability of his leadership team, and we are excited to be re-investing in the next phase of MLT's growth and impact."
The new funding from New Profit will be unrestricted and supplemented by hundreds of hours of strategic support delivered in collaboration with Deloitte. The strategic support program, which will be overseen by Riker, focuses on three areas: 1. executing the organization's strategic plan to dramatically widen and deepen impact; 2. implementing a new measurement and evaluation plan; and 3. supporting the development and growth of the senior leadership team and the board of directors to continue to build the capabilities required for the next phase of growth.
"What distinguishes New Profit from other social investors is their holistic approach to helping organizations scale their impact. New Profit's original investment in MLT, along with their advice and connectivity, was critical to helping us transform the careers and lives of thousands of individuals and get our organization to where it is now. New Profit has remained a valued strategic partner, and we're thrilled that they've decided to reinvest in MLT to take us to the next level of scale and impact," said Rice.
Learn more about New Profit by visiting www.newprofit.org