MLT Staff Feature: Desirée Stolar talks Shark Tank, Entrepreneurship and Motherhood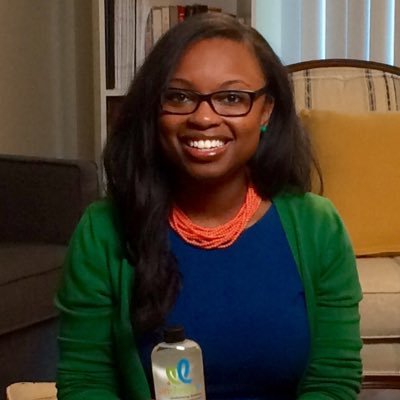 MLT's Director of Alumni Engagement Desirée Stolar is a true powerhouse. As a Harvard Business School Alum and a self-defined strategist, entrepreneur and motivator, Desirée knows a thing or two about business. Desirée has worked in corporate America in multiple industries and even had a successful appearance on Shark Tank for her company Unshrinkit. Check out her interview with us where she talks about her career path, the Shark Tank Experience, and life as a new mother.
Tell us about your background.
Des: At my core, I am a product of organizations that care about propelling talented professionals of color into the corporate space as an alumna of LEAD, INROADS, and UCLA Riordan. In my career, I have always been attracted to the intersection of audiences, media, and engagement.
I was a Media Studies major at the University of Virginia and I had internships at places such as Warner Brothers Film Studios and Dish Network. Once I graduated, I joined Capgemini's Telecom, Media & Entertainment practice, focusing on technology implementation projects. After a year, I moved sight unseen to Los Angeles and joined a boutique research and brand strategy group. I did not even own a cell phone but ended up being the go-to research analyst for our media tech clients once I dove into the work. Within a few years, I was leading a spinoff team focused on large tech, retail and entertainment clients. It was the perfect amalgamation of my interests in consumers, media products, and engagement.
Ultimately, I wanted to return to the "Right coast," so I joined the brand strategy group at Marriott until I was accepted into Harvard Business School. To my surprise, nothing went according to plan once I arrived in Cambridge.
How did your business idea UnShrinkit, come about?
Des: In 2013 for my first winter in Boston, I brought out every warm garment I owned. After my first laundry trip, I realized I had accidentally shrunk several of my wool garments in my haste to get back to reading cases. I was devastated. After a couple hours of being annoyed with myself, I realized there had to be a commercial solution on Amazon. To my surprise, there was nothing available online. It seemed absolutely crazy that there was nothing there in 2014 for unshrinking wool garments. When I returned to class, I pitched it to my team as our idea for a micro-business project. For two months, we became mad scientists trying to test out different formulations. We created a rigorous methodology thanks to a product developer on the team, and one solution worked! We placed third out of 152 HBS teams and we all received top scores in the entrepreneurial class.
When the class ended, we put the bottles in the closet and only gave the product minimal attention over the summer as we worked on more traditional internship pursuits. 
How did Unshrinkit it go from business class idea to full business?
Des: When we got back to school in September, I decided to sell the remaining 200 bottles of Unshrinkit to a third party launch program. On September 17, 2014, my phone started vibrating in class over and over. The sales team reported  "We sold out of the 200 bottles in 30 minutes. We hope it's OK we kept selling and ultimately sold 2,000 bottles. How soon can you send those additional ones to our customers?"
Instead of saying we did not have any inventory, we asked for four days to make up the shortfall. We spent the entire long weekend bottling our product in the kitchen and bathroom – mixing, labeling, capping, and storing bottle after bottle, case after case. That was our first realization that there was true demand beyond the HBS community. With minimal resources, we built up our company each day, adding key needs along the way. Within a month, we had marketing collateral, a decent website, supply chain vendors, printing services, a shipment center, and a customer service program. HBS Support Systems and our professors were integral in making this happen quickly.  
How did Shark Tank come into the picture?
Des: Given our limited marketing budget, I would tweet to people who randomly would talk about having shrank a sweater and I would tell them about our product. One day I tweeted to a woman who was the aunt of a TV producer; she used the product and she liked it. From there, the Today Show producer contacted us, and they put it on Kathy Lee and Hoda ("The Today Show"). The producers of "Shark Tank" reached out to us about fast-tracking our business for Season 7. We had to review legal work, prepare our pitch, and develop our negotiation tactics within two months for filming. For 20 hours a week, I was either practicing or preparing for Shark Tank with my co-founder Nate Barbera. 
What was most surprising about doing the show? How was the overall experience?
Des: Nate and I were prepared for the show, but what I could not have anticipated was the intense adrenaline and pressure that comes with being on that stage.  There are cameras and mics everywhere. There are producers on all three sides of you, while the sharks sit in front of you. It is an intense period for any founder, but especially for anyone who feels like they are representing something more (in our case, HBS).
Once the filming begins, it is literally someone just off to the side who says "Begin". Then you give your pitch, and the sharks start asking you lots of questions. These are very wealthy, experienced people who feel that they are entitled to have their question answered first.
So I pretended that I only heard certain questions, and I would turn to one and say 'Daymond that's a great question – let me answer that for you.' I started with Daymond's question, and I answered it very well. It created a waterfall effect in which each subsequent question followed the line of questioning we wanted, and subsequently, we handled the deliberation quite well. After a two-hour conversation, we had won them over. The sharks went from being skeptical and resistant to truly engaging with us on our growth prospects and exit strategy. There was a mutual respect.
We did well. We received three offers and took the best one from Mark Cuban. We then leveraged that promotion through the 2016 season to sell 30,000 more bottles of Unshrinkit.
AT MLT we speak a lot about confidence and belonging. What gave you that confidence while there in the "Tank"?
Des: It was preparation and a deep-rooted sense that I was representing more than myself. We had done enough research to know that less than 5% of the businesses that received funding were from black communities, and I knew that my probability of getting a deal went up because I had a white male. However, I decided they would not see my co-founder as a buffer, but see us both as complementary and contributing members of the team.  
Going on to that stage, I knew I was representing my hometown, UVA, HBS, and my family. I knew that legally they could manipulate my image as they saw fit. I decided to focus on the opportunity being a promotional effort. The show has 50,000 people every year who apply and only 200 people get filmed and of the 200, only 100 air. So it's a huge success to make it on the set. I was so well prepared and knew that there was very little that should surprise me. I told myself to enjoy the moment and play to my strengths.
What are next steps for Unshrinkit?
Des: The biggest challenge of any business always comes down to people. In my case, you had a group of people who came into HBS with a vision for what they wanted to do after graduation. You had someone who wanted to go into investment banking, you had another person who wanted to do risk management, and two people who wanted to go into management consulting. And just because Unshrinkit was successful, didn't mean they wanted to go into entrepreneurship full-time. So by early 2016 all of those people decided to go back into what they had originally wanted to do. The company is run by a team of vendors and suppliers, and I run point with each of them. It has worked out because by mid-2016 I knew I wanted to take my life in a different direction, but I still wanted to serve our consumers. Currently, we are in six countries and have sold over 70,000 bottles.
What brought you to MLT?
Des: I knew that I wanted to give back to the overall space of talent development and career acceleration.  In addition, I wanted to leverage my experiences and my knowledge to help the next generation. It just so happened that the one organization that I looked at first happened to be right in my backyard. MLT was the perfect combination of what I wanted to do next – audience engagement, constituent research, and media development. I am extremely passionate about making sure underrepresented minorities fully recognize and leverage the resources made available to them, as well as making sure they stay engaged with those organizations that helped them.
You have a new baby boy. How has being a new mother impacted you?
Des: Nothing helps focus me more than having a child! There is a lot of noise and fluff to your life that you are willing to keep up when it is just you, and maybe just you and your spouse. However, a child changes that equation. So you have to ask yourself, 'What is it that I want to do in my life that will feel so intrinsically valuable to who I am and the kind of impact I would like to have, that I would feel comfortable spending hours away from my child doing it?' I said if I am going to shift from Unshrinkit, I want to make sure the time I am spending away from my family is time in which I really love what I am doing. I am loving every moment at MLT, and I am grateful they saw fit to bring me into the fold.