MLT Rising Leaders Making History: Camille McGirt
by: Avril Langevine
We at MLT are celebrating Black History Month and Women's History Month by featuring the accomplishments of some of our more than 4,000 fellows and alumni. These Rising Leaders are blazing a path toward senior management, and thousands more are coming behind them. MLT is proud to support them every step of the way. Both as individuals and through their collective impact, our Rising Leaders are making history every day and leaving a profound impact on their organizations, communities, and industries.
MLT Alumna, Camille McGirt (Career Prep '11), is the founder of Healthy Girls Save the World, Inc., a 501(c)3 non-profit organization dedicated to promoting healthy bodies, healthy minds, and healthy relationships for middle school girls in North Carolina. Over the past three years, Camille and her team have raised more than $35,000 in funds to support programs for over 300 girls since the organization's founding in 2011. Healthy Girls Save the World was highlighted at the Clinton Global Initiative University in 2012.
Watch the video below and learn more about Camille's success story in her own words:

The idea for Healthy Girls Save the World (HGSW) 
In the fall of 2010, I was an intern at the White House and I decided to volunteer with Michelle Obama's Let's Move campaign. I was enamored by the first lady's passion to address the childhood obesity epidemic, but I didn't think it was tangible on multiple levels. I wanted to take her message and make it tangible for girls in my community.
Getting started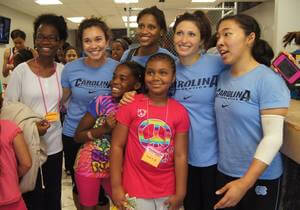 The greatest challenge was finding a great team and a strong program model. I have a passionate team that shares my vision and really wants to work. They have the intellectual and professional tools to secure grants, win competitions, and demonstrate strong leadership. Together we worked hard to develop a sustainable program design. There are so many programs out there trying to solve childhood obesity. We decided to differentiate ourselves by using the resources offered on college campuses. We have leveraged UNC and Duke's facilities, athletes, and student volunteers to develop a solid program and a strong community of women in the Triangle, NC community.
Seeing rewarding results
The most rewarding experience has been the interaction with my girls. I enjoy seeing that all the time and effort is worth it because the girls enjoy it. They want to drink more water. They want to go out and exercise. Together, we want to make health fun and make it something that young girls strive to attain. Building this organization has taught me so much about negotiation, management, and carrying ideas through to the end. I am able to use a lot of the skills I've obtained from this experience in my personal and professional life.
Moving forward
Healthy Girls Save the World received a generous donation from Wells Fargo last summer as the corporation afforded HGSW participants the opportunity to attend the 2014 Women's U.S. Open in Pinehurst, NC. Wells Fargo took time to publish a story featured here.
HGSW is currently holding a Strive for 35 campaign, asking donors to give $100 to sponsor a girl's participation in the program. Feel free to learn more about the fundraiser and donate here.
How MLT helped me
MLT polished me as a professional and gave me the skills I needed for non-profit management. It has also solidified my interest in corporate social responsibility. My coach was very instrumental in motivating me to start Healthy Girls Save the World. I have been able to recall much of the knowledge gained from my experience with MLT and I drew from that while building HGSW.
Don't just think. DO!
My advice to others is to create a team of people that want to help you when you're starting your own initiative. Find people that want to help you accomplish a greater goal. Don't just be a thinker, be a do-er. You can't be afraid to fail. Have the tenacity, will, and persistence to follow your passion.