MLT's 2022 Women of the C-Suite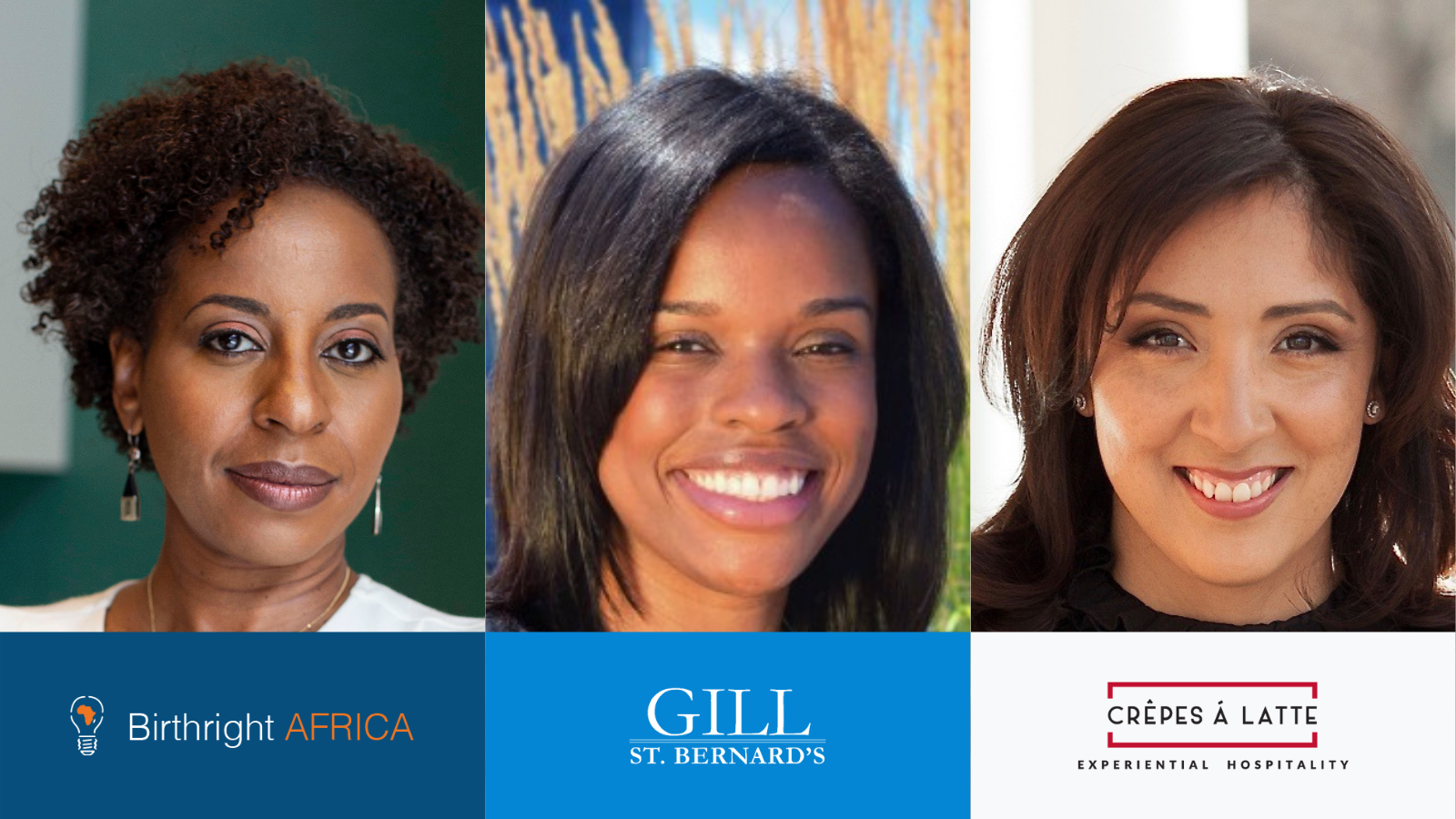 By: Day Rankin
MLT takes pride in creating equitable spaces and diversifying industries through both race and gender. This year for Women's History Month, we spoke with three MBA Prep Alumnae who have leveraged opportunities in their careers and advanced to top executive positions. As Women of the C-Suite, Walla Elsheikh, Haydee Caldero, and Kelly Garnes-Pages reflected on their career journeys, sharing insight and inspiration to others rising through the ranks.
---

Walla Elsheikh,
Chief Executive Officer (CEO) at Birthright AFRICA
As a CEO, Walla Elsheikh wants people of African descent to know and gain confidence in who they are. Walla immigrated from Sudan to Queens, New York, with her parents at a young age. Despite her drive and success in Corporate America, Walla says she grew up feeling lost and disconnected. She recognized the importance of cultural awareness and pride and their correlation to self-confidence. In joining MLT MBA Prep, Walla did some "career soul searching." Within six months, she developed a plan based on her true passion–educating and empowering the next generation of leaders and entrepreneurs. Since graduating from Indiana University's Kelley School of Business, Walla's career moves have been intentional steps towards launching Birthright AFRICA. The nonprofit organization provides free educational trips to Africa for youth and young adults (age 13-30) to explore their cultural roots and legacy of innovation in collaboration with partners.
MLT: What's one thing you had to overcome in order to be in the position you're in today?
Walla: The best leaders hire people who know more than them. I've learned that it is okay to not be worried or anxious if you make a decision that may not be the right one. I'm that person that's a recovering perfectionist, a recovering control freak. I worried all the time, ruminating on decisions and that's when overthinking happened.
I learned that I have a team for a reason. My role as a CEO is to empower others so that I feel like they can make decisions. You can't do everything and it's been hard to let go especially as a founding CEO, but then I see the results when I do and, ultimately, I know it's the right thing.
What have you done to accelerate opportunities, advancements, and realities for other (Black, Latino, Native American) women?
I'm focused on putting a lot more Black women on the Birthright AFRICA board, ensuring we have as close to a 50/50 gender balance to represent the Black African diaspora. We ensure as close to a 50/50 balance within our Birthright Scholar Cohorts as well and that the stories of Black women – past, present, and future – are represented during the exploration of Black/African heritage, culture and innovation starting in the U.S. and culminating on the continent.
Advice to other women who aspire to be in the C-Suite? 
Whether it's your own founded companies or organizations that you find jobs in, ensure that you fully believe in the core values, mission, and vision. There will likely be moments when you don't know if you have what it takes to keep going to strive and be at the highest level. It's the commitment to values, mission, and vision that will keep you going. 
I would also say, learn to speak up and say the things that no one else does. Take risks and be fearless because you know who you are. Value your personal development as much as your professional development. Realize that your professional success depends on the ways you show up in your personal life. Your personal story inspires people in the workplace too and sometimes even more.
---

Haydee Caldero,
Chief Operating Officer (COO) at Crepes a Latte
Haydee Caldero's path to the C-Suite has been nontraditional yet full of purpose. Growing up with two social activists and second-generation Latino parents influenced Haydee's commitment to social justice and equality for disadvantaged groups. Haydee's career began in public affairs and education, advising executive leadership on economic development and communication with the Latino community. Going beyond public policy, Haydee solicited MLT upon a random Google search to help prepare for Harvard Business School. In Haydee's post-MBA career, the difficulty of being not just the minority but one of the only women led to a career in entrepreneurship. Haydee launched a financial advisory practice, providing personal and business financial services to underserved markets. Haydee's wealth of experience in public policy and business contributes to Crepes a Latte, an Inc 5000 fastest growing company in America. As Chief Operating Officer, Haydee drives the company's growth and supports the leadership team's overall vision. 
MLT: What's one thing you had to overcome in order to be in the position you're in today?
Haydee: I've learned to stay focused on what's important to me and not solely on what's important to other people. Not only would I sell myself short by focusing on things that aren't meaningful, but I would also waste a lot of time.
I focus on what makes me happy and what I'm passionate about so I can wake up every day and be excited about it. If you're passionate about what you do, you will make progress and can choose to be a constant learner who asks really good questions and understands what's going on, so that you can provide a proper solution.
What have you done to accelerate opportunities, advancements, and realities for other (Black, Latino, Native American) women?
Over the last several years I started to become more involved in the employee ownership space. That's something I want to continue to develop because employee ownership represents the ability to actually pass on the wealth generated to the people who are actually helping the company be successful.
Employee ownership allows people to have a piece of the pie. Whether it's a frontline employee, the Sales Director, or an employee who's one or two years out of college, each and every one of them participates in the company's success by owning stock in the company and acquiring it without having to pay for it. Regardless of their role, race, or gender, as long as they are an employee contributing to the company, they get to benefit from the company. I think that's something I want to help foster more awareness of as a form of ownership that can really have a meaningful impact on the community.
Advice to other women who aspire to be in the C-Suite? 
My advice is to stay focused and true to who you are. If you focus too much on the title, I think you'll be disappointed. But if you focus on being a leader that helps people, solves problems, always tries to think about the future, and finds ways for the organization to adapt, you will find those leadership roles. Companies will be hungry for that level of contribution, but if you focus on it being a title you'll be severely disappointed.
If you focus on being able to help organizations and help people truly achieve their full capacity, then you can be a C-suite leader today. No matter what your role is, you can think and act like a C-Suite person. And if you do that, eventually, the opportunities will come.
---

Kelly Garnes-Pages,
Chief Financial Officer (CFO) at Gill St. Bernard's School
Kelly Garnes-Pages puts passion at the forefront of her profession. From the classroom to the C-Suite, Kelly's love for history, writing, and education remains ever-present in her role as Chief Financial Officer at Gill St. Bernard's School. Kelly's frontline experience as a teacher and program director is a core part of the value she brings. After recognizing the needs of both students and teachers, Kelly wanted to be a part of the conversations and organizational decisions at large. MLT helped her manage the transition from Education to Finance at Columbia Business School. While there, Kelly served as Co-President of Columbia Women in Business, where she learned to get out of her comfort zone and lead the organization's 500+ women. As Chief Financial Officer at Gill St. Bernard's School, Kelly's leadership is grounded in authenticity, intentionality, and a service-oriented mindset. Her work helps ensure the school functions at the highest level from the C-Suite to the students and all those in between.
MLT: What's one thing you had to overcome in order to be in the position you're in 
Kelly: Prior to taking on larger roles at organizations, I found myself nervous to raise my hand for larger opportunities.  I often thought that if you worked hard, you would be noticed and that opportunities would come.  I learned that you have to raise your hand and do the things you dream of (or at least try)!  
I joined Columbia Business School as a mom of a two-year-old.  Having her made me more courageous. When I am in doubt, nervous, or unsure, I ask myself, " If one of my children were feeling this way, how would I advise them?"  The answer to that question is my next step.  Whatever I tell my children to do, I need to do for myself.  With that, I learned to raise my hand, sign up for the opportunity, and take on the things I never would have dared.  
What have you done to accelerate opportunities, advancements, and realities for other (Black, Latino, Native American) women?
I serve as a sponsor and mentor for emerging leaders on my team and elsewhere. It's always been important to have strong team members but it's equally important to encourage and fund opportunities for them to gain transferable skills so that they may grow as leaders.  I feel great pride to see many people I've worked with currently in leadership positions.  
 I have the honor of serving on the Board of Directors of the Walter N. Ridley Scholarship Fund at the University of Virginia. Our board raises money to fund the full cost of tuition for deserving Black scholars. There is an opportunity for them to make sure that they can continue to thrive and not worry about finances. Beyond the funding and the robust scholar programming, board members have the opportunity to mentor the scholars. 
I also run a startup called Black History for Kids. We highlight Black leaders and history that inspires others.  The role of this organization is to show kids that we all belong in the spaces we desire to be in AND we can create our own spaces to thrive.  Students and adults get to understand and view Black leaders who paved the way and made it easier for us to navigate.  If you head to our page you can learn about leaders such as Septima Clarke, famed civil rights leader, and educator.  It's important for all of us to see women who are thriving and making the path a bit easier.  
Advice to other women who aspire to be in the C-Suite? 
The first thing is to make sure you CHOOSE to be in certain positions. Sometimes inertia can get the best of you. I always say that being somewhere should always be an act of choice. Make sure that every single year, at whatever interval, you ask, "Do I choose to be here?"
The other piece of advice is to make sure you are positioning yourself for growth. Is your company offering you opportunities to learn and grow? Make sure that you're not waiting for someone to create your growth plan. Find and partake in those opportunities as well.  
Lastly, do not take people management lightly. Make sure that you have the right mindset around what it means to manage and mentor someone. Oftentimes, really strong individual contributors get promoted and suddenly have direct reports without training.  Our work with direct reports is critical to our team's success.  While we all must spend time learning what it means to have an excellent work product,  it is equally important to ensure that your team member feels genuinely cared for, listened to,  and that they can thrive on your team.  Do they have the tools to do their job?  Are you their champion?  If they feel that way, oftentimes, that individual will work even harder and will have your back just as much as you would have theirs. 
___
Take the next critical step towards expanding your leadership opportunities.
Learn more about how MLT's MBA Prep Program can transform your career path.