Jam Session: Notes from A Talented Trio

Breaking Into Music, Media Management, and Tech
By Nomzana Augustin
Music is the language that connects humanity. Yet, we too often forget the skills, careers, management, and especially the people behind creating what is undeniably a powerful force. Most often, these individuals are striving to reach their fullest potential by simply doing what they love. 
While a primary focus of MLT is developing senior leaders to diversify corporate and community spaces, our Rising Leaders are also diversifying operational spaces within the realms of art, media, and technology. To highlight the wide range of opportunities, we caught up with three MLT Rising Leaders—Haile Supreme, Blue Bookhard, and Marjai Roberts. Each shares how going through MLT's Career Prep program was the beginning of a journey that led them to a career they could not have imagined. 
We begin our conversation with Abbay "Haile Supreme" Misganaw, a graduate of the 2012 Career Prep cohort. Not only has Haile collaborated with some of music's biggest names, he's also had the opportunity to work alongside luminaries such as Oprah Winfrey,  Michelle Obama, Dwayne "The Rock" Johnson, Jennifer Lopez, Tracee Ellis Ross and Amy Schumer.
Your music career has blown up in the last year. How did you decide to pursue music?
Haile Supreme: Sometimes, you have to find out what you want to do by going through what you don't want to do. I was at MLT pursuing the corporate track, but realized how intensely unhappy I was despite the successes I achieved. I landed an internship doing a rotational program with a top company, but spent my lunch breaks writing music. As I got more into music, I became obsessed with it. Each day, I would watch three hours of singing videos and two hours of drumming and guitar videos.
The first song I recorded was shared with MLTers (shout out to Abdul Ly, Armando Jimenez, and Lindsey Morrow), who were the first listeners and champions of my music. As a son of Ethiopian immigrants, I found it difficult to express myself growing up. This felt really different.
At some point, I went to 18th Street Lounge in Washington, DC, where Thievery Corporation, a band I grew up listening to, played every Wednesday. At the end of one of their shows, I approached the drummer and asked a question that forever changed the trajectory of my life: "Do you have any tips for someone trying to break into music?" The drummer shared his advice and also asked me to send my music. The next day, I shared my music and, luckily, I was called to meet the band that very night. We then met again on Saturday, and the drummer let me know he was looking for a vocalist. That's how I got started! I mention this to show that I was at the right place at the right time. I was also prepared. I had goals and I set my intentions. 
I later toured with the band for eight or nine years after that first conversation. We've done shows with audiences of two people to thousands of people. That was essentially my master's degree and "10,000 hours" because I was able to do market research, watch live performances, learn techniques, connect with engaged audiences, and more.
At some point, DJ Ayes Cold, a DC-based DJ, also reached out to me when she was looking for an MC for the Daybreaker parties (Daybreaker is a dance community that encourages people to start their day waking up and dancing in iconic spaces). I eventually joined DJ Ayes Cold and the team. 
MLT hopped on speaking to you when we noticed you were opening for Oprah's 2020 Vision Tour sponsored by Weight Watchers (WW). It is a rare sight to see an MLTer in such a bright spotlight in the creative space. Tell us how you arrived at this point.
Haile Supreme: My background with MLT helped me with structure and planning, and I used the framework in my musical career. It helped to keep me prepared and ready, and to be intentional about my next steps. I did the shows with DJ Ayes Cold for almost six years, helping to expand this community. This led to an event in Oklahoma, co-sponsored by WW. Oprah happened to be there and she loved it because of the intersection of fitness and wellness. A few conversations, proposals, and contracts later, I was brought on to open for the tour. The "dundun" drums from West Africa, which is the first sound you hear when the show starts, is a sound I brought in.
So learning all the singing, guitars, and drums via YouTube put me in a position to be the only one on stage who gets to move around and play all instruments. I luckily also get to watch Oprah interact with her crowd and learn from the content she's delivering. I am applying the information on financial freedom and fitness to my own personal life. 
When I saw the kind of crowds I was getting in front of, I realized that there is only a small percentage of people in the world who get to experience this.
In Haile's story we see passion and purpose as the driver of success as a musical artist.  Another major factor for success in today's music industry is the ability to attract and retain followers to stream your music. To learn more about the career path to media management, we connected with Blue Bookhard, a graduate of the 2016 Career Prep cohort, who currently works in media management. Blue is a pop editor at TIDAL, a subscription-based music, podcast, and video streaming service and platform.
You oversee pop music playlisting and original content for TIDAL's user base in the United States. How did you first get into music and how did you align that passion with your career goals?
Blue: I'm from New York City, went to high school on the West Coast, then lived in Philly, Chicago, and now I'm back in NYC. I started playing drums at age five and continued jamming in bands through high school. In college, I got into DJing at both private events and parties. At the time I really only did this to make money, not to express myself. By living in so many cities, I was quickly exposed to a wide range of music. Given pop music is cross-genre and curating a playlist is so similar to DJing at a party, this role was the perfect alignment of my skills and passions.
Why didn't you think music was a career path for you and how did you eventually end up here? 
Blue: Growing up, I definitely was not exposed to a "professional career" path in the music industry. I had a handful of internships across advertising, marketing, and tech, and I simply assumed that was the path for me. In college, one of my band's songs, "All Mine", was released, so I naturally tried to find ways to promote the release. My marketing skills immediately kicked in to promote the song on social media. We hit four million streams within three months of release, and I quickly realized that music was where I wanted to end up. After that point, it was a matter of demonstrating my transferable skills in interviews and landing an opportunity. 
You are also heavily involved in music outside of your professional endeavors. You're a music ambassador at the concert company, Sofar Sounds, and you co-founded The Collctve, which is an alternative space for DJs, producers, and other artists. How do your personal and professional interests align?
Blue: At work, I get to think creatively. I look at trends in pop culture and come up with creative ways to create playlists and content that will resonate with people. This is pretty on-bar with the work I did in the Collctve, running the marketing team where I created videos and promotional content to hype people up for our events. Outside of work, I like to experience music in live settings. I also enjoy seeing how people react to songs. It's really a matter of getting myself away from the computer and feeling music in the wild.
The final conversation in our series with this talented trio of MLTers pursuing music-related careers was with Marjai Roberts who graduated from the 2010 Career Prep cohort. Marjai is the Co-founder and Head of Marketing at ZigZag, an app that empowers creators, influencers, artists, and brands to co-create and co-own social videos together with their audiences.
Before your entrepreneurial journey, you secured internships with Sony Music Entertainment, NBC Universal, and Focus Features. Why media and entertainment? When did you discover this interest?
Marjai: I majored in business management and journalism with a focus in media management at the University of Georgia. I wanted to work in entertainment since I was young, but I knew my skill set would be better leveraged as a facilitator of creativity. My family is musical. My brother is in the music industry, my sister is an artist, and my uncle was a famous Liberian artist, Tecumsay Roberts (known as the Michael Jackson of Liberia), so I had previous exposure to music as an art early in life.
As an intern at Focus Features, I put together soundtracks for the studio's films. I got to work on cool tasks like securing the rights to clips of music from artists like Bob Dylan. It was a unique experience.
You had the opportunity to move into working with some tech giants. How did you make that transition?
Marjai: When I got into MLT, there were not that many entertainment partners. But Google looked at my resume and I ended up getting an internship there. I wasn't sure what my role and scope would be, considering that I wanted to be in the entertainment industry, but my internship experiences made me more marketable and gave me the ability to gain more opportunities. I stayed at Google for five years. I started as an intern and converted to a full-time employee in February 2011. My core job was on Google Ads, consulting with small-to-medium-sized businesses. I learned lots about sales and communication skills. That proved to be especially beneficial to me as an entrepreneur seeking to raise capital now for my startup.
I also ended up becoming the de facto "entertainment girl" with artists and filmmakers who would come to Google for press tours. Some of my highlights there include interviewing producer Will Packer, hosting a Black History Month event to promote Brandy's album, and arranging a Google Music listening session with Jennifer Hudson. The Talks at Google team and I also hosted events with the casts of The Walking Dead, 12 Years a Slave, and Planet of the Apes. My experience interacting and engaging with artists put me in a position to work on entertainment-related projects across the company.
You eventually transitioned to living in Southern California. How did that happen?
Marjai: I was recruited by musical.ly, which got acquired and is now TikTok. I was brought on to start the LA office from scratch. Living in LA and working in entertainment was a dream come true! I realized I wanted to stay engaged with the tech side of entertainment so, as the fifth US employee at musical.ly, I developed artist partnerships and executed on their music licensing deals. All the elements of my career that I love came together in that position.
I transitioned out of musical.ly two years ago and went on a year-long self-care sabbatical. That break allowed me the space to explore and cultivate my multi-passionate entrepreneurial ideas. I became a marketing consultant, as well as invested in real estate. I also started developing my passion project, NuNotions, an inclusive beauty product review platform geared toward men and women of color. Finally, I co-founded ZigZag, which is a social video collaboration application that allows users to co-create short form videos AND co-own the engagement. We're excited to launch the app on the App Store later this month—March 2020!
What a journey! It sounds like your experiences still require you to be creative in some form. How do you determine whether your creative products will be embraced and used by the masses?
Marjai: I knew musical.ly would be big. I engaged with young people and learned about what was cool to them. Youth, aka Gen Z, have a lot more time and are more open-minded when it comes to discovering new and exciting products. They often know what will trend before it trends. I based a big part of my decision to join musical.ly on gauging the potential in how excited younger people were about the app before it even hit the mainstream. What's interesting is that my niece nearly had a heart attack when she found out musical.ly actually reached out to recruit me. Honestly, I had never even heard of the app before then! I took a chance to make that next career move, which paid off, and I got a lot of that from what I learned in my experience as an MLTer—being scrappy!
As we wrapped up the conversations with each of the MLTers, we asked them to provide advice to Rising Leaders who are interested in music-related careers.
Haile: There are a number of things I would suggest:
Be fearless and devoted.
Be obsessed. My work ethic and discipline separated me from others.
Always be curious and ask questions. This helps to build rapport, gather information, and to gain insights about yourself!
Blue: Understand the blueprint and formula, including items you need to have in your toolkit in order to achieve success. Music is an industry a lot of people are trying to access, so it's challenging to set yourself apart, especially for formal corporate jobs. You need self-confidence and grit. It will be hard if you don't know how you will fit in and make a mark. I had lots of experience with digital marketing and that gave me an advantaged entry. I was able to articulate that to my manager, artists, and others.
Your toolkit varies depending on the function or role you are seeking within the music industry. As an artist, you need talent and to know who you are and who you are not so you don't make compromises.
As a manager, know how you will build out an artist — whether it's finances, marketing, or identifying hits.
In a corporate setting, passion does not mean you have the skillset, so you need to distinguish that to be able to succeed. Understand how to manage large egos, nepotism, and working with others. The hard skills include understanding the album release cycle, the process of development, and making an artist.
Marjai: Build a solid, public brand for yourself because someone is always looking. I got great opportunities because my reputation precedes me. As you move up the career ladder, people are less likely to be interviewing to see if you have the skills to succeed at a job. People know your value, and reach out to you to see if you are interested in a job.
Also, try new things. For example, I had multiple internships in college. This helped me to ascertain what I enjoyed doing and to focus on what path I wanted to pursue.
Finally, I would advise you to "network to get work". MLT is a great network, so Fellows and alums have a head start there. Helping people is also a form of networking. Be a mentor, and give when you don't need anything from anyone. Ask high-profile people how you can be supportive to them instead of always initially asking them what they can do for you.
Finally, we were curious about what each of the talented trio was listening to.
Haile: I'm sitting in front of a window at my cousin's spot in California right now, with the sun shining on my face, listening to my song "Danjahrous", which I put out last year. The song allowed me to travel to Cape Town, Spain, and really opened the doors to success for my music. It makes me so grateful to be where I am right now.
Blue: Bad Bunny/Tiny – "Callita", Khalid/Disclosure – "Know Your Worth", Caroline – "Blank Space".
Marjai: I'm old school 90s R&B, so Sade, Brandy, and Toni Braxton are always on rotation. I'm also listening to the Tokyo Project by my brother, Grammy-nominated producer FKi 1$t, who created this music project around his experiences in Tokyo.
There were similarities in the advice our trio offered to incoming MLTers interested in music-related careers. Music was all encompassing in some shape or form to Haile, Blue, and Marjai. Each of them notes, however, that their success would not have been possible without hard work, grit, and nurturing relationships.
This post has been edited for brevity and clarity.
---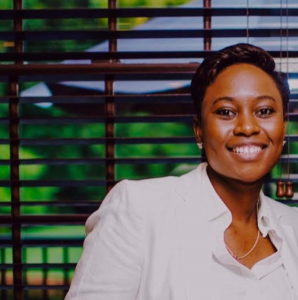 Nomzana Augustin works at Management Leadership for Tomorrow as the Manager of Alumni Strategy & Engagement.