From Defying the Odds to Triple Threat!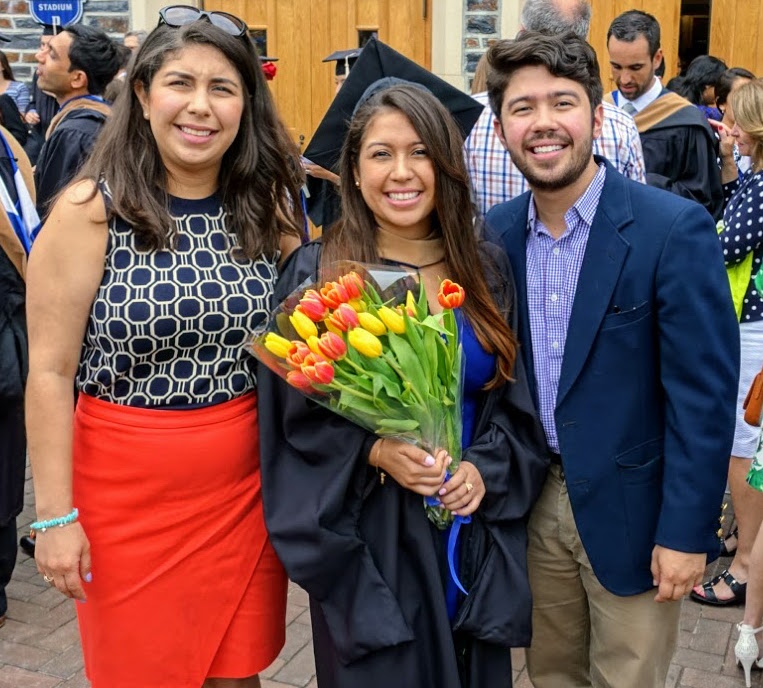 by Simone Manee
The Bulldogs aren't the only team from the University of Georgia with a winning game plan. Natalia, Juliana and Felipe Suarez have defied the odds, each on trajectory to become a high-impact business leader.
The siblings, whose parents immigrated from Colombia in the 1980's, learned to work hard and be independent at an early age. Their father didn't go to high school and their mother was unable to attend college, yet their parents ensured all three siblings made it to the University of Georgia. "Growing up as a first-generation American, and coming from a low-income family, there's a great deal at stake if you don't work hard and deliver results. You are constantly in survivor mode," said Juliana.
She explained that children in her family's position must learn to advocate for themselves when parents are unable to help with tasks like homework assignments or college applications. "There's a ton of things that you have to find out on your own or find people outside of your family who are going to help you figure out how to navigate."
Despite these challenges, the siblings have thrived in undergraduate and graduate school, each collecting job offers from prestigious employers.
How did they do it? The siblings attribute their success to learning from each other's experiences and coaching one another along the way.
Although Natalia was first to graduate from college, Juliana was the first to join MLT. She was accepted into the Career Prep 2011 cohort. It's no surprise her siblings followed her lead. As the middle child, Juliana often played the role of connector and ringleader. "I always boss them around," she laughed.
Sure enough, in 2014, Natalia was accepted into MLT's MBA Prep program, and in 2015, into MLT's MBA Professional Development program and Duke's Fuqua School of Business. She graduated earlier this year and is now an Associate Brand Manager at Coca Cola, working on the Vitaminwater brand.
After college, Juliana spent a few years working for Google's BOLD internship program, where she helped bring historically underrepresented students into non-technical internships. When she decided to go to graduate school, she joined both of MLT's MBA program, and is currently attending the University of Chicago's Booth School of Business.  
Felipe, the youngest sibling, applied and was accepted into the Career Prep program. "I knew about MLT ever since my freshman year because Juliana was going through Career Prep. I would see how much time and effort she would put into the organization and remember her telling me, 'If you work hard and try hard, opportunities will arise.'" Felipe took her advice to heart, earning internships at Facebook and ESPN. And, when he landed Google's coveted product marketing internship this year, Felipe bunked at Juliana's apartment for the summer.
Juliana and Felipe's Career Prep coach, Rishal Stanciel, recalled the first time she met Felipe. She was recruiting at a Hispanic Student Association event at the University of Georgia and says,
"He was the only person there in a suit, decked out. He asked the most insightful questions, very engaged, front and center — but that's the Suarez brand."
After graduation, Felipe will return to Google for a full-time role in product marketing.
In addition to managing their careers, the Suarez siblings are active in their communities. "I'm particularly interested in increasing the number of Latinas in business school and business in general," said Natalia.
Juliana has previously volunteered with the Michigan Hispanic Chamber of Commerce, the Hispanic Foundation of Silicon Valley and she's already engaged with her Chicago community, while she's at Booth. "Even when I think back to my younger self, uplifting others has always been a part of my natural default," she said.
Felipe views a career in product marketing as a chance to make a large-scale impact on underserved markets. "I will have the opportunity to create engaging content and emotional campaigns that reach a consumer [who] has been ignored until now — the Hispanic consumer, " he said.
The siblings also make a point to give back to MLT by supporting recruitment events and mentoring incoming fellows. Juliana explained, "MLT has created opportunities for socioeconomic mobility for me, and I strongly believe in MLT's mission."
Felipe added, "Everyone in the MLT community is skillful, creative, hardworking and wanting to push their community forward."
"I like to call it #minorityexcellence."