Embracing Career and Heritage: Resilience Helps Laura Sandoval Shine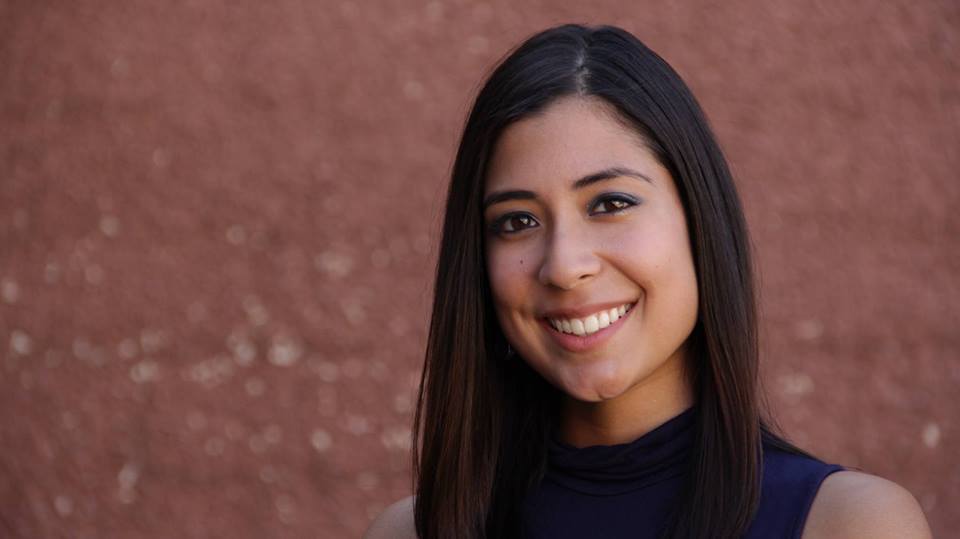 By: Alyson Pierce
Laura Sandoval (MLT Career Prep 2014) is the true definition of a go-getter. As a daughter of an immigrant, this first-generation college student knows the importance of hard work and demonstrates that work ethic in all she does. Laura works at MLT's partner company General Mills and is the founder of Lucha Latina Inc., an organization whose mission is to empower young Latinas from all walks of life. Read this interview with Laura where she shares how she got involved in Latino community advocacy, what it means to her to be a woman of color in America and how her organization got started!
Tell me a little bit about your background.
I classify myself as Peruvian American. My mom came to the States in the late 80's and decided to stay because she thought she could provide a better life for her family here. She raised my sister and me in Queens, NY. My upbringing was good, but it had its hardships. Any child who is a product of immigration can identify with the struggles that come with that: I was teased; we lived in poverty and off food stamps; I moved over 10 times.
However, I knew education was key. My parents always said if you don't want to live like this forever, you need to go to college. So I worked extremely hard to get good grades and excel in school with hopes that I would be able to get into a good college with scholarship money. In 2011, I got accepted into the University of Florida and was awarded generous scholarships.
How did your upbringing affect the person you are today?
I am pretty thankful for my experiences as a child because, without them, I wouldn't have become the person I am today. One quality I developed because of those hardships was my work ethic. I have always worked hard, and that is something I notice across the board amongst various immigrant families and other underrepresented minorities. We know that we are at a disadvantage here in the United States, it's just the truth. So working hard is that key to success.
How did MLT play a role in your collegiate experience?
I heard about MLT from a colleague at the UF career resource center and it turned out to be a transformational experience. I was even able to secure my General Mills internship that turned into a full-time offer because of MLT. I currently work for General Mills as a Shopper Marketing Planner in Philadelphia. I remember when I got my full-time offer letter, and I saw how much I would be making. I started crying tears of joy. Looking at that number I realized I would be making more money than my mom and dad combined.
Looking at that number I realized I would be making more money than my mom and dad combined.
When did Latina/o community advocacy become a passion of yours?
Community advocacy wasn't something that I would say I was heavily involved in when I was younger. In the last year of college, I had time to reflect about who I truly was. This was when I embraced that I was Latina, and that everything that has happened in my life has happened as a result of me being Latina. That is who I am. I became energized by that and wanted to take action, and leave a lasting impact on my community.
At MLT we speak a lot about "belonging". As a woman of color and first-generation college student, where do you think your sense of feeling like you belong in the workplace comes from?
It's not only tough being a woman, it's tough being a young underrepresented minority. My first year in the workforce there were more times than not where I felt like an outlier. One hundred percent of the time I was the youngest person in the room by at least 10 years.
But there were a few things I kept in the back of my mind. The first thing was believing in who I am as a person and believing in what I can do. I had to remind myself that I graduated from this great school, I got this great internship, I landed this full-time job. So I must be smart, they must like me. I had to believe I could do anything.
What advice would you give to a 22-year-old underrepresented minority just starting off in their career?
Take a deep breath and keep repeating to yourself "I belong here." Imposter syndrome is very real. Dressing up for work really has helped me feel like an equal. I also believe in the power of affirmations. I repeat, "I am confident, I am intelligent, I am powerful, I am going to rock this day," especially when I knew I had a rough day ahead.
"I am confident, I am intelligent, I am powerful, I am going to rock this day."
What makes you most proud about being a Latina?
There is this one word, and I always see it in my feedback from work: resilience. It's a quality that is almost a given if you are a Latina. We have been through so much, and there is so much constant pressure on us. When the going gets tough, we don't give up. We just find another way.
Where did the idea of Lucha Latina come from?
My senior year of college, I started to realize that I was leaving a place where I had built a legacy. I was very involved. I didn't just want to work 9-5 and come home and watch TV. I wanted to do something with my time that would impact others within my community. I started brainstorming, and I shared the Lucha Latina idea with a close friend who looked at me and said, "I want to help you." The organization was officially born on October 15, 2015.
We seek to empower young Latinas, regardless of income levels and socio-economic backgrounds, in order to help them achieve their academic, professional, and personal goals. In the past two years, we have awarded 11 scholarships to girls in the South Florida area. We have a mentorship program that focuses on different developmental areas each month to help them throughout their college experience. We just established our first collegiate chapter in Florida, and we are officially a non-profit. I always tell my team the sky's the limit, so we are cooking up a lot of things for the future. My hope is that we eventually become a recognized national organization!
Outside of Lucha Latina, in what other ways do you work to serve your community?
At General Mills, I am the community service lead for the Hispanic network. In 2015, I pitched an idea to bring Latino high school kids to the General Mills campus (General Mills University) to learn about professional development opportunities and careers available to them in the business world. It was an extremely rewarding experience and the kids loved it. I got approval to do it for the third time this upcoming year! I am also an MLT Ascend Coach to a Latina college student who like me is first-generation. It has been a wonderful experience, and the program is great.
What does Hispanic Heritage month mean to you?
It's a celebration of who we are, and it showcases our pride. It's a celebration of unity. There is only one "recognized" time in the year where Hispanic/Latinos from across the country come together to celebrate their heritage and culture. I love hearing all of the stories and seeing what amazing people in our culture are doing. And it's also good to be reminded of the struggles our community currently faces and find ways to support. It's great to come together as one people.
Learn more about Lucha Latina here.
Editor's Note: In November 2017 Laura switched positions and became a Marketing Manager at Zarbee's Naturals.