More than 40 percent of all students who move on to college do not graduate within six years. The graduation gap is even wider for first-generation college students, minorities, and those from low-income communities. MLT Ascend addresses that gap.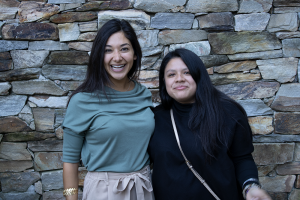 In partnership with the Citi Foundation's Pathways to Progress initiative, MLT launched the Ascend initiative in 2014. Ascend is a college success and career readiness program in which MLT alumni – our Rising Leaders – volunteer to coach first-generation, low-income college students. Ascend Scholars are paired with MLT alumni volunteers who provide mentorship, accountability, and guidance as Scholars navigate the college experience and prepare for post-graduation careers.
While only eleven percent of first-generation and low-income students complete a Bachelor's degree nationally, ninety-three percent of Ascend Scholars are on track to earn a Bachelor's degree in four to six years.
Read more about our results in the latest Ascend Impact Report.  
MLT celebrated the college graduations of our first class of Ascend Scholars in 2018. Scholars and Coaches gathered for a summit, hosted by the Citi Foundation in New York City, and shared their stories and accomplishments. 
A True Win-Win   
Most Ascend Coaches — nearly half of whom are first-generation college graduates themselves — are MLT alumni, and impact the lives of undergrads in powerful ways. Our Rising Leader network is composed of highly talented early-to-mid-career professionals who are passionate about giving back to their communities. Ascend Coaches have benefitted from MLT's expert professional coaching firsthand, and are trained to deliver a similar level of mentorship, encouragement, and problem-solving support to their Ascend Scholars. Coaches expose Scholars to a wider world of high-trajectory careers that can lead to long-term employment and financial stability after college.
Watch Tre's story to experience Ascend's impact on our Scholars.
Nominate an Ascend Scholar
Scholars must be nominated from a nonprofit community partner or university listed below. Scholars are nominated during their senior year of high school or at the beginning of their first year in college.
Ascend Community Partners & Nominating Universities
Chicago
Gary Comer Youth Center & College Prep
iMentor Chicago
LINK Unlimited
New York City
CollegeBound Initiative
iMentor NYC
KIPP NYC
Eagle Academy Foundation
San Francisco
Aspire Public Schools
College Track
iMentor Bay Area
KIPP Bay Area
Washington, D.C.
American University
Georgetown University
Howard University
Contact us if you are interested in becoming a community partner.
Support for Ascend
Lead funding for Ascend was provided by the Citi Foundation as part of its Pathways to Progress initiative — a multi-year commitment to connect 100,000 low-income youth to economic opportunities through mentoring, civic engagement, summer employment and entrepreneurship training. Support for Ascend was also provided by the ECMC Foundation and Executive Leadership Council's Executive Leadership Foundation community impact initiative. Contact us to explore how you can support the Ascend program.
Ascend makes you feel like someone is there and accountable for your success. Feeling like this program has resources to go to, along with a Coach to help you, motivates me to continue doing better.
– MLT Ascend Scholar Jhoemil D, Bernard M. Baruch College
Read more about Ascend on the MLT Blog
---
Meet the MLT Ascend Team
Theresa Atta Ifogah, Program Director

Theresa Atta is a native of Washington, D.C. and has worked in the college access and non-profit arena for over 15 years. Prior to joining MLT in October 2014, she worked for KIPP DC as Senior Program Manager for the national KIPP College Account program, a pilot savings initiative funded by the Citi Foundation. Early in her career, Theresa was instrumental in launching two college access organizations, as a founding board member and director of College Summit and as founding executive director of Collegiate Directions, Inc. (CDI). Theresa also serves students and organizations in a volunteer capacity through service with organizations like Higher Achievement, the Black Student Fund, and DC College Success Foundation. She holds a BA in Public Policy from Brown University, an MS in Organization Development from American University, and an Executive Certificate in Leadership Coaching from Georgetown University.
Chris Alemán, Coach Manager

Chris is a native of Chicago, Illinois and has worked in higher education successfully managing and developing students and staff in coaching/advising roles for over 10 years. Prior to joining MLT in May 2019, Chris served as an Assistant Director of Admissions for the Full-Time MBA program at Northwestern University's Kellogg School of Management. He supported Kellogg's diversity admissions goals while also enhancing the admissions' mentorship program for newly admitted candidates through improved mentor matching based on shared interests/backgrounds, streamlined communications, enhanced engagement, and increased current student involvement. In his spare time, he enjoys exploring Chicago's neighborhoods, experimenting with new recipes in the kitchen, and playing basketball in leagues around the city. Chris holds a BA in Psychology with a minor in Spanish and an MEd in Counseling with a concentration in College Student Development from DePaul University.
Maria Corbert, Program Coach

Maria Corbert is a higher education professional who specializes in diversity, equity and inclusion, student success initiatives, and program development, especially as it pertains to underrepresented populations. Maria firmly believes that diversity, equity and inclusion are central to the overall health and progress of any organization and is committed to fostering a supportive and positive environment for students to grow and thrive personally, academically and professionally. Her most recent experience was serving as the Director of Diversity and Inclusion at the University of Chicago's Booth School of Business where she worked across divisions to promote an inclusive environment by enhancing awareness and understanding of diverse perspectives, identities, and experiences. Additionally, Maria was charged with building a network of alumni and other friends of the school to assist in the support, advising, employment, and advancement of underrepresented students. Prior to Chicago Booth, Maria held roles that focused on student recruitment and pipeline initiatives, student success and retention, and career exploration. Maria holds a M.Ed. in Social and Cultural Foundations in Education from DePaul University.
Ekram Jiru, Program Associate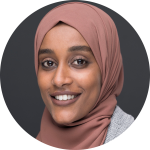 Ekram is an ambitious social entrepreneur and aspiring changemaker who believes in the power of education to foster economic growth, empower families, and strengthen opportunities critical for a vibrant life. Ekram earned her BA in Economics from Pomona College in 2018. While in school, she worked with various organizations that served first-generation and low-income college students, including QuestBridge, and organized events centered around identity and community building. Ekram has interned with the Internal Revenue Service and with the Institute for East African Councils on Higher Education, where she mentored students of East African descent applying to colleges. Prior to joining MLT, Ekram served as a Program Coordinator for the Board of Registered Polysomnographic Technologists (BRPT), where she learned the ins-and-outs of health care credentialing and providing program support. Ekram is excited to work with the MLT Ascend team and continue her work supporting college students.