Connections at MLT Spark Tech Nonprofit
By Day Rankin
"You belong in this house," a mantra shared with more than 2,000 students nationwide after CodeHouse's Virtual Tech Exposure Day. MLT Alums Ernest Holmes and Tavis Thompson founded the nonprofit CodeHouse. They teamed up with Michelle Asamoah, another MLT alum, and recently partnered with PayPal to provide Black, Latinx, and Native American students attending HBCUs with $20,000 scholarships. Learn about the connections they made at MLT and what inspired them to support the next generation of diverse leaders in the tech industry.

Tell us about CodeHouse and what led you and Tavis to found the organization.  
Ernest: We started CodeHouse when I was a senior in college. After years of talking to students about my experience in the tech industry, it was time to join forces with my peers and give back in a larger way. That's how Tech Exposure Day came to be. We designed a full-day event where K-12 students could interact with leading tech companies and HBCU students. At our first event, there were 150 students in attendance. They engaged with Google, Microsoft, IBM, and other companies through live tech demos and a design-thinking workshop. It was really important that the company reps resembled the students, so the kids could imagine themselves in these careers. The positive feedback from the teachers, staff, and students convinced us to turn CodeHouse into a full-fledged nonprofit that now reaches 2,000 students nationwide. 
We were inspired to continue our support in students' pathways into tech by starting the CodeHouse Scholars Initiative. We partnered with companies like PayPal and Microsoft to provide incoming HBCU freshmen majoring in a tech-related field with $20,000 academic scholarships, mentorship from industry professionals, and a paid summer academy to build leadership and technical skills. Our goal is to make sure that students have a dedicated community to ensure they have the support they need to persist through college with a tech-related major.

Why is CodeHouse's work so important and what drives you to keep going?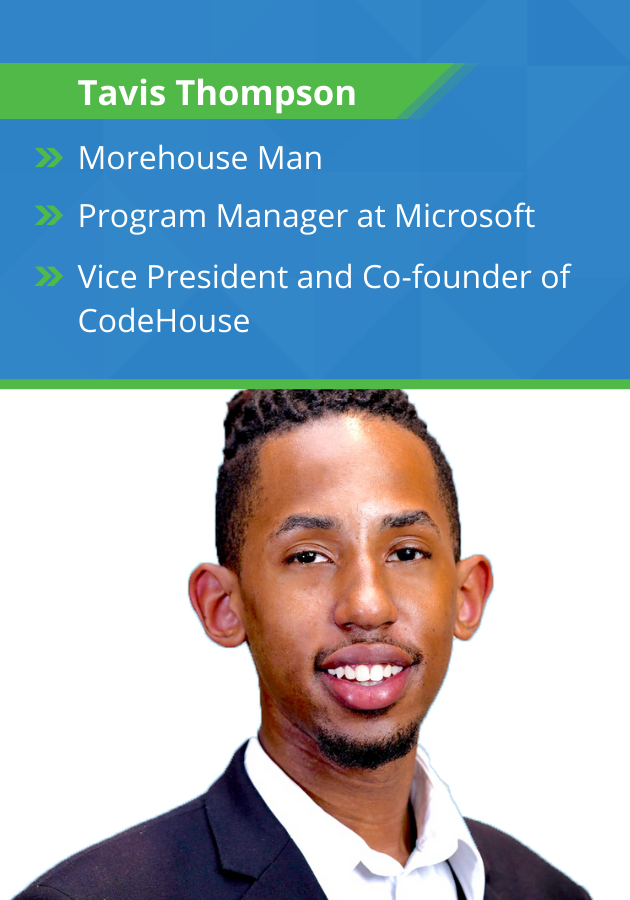 Tavis: CodeHouse is changing underrepresented students' perspectives of the tech industry and higher education. When students tell us that now they really want to become a software engineer or work in tech, it makes me want to keep pushing. 
Michelle: As a Black person, seeing young, Black students get so excited to learn about technology and see role models who look like them from companies such as PayPal and Microsoft —it's been one of the most amazing feelings I've had.

You each graduated from MLT Career Prep. How did that experience impact your life and what's it been like working together as MLTers?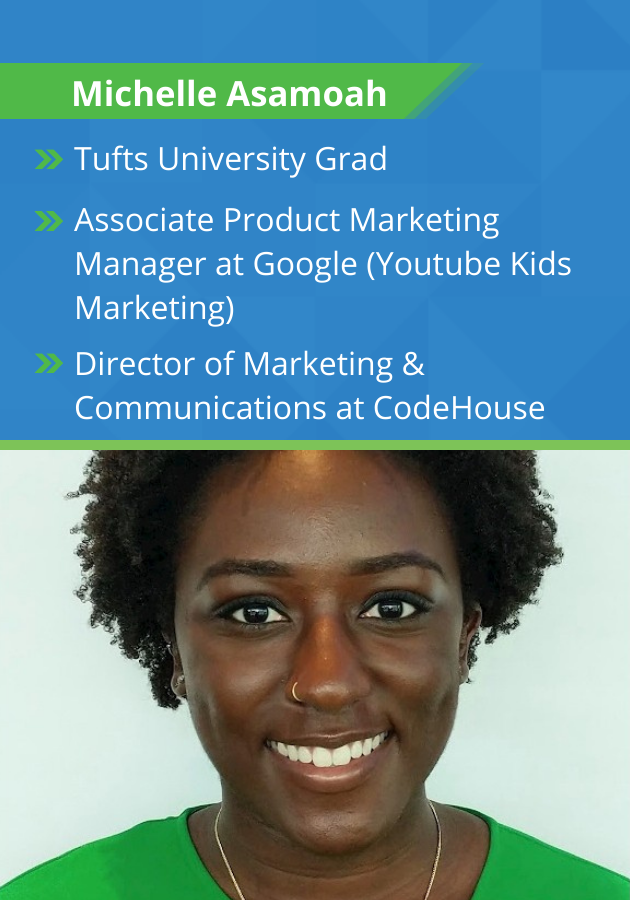 Michelle: Before MLT, I didn't know I could get involved in the tech world without being technical myself. Through MLT, I became an intern at Google in their APMM (Associate Product Marketing Manager) role. At Google, there is a community of MLTers. This network was a big asset for me when I first moved to the Bay Area, and throughout my internship. Without these peers, I would have struggled to find a group of people I could lean on—both personally and professionally.  
Tavis: Career Prep allowed me to understand who I am. MLT was a platform that allowed me and Ernest to create tech-industry connections that allowed us to grow CodeHouse. But, I would have to say, the most rewarding aspect of my MLT experience was the community and the life-long friendships. 
Ernest: Some of my closest friendships were made through MLT. I was constantly surrounded by people who were as driven as myself. It was an experience like no other. When building the CodeHouse team, it was a no-brainer to reach out to other MLTers. When we needed a marketing director, I immediately thought of Michelle. We were both working at Google and had become close friends. 

What is your favorite piece of advice? 
Michelle: People are more eager to help you than you think. This is an important mindset for all entrepreneurs, and we live by it at CodeHouse. The worst that can happen is they say no. But, in my experience, people usually say yes. 
Tavis: Be yourself in everything that you do, because no one else can bring the perspective that your true self can bring. 
Ernest: Growing up, my father would always tell me to 'kick it up a notch'—whether in academics, sports, or extracurriculars. Now, he didn't say that because I wasn't doing enough. He just wanted me to raise my own expectations so I was always giving my best. This has driven me to be the best person I could be in everything I do. 
Learn more about CodeHouse and the CodeHouse Scholars Initiative here.