Breaking into the Entertainment Industry – Advice from Career Prep Alum Jaunice Sills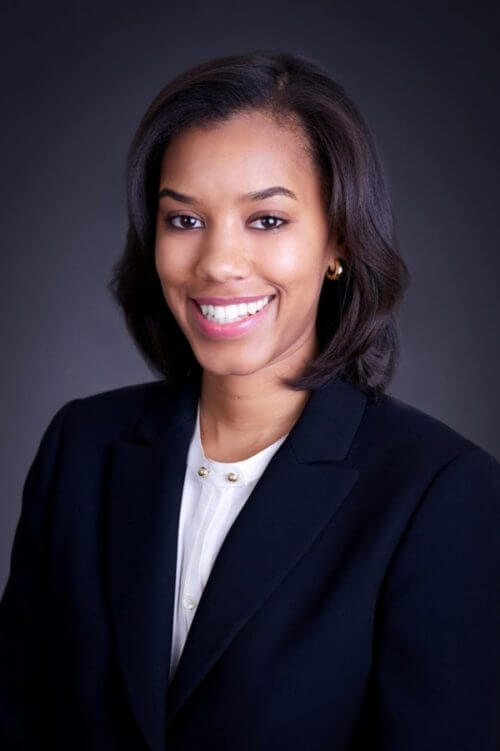 By Jaunice Sills, Career Prep 2007
Meet Jaunice Sills, a Spelman College and MLT Career Prep 2007 Alumna. Jaunice was on a recent panel discussion at the Creative Artists Agency (CAA) and MLT's Master Class on Next Generation Leadership in Los Angeles. Jaunice works for REVOLT TV as the Vice President of Program Scheduling & Promo Strategy. We spoke with her to get more insight on what it takes to break into the entertainment industry. Check out her story below.
Tell us about your company and your role with REVOLT.
REVOLT is a multi-platform music channel, dedicated to empowering the next generation of artists and culture creators. Attracting over 50 million young adults, we expertly curate music programming through television, digital properties, social and mobile.
As the Vice President of Program Scheduling & Promo Strategy, I manage a team that sets the programming direction of the channel and strategically schedules all content on linear, VOD (video-on-demand) and OTT (over-the-top).  I work across the company performing  tasks that range from acquiring content, marketing programs on-air, and launching original series.
What do you enjoy most about your job?
Growing up, I had dreamed of one day launching a cable network, and today, I am fortunate to be living that dream as I work to help develop a network from the ground up. I love the opportunity to build a media company and to create culture through the lens of music. Every day I am inspired to do my part to take the channel to the next level by defining REVOLT's programming strategy to attract and retain viewers at a time when the landscape of content consumption is changing.
What motivated you to want to work in the entertainment/television industry?
Storytelling remains the driving factor for my desire to work in television. When I was younger, I admired news reporters. In fact, I used to give "LIVE" breaking book report presentations to my classmates from an old TV with a cut-out screen, effectively turning my peers into a captive audience. My love of storytelling turned into a passion for journalism and that was my entry into entertainment. I have taken a few turns since then, but the heart of what I do and what fuels me every day is showcasing stories on a 24-hour TV schedule and offering content on multi-platforms.
Can you share a critical moment where a mentor or interaction pushed you forward when you might not have done so on your own?
One of my mentors Sheryl Gripper pushed me out of my comfort zone when she asked me to lead the first ever Black Women Film Summit in Atlanta, GA. It was a critical moment for me because I enjoy attending panels, workshops and seminars but I never saw myself creating an industry experience for the film world.  It gave me an opportunity to plan a large-scale event and create an inspirational experience for filmmakers, storytellers, and those aspiring to join the entertainment industry. Sheryl trusted me with her vision for the summit and had the confidence in me to chair the event. It was a success with over 500 attendees, corporate sponsors, scholarship recipients, and film festival winners. I'm looking forward to directing next year's summit as we celebrate the 20th Anniversary of The Black Women Film Network.
How has MLT help shape your career?
As an MLT fellow, I had effective coaching that helped me navigate each internship in arts & entertainment with business acumen and confidence that allowed me to stand out amongst my peers. It was MLT that moved me from thinking small screen to big picture about my career and broadened my scope regarding the impact and legacy I could have in the entertainment industry. After multiple coaching conversations, deep personal reflection, informationals and hands-on internship experiences at top media organizations, I felt empowered to do anything my heart desired.  I could be a talent agent, producer, director, content strategist, marketer or the CEO.
No job is off limits or out of reach in entertainment with MLT's support.
Before entering MLT, I was primarily focused on broadcast journalism. I co-hosted a sports talk  show in Atlanta, had done an internship at CBS News in D.C. and was the sports editor of my college newspaper. I thought I knew how to launch my career post-graduation. I was prepping myself to move to a small city to host local news or write for a small town newspaper. I'm so thankful MLT intervened. The program opened my eyes to the world of entertainment – large companies with recognizable and global brands that were transforming the media business. MLT shifted my focus from on-air jobs to roles behind the scenes that offered power, influence, and impact to audiences. I often think about the unique career experiences I've had, that may not have been possible if I didn't stick with MLT.  I may not have rung the Nasdaq opening bell with the CEO of Viacom, or been highlighted in Forbes, been a member of BET Networks' junior executive board or launched a cable channel with a music mogul. I could still be in that small town writing sports columns.
What is your ultimate career goal?
I have entrepreneurial dreams to launch a media company and to become the CEO of a television network.
Who was your coach and how did she impact your career?
Valerie Griffin was my Career Prep coach and we still have a relationship almost 9 years later after graduating from the program. I knew I was in good hands with Valerie because she listened to what I wanted out of MLT. I was an anomaly. When many of my peers were going the Wall Street or consulting track, Valerie supported my media dreams and worked with me to find career experiences that blended my love of writing, content, production, creativity and strategy. We were both so excited when I was offered an internship at HBO, in the Original Programming and Strategy department. I loved my experience at HBO and I've been in a Programming role ever since. Not only did Valerie impact my career trajectory, but her continual pep talks have motivated me and given me the confidence to dream big and manage my own career.
What advice would you give someone interested in working in the entertainment industry?
Be prepared to take your "scrappiness" to a new level
The entertainment industry is built on relationships and growth is based off of referrals. Expect to hustle like you never have before. Prepare your mind to give your all every day and network with as many people as possible to grow your visibility within the industry.
Start With The End In Mind
Your entertainment career is a marathon, not a sprint. Visualize what you want and create a list of goals and experiences you desire to have along your career path. Look at your list often to remind yourself why you want this and to stay motivated.
Be open and explore career paths
There are hundreds of jobs in the industry. Do your research and take the time to explore careers that interest you by shadowing professionals, conducting informational interviews and reading industry trade magazines & blogs daily to stay informed.
Be driven by impact, not money
To quote Sheryl Sandberg, "If you're offered a seat on a rocket ship, you don't ask what seat, you just get on." Your first entertainment gig could be smaller than the salary range you expected. Focus on doing the best job you can, sharpening your skillsets, building relationships and impacting the company in a positive way. If you add value outside of your job description, it will help you negotiate for yourself in the future.
Join professional organizations and resource groups
There are amazing organizations that exist for minorities in the entertainment and communications business. The National Association for Multi-ethnicity in Communications NAMIC  is one of my favorites and their mission is to educate, advocate and empower multi-ethnic diversity in the communications industry. By investing in a membership, you gain access to a community of professionals who are ready and willing to help you achieve success at every level of your career.