Study Finds Strong Evidence of MLT's Significant Impact on Economic Mobility for Minorities
Read the report.
With the generous support of Citi Foundation, MLT commissioned the Institute on Assets and Social Policy (IASP) at Brandeis University to evaluate the impact and effectiveness of MLT 's undergraduate programs. The report validates the strong positive effect MLT's Career Prep program has on the early stages of the leadership pipeline – when students transition from college to the workforce. In doing so, MLT's Career Prep program distinguishes itself as an unusually effective program that directly addresses the complex challenge of economic mobility for our nation's minority populations.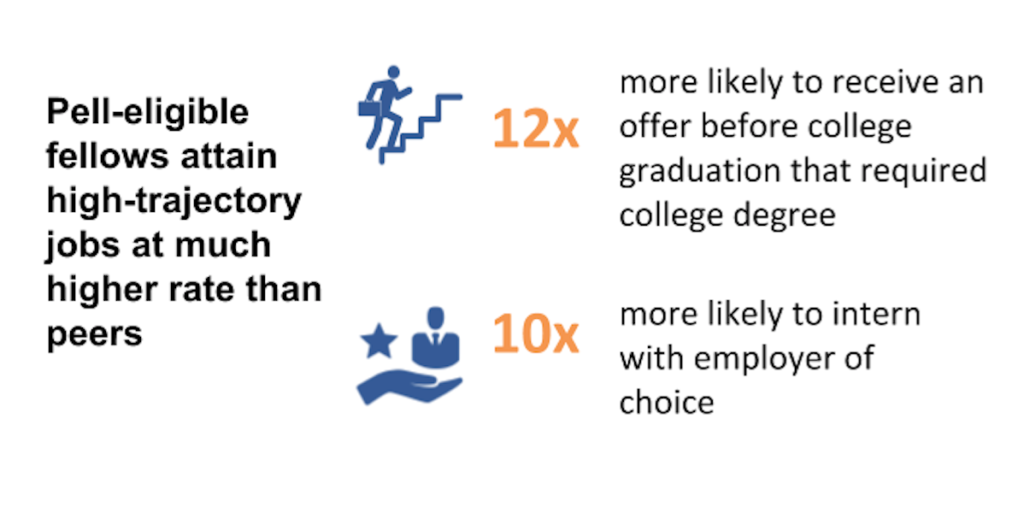 The study included original data collection from 50 in-depth interviews with stakeholders and two large online surveys administered within the MLT community and with a key comparison group. Additional data sources involved analyses of national Baccalaureate & Beyond (B&B) panel data and MLT institutional data.
The evaluation adds a significant new set of data to the critical but under-studied college-to-career transition period for young professionals. It provides new insights into the positive impact that intensive, one-on-one coaching for college students of color has on optimizing their career trajectories. Findings show that while MLT Career Prep cohorts have a much higher percent of low-income students than the vast majority of elite colleges, MLT Fellows have significant job market advantages and far out-earn their peers.
The study highlights how MLT is addressing vexing challenges our society faces with regard to faltering socioeconomic mobility and persistent income inequality.
"MLT puts theory to practice by working to close the racial wealth gap on the ground. Programs like Career Prep empower People of Color to overcome barriers created by institutional racism to make positive impact not just for themselves, but for the community around them."
-Tatjana Meschede, Brandeis University IASP Principal Investigator
Read the Executive Summary.
Read the report.