MLT Rising Leader Spotlight: Christina Trampota – An Innovative Leader at Visa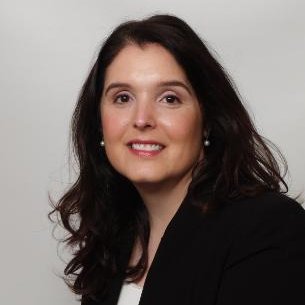 Christina Trampota is an MBA Prep Alum and received her MBA from the University of Chicago's Booth School of Business. She is the Senior Director of Global Marketing Innovation for Visa. Our next Rising Leader spotlighted for the 40 Under 40: Top Diverse Talent in Silicon Valley award, Christina shared with us the lessons she's learned while achieving success as a woman leader in Silicon Valley.
Congratulations on being named one of the 40 Under 40 Top Diverse Talents in Silicon Valley. How do you feel about winning this award?
Honored and proud.
Can you briefly share your career path/story to date?
I was recruited into the Leadership Development Program at AT&T (previously SBC) out of college. I worked in management roles in different divisions and locations and eventually promoted into Product Management. I then joined Motorola during their boom days with the RAZR as a Business Development Manager. Two years later I was promoted into product management at Good Technology, a Motorola acquisition. After about 18 months in the role, I was divested out of Motorola with Good Technology. It was at that time that I began my career in the private/startup space and joined SEVEN Networks as a Senior Product Marketing Manager. I then moved to Clickatell where I was Director /Head of Marketing for the Americas region. I founded CGM Squared, where I led and directed a variety of clients to success in growth and marketing, with an emphasis in consumer + mobile. Through this work, I landed a consulting role in product at Visa, where I worked for 1 year, and then took a promotion into my current role as Senior Director- Global Marketing Innovation.
What do you do at Visa?
I am responsible for shaping Visa's marketing innovation agenda to drive brand and business results anchoring in mobile.  I also provide internal consulting and direction in the development of new marketing innovations supporting the marketing organization and Visa brand.  I report to SVP Global Head of Digital & Marketing Transformation.
When you think back to your MLT experience, what stands out as something that has helped you achieve your success?
Be true to yourself – know what is right for you (from school, to your area of study/major, to your job). Do not just follow the trend or hype at the moment. When you are trying to differentiate and make an impact, be scrappy! Often the best ideas or experiences come from that practice!  Look around for resources and information that can help you -they might not be right in front of you, but go for them – you will eventually find the right fit and resources.
How has your MBA helped propel your career?
It has helped me improve my personal brand, increase recognition and respect globally. Most importantly I have acquired a wealth of knowledge, made a lot of great friends and have established a network for a lifetime.  An MBA is entirely what you make of it: it can be simply academic, social, or professional. When the right opportunity is presented to you- take it!
What are you passionate about and how do you bring that passion to the company?  
Constant innovation and change and always looking to the future.  My strength and passion is focused on mobile + marketing, specifically where the two meet and combine together for a winning solution, product or investment for a business.
What are some of the lessons you've learned being in Silicon Valley?
I have learned how technology and IP are the core of companies.  If you are not tied to the core at that point, you have to be agile, ready for a lot of change, and know that your role may be short-term.  I have worked mostly in Marketing and Product Management roles throughout my career.  How these roles are defined, what experiences and skills are expected to be a fit for that role will significantly differ.  This is true not only between engineering driven and business driven companies, but also those who are HQ'd here in the Valley versus those who are HQ'd elsewhere.
What qualities do you feel women bring to the industry?
Collaboration and team style.  Women often ask for more feedback and opinions, but in the traditionally male dominated culture of tech companies this is often not warranted, wanted or respected.
It's hard enough being a woman in tech, is it even harder being a Latina in tech? If so, what advice would you give?
Be flexible to change and understand the environment you are in now and what will lead to success. Be true to yourself.  My passion and persistence has not always been respected in some organizations. If an environment makes you feel sick to the point where you can't sleep at night – don't stay.  Prioritize your personal well-being and find the organization with the leadership that will appreciate your contributions and aspirations.  Today's economy does not provide lifetime employers and you should always look out for yourself and understand what are you getting out of your current role/position versus the organization or employer and work to find alignment or the right "next step" for you.  You have to be ready for change and uncertainty.
What advice would you give women interested in rising to senior leadership in Silicon Valley?
Be flexible and embrace change.  New technologies, methodologies and companies are created in Silicon Valley on a constant basis.  We are often the first region to test, implement and measure the impact for something new, while the other areas in the US and around the globe might not try it for another year or two (or longer) and invest minimally.  Be willing to take the plunge and jump into something new. When you do jump in, jump in completely not halfway, or you will not succeed or last very long.  Sometimes you might jump in and realize that the ship has changed direction or is sinking – in that case you work with your best ability and agility to succeed or figure out what is next.   Know what works for you and your priorities as not every company or opportunity in Silicon Valley is the same.   
What's next for you?
Today's consumers and companies are always on and connected. With that focus in mind, my current role at Visa is leading marketing innovation initiatives on a global scale and focus on mobile.  In the community I am passionate about helping the leaders of tomorrow. This ranges from helping Avion Ventures and Social Media for Nonprofits to teaching Mobile Marketing at San Francisco State University.