MLTer's recognized as part of "40 under 40" – Jamal Eason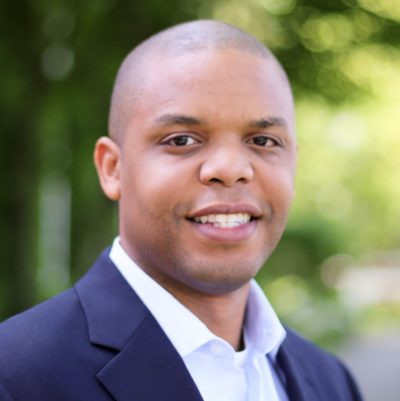 By: MLT Staff
Jamal Eason, MBA Prep 2009, is a Product Manager at Google. Named one of the 2016 40 Under 40 Top Diverse Talents in Silicon Valley, Jamal shares more about his journey and how he landed at Google.
Can you briefly tell us about your career path/story to date?
I started my professional career in the US Army as a telecommunications officer. After graduating from the US Military Academy (West Point)with a degree in Computer Science, I was stationed in Germany and led teams of soldiers who created tech infrastructure for the military. This included everything from satellites and cloud computing, to tactical military radios. After a deployment to Iraq and a couple more years in Europe, I went through the MLT program and graduated from Harvard Business School. During business school, I worked at a mobile-app startup and accepted a full-time offer at Intel Corporation. At Intel, I did a number of roles ranging from product management to venture investor focused on the mobile sector. After a few years at Intel, I made a career move to Google.
What do you do at Google?
At Google, I am a Product Manager responsible for enabling all developers to make great apps on Android with the Android Studio product. My product is used by all the top app companies to make great apps that people use everyday on Android smartphones and devices. On a typical day, I interface with users and work with a group of software engineers, designers, and a team of support business groups (legal, marketing, biz dev, etc) to create new features for Android Studio.
When you think back to your MLT experience, what stands out in helping you achieve your success?  
My peer cohort and coach were the major components to my success. Peers were invaluable to me because no one around me in the military was pursuing an MBA degree. My highly driven peer group helped me discover my story and served as a sounding board through the b-school process which was crucial to my success. Krista, my coach, was equally as important. Her experience and perspective pushed me to think about my how to connect my military career to the business world, and she coached me in crafting a sound career transition path via business school .  
How has your MBA helped propel your career?  
My MBA program at Harvard Business School taught me how to think differently, evaluate problems, and communicate with multiple business lenses. Additionally, it enabled me to be comfortable making business decisions in the grey area with imperfect information.  I had a good foundation of leadership from the military, but combined with the MBA skills, I am able to drive decisions and results faster.  In my career today, it is not only important to understand technology, but it is also crucially important to understand the the financial, marketing, and strategic aspects of a product decision.
Did you ever think you would be where you are today?
Absolutely not. I knew I wanted to work with computers and technology to help others since I was a kid, but I had no idea how that would manifest itself. My family and role models pushed for success and excellence, but I didn't know anyone in the tech industry nor did I know that Product Management was even something available to me until I got to Silicon Valley.
Anything you wish you had done differently?
I wish that I would have found a way to speak to more people in Silicon Valley early on because I would  have had a sharper vision of where I wanted to go. I eventually made it to a great stage in my life, but I certainly have more insight into what to do now in comparison to when I first started my career.
Since you know that MLT is big on people discovering their passions, what are you passionate about in your work? How do you bring that passion to the company?
My passion is enabling others via tech. Watching someone take a new piece of software and technology that I have created or enabled and watch that person unlock a new skill or capability is empowering to me. At Google, this is part of the ethos of the company. Each day, I am able to work with equally passionate people and develop a software platform that enables people to access information.
Share briefly your experience so far in Silicon Valley. Include some of the things you've learned or discovered.  
I came to Silicon Valley with my wife, whom I met in MLT. Hence, it was great to come to a new area with a foundation. Secondly, I tapped into my school and social networks to find my career and a place in the community. I think that finding a foundation is critical because as Silicon Valley continues to evolve, you have people around you who are supportive and push you to continue to learn and evolve.
I also discovered that there are many roles and opportunities that exist in tech, but are not really talked about in business school. You have to do the due diligence to find the role that matches your interests. Hence, I used local meetups and events to meet others in my desired career field and industry, and I was surprised to discover how people in Silicon Valley were always willing to chat.
What changes are you seeing in Silicon Valley?
In recent years, I have seen more investment in caring about diversity of thought and background. As many successfully products need to scale domestically or to international markets, having different perspectives is a critical successful factor for both large and small companies in tech.
How do you feel about winning this award?
I am humbled. There are many smart and successful leaders in Silicon Valley, and I am grateful to be honored among them. It was also inspiring to see fellow MLTers win the award. It reminds me that the journey is ongoing and I can do more professionally, but I can also learn from other's experiences.
With so much in the news lately about the need for greater diversity in tech, what advice do you have for someone who might be interested but unsure about pursuing a career in Silicon Valley?
First, if you have any interest in doing tech, you have to physically be in Silicon Valley. There are absolutely pockets of innovation across the US and the world, but the level of talent and tech companies that are here is bar none. With the lack of underrepresented minority diversity, it can be intimidating, but there is a network of hundreds of MLTers here in the San Francisco Bay Area. These MLTers work at many companies or have started their own companies. So, you do not have to tackle the transition on your own.
Anything you think that differentiates career paths in this sector from other more "familiar" ones – like finance or consumer packaged goods?
If you have an engineering background and an MBA, that is great, but it is not required. I think that it is important  to find roles and responsibilities where you are working on the core tech product or service. In comparison to typically services roles that MBAs pursue, you will want to get your hands dirty, build or contribute to something that people use, and be willing to see the vision from the beginning to the final execution.
Any advice for someone who may aspire to senior leadership in Silicon Valley?
Many companies in Silicon Valley are engineering-driven and like to see results. However as with any industry, as you move up the ladder, it not only matters what you did, but who knows about it. I think it is important  to establish yourself at a leading company or take some risk at a small venture to exercise a breadth of your skills early in your career. Accomplishments in both routes will lead to credibility and a portfolio of your work you can point to as your progress in your career..
What's next for you?
Early in my career, I have had the fortune of going through a start-up experience, I am now focused on spending the next couple years continuing on the corporate path. Google has been a great career experience for me, and the industry continues to be fun and challenging.