MLT Ascend: Creating a Safe Space for Growth & Learning
By: MLT Ascend
On Saturday, February 7th, the MLT Ascend team hosted our first Meet & Greet Brunch for 50 D.C. area scholars and coaches at Howard University's Carnegie Building. The MLT Ascend College Program is a college persistence and career readiness program leveraging MLT Rising Leaders as coaches to primarily first-generation, low-income freshman in college. Our first-year students from American University, Georgetown University, Howard University and the University of Maryland – College Park joined us to learn more about MLT Ascend and participate in group networking and learning activities.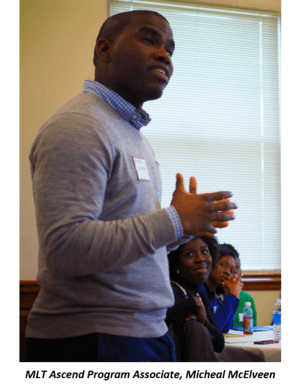 In an effort to incorporate the MLT Ascend Scholar Roadmap – a detailed action plan to achieve college success – into a learning opportunity for scholars, participants were split into groups and each group was given a realistic scenario that a college freshman could encounter. Scenarios ranged from receiving a failing grade in a course s/he was confident s/he would pass to being overwhelmed with calls from home regarding family issues. Each group was tasked with identifying the do's and don'ts as well as creating an action plan to combat the situation.
To help scholars navigate the intricacies of their first year, three MLT Career Prep (CP) fellows served as panelists reflecting on their first-year experiences. The upperclassmen not only provided candid insights into their first-year challenges and experiences, but they also shared tips to overcome potential traps like prioritizing extracurricular activities over academics or deciding to disregard advice from coaches and advisors.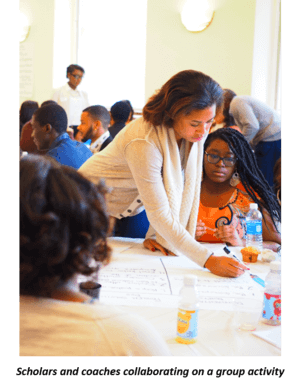 Overall, the event was a hit. Scholars enjoyed the event, calling it "amazing," and coaches said it was "a great opportunity to interact with other coaches and scholars." I thought so, too! We on the MLT Ascend team look forward to future opportunities to bring together scholars and coaches and create a safe space for continued learning.
Many thanks to our hosts at Howard University, especially Charles Prince, Director of the Office of Student Success & Transition, for providing a meeting space and welcoming our team, scholars and coaches on campus.
The MLT Ascend Program launched successfully in Fall of 2014 thanks to the generous support of the Citi Foundation and the Executive Leadership Foundation.