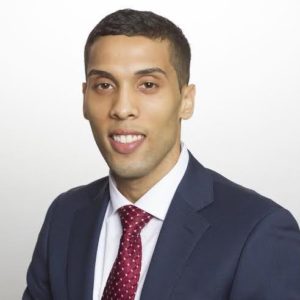 Steven Peralta
ORGANIZATION
Advertising Research Foundation
EDUCATION
Undergraduate: Dartmouth College
MBA Program(s): University of Pennsylvania - The Wharton School
MLT PROGRAMS
Career Prep 2014, MBA Prep 2019
---
Complete this sentence, "If not for MLT..."
If not for MLT, I would have not had the up-close access to top recruiters and business school admissions officers. MLT provided me with a thorough playbook to understand how to best navigate the corporate recruiting and business school application processes. It provided me with a type of knowledge that is not always taught in more academic environments.
Please describe the impact MLT had immediately upon completing your program.
As a "triple MLTer" (from Career Prep to MLT PD), MLT has shaped my career immediately upon completing the three programs. Through MLT, I secured summer internships and a full-time job offer after undergraduate. Post MBA Prep, I was accepted into my top choice dual degree business program. On top of those opportunities, MLT has provided me with a family and network of other ambitious business leaders of color that I can count on.
How has MLT changed the financial/economic trajectory for you and your family?
MLT has provided me with top-notch internships and job offers directly out of undergraduate. Now in MLT MBA Prep and PD, I have gained admissions to my first-choice business school program and am working with a coach to enter my industry of choice post business school. MLT has provided me with the opportunities to attain first-class jobs and academic programs that have changed the economic trajectory of my family in the short and long term.
Has MLT elevated your personal and professional aspirations? If so, please provide an example.
MLT has elevated both my personal and professional aspirations. Through MLT's playbook in Career Prep, MBA Prep, and PD, I've not only received the knowledge and tools to succeed in the workforce and achieve my goals, but I have also become a part of a network of successful business leaders. It's such an inspiring experience to establish camaraderie with other business leaders of color. Some of my strongest advocates at work have been former MLT MBA fellows, who were in the some of the first MBA prep cohorts.
How has MLT's community helped advance your personal and/or professional happiness?
MLT is a community of successful leaders across such diverse functions and industries. Being a part of MLT's community has given me confidence. It's given me hope and happiness to see so many other individuals of color aspiring to have an impact, to rise up in the ranks in business across so many industries and sectors.
Speak to a challenge MLT helped you overcome and how did that help your trajectory (i.e. confidence that you belong, growth mindset, vulnerability).
MLT has helped me learn the importance of being savvy and understand that I bring something to the table. Through the curriculum and coaching sessions, MLT gave me the confidence to become a more savvy networker.
Have you helped advance vulnerable people on their path to economic mobility? If so, how?
Service is an important core value to me and has been an active part of my life since a child. Recently, I have been an MLT Ascend coach, as well as a former academic volunteer for IMentor. I am extremely invested in paying it forward and providing others from low socioeconomic communities with the same academic and professional privileges I have had in life.
Share 2-3 ways you've been able to accelerate your organization's journey toward greater diversity and inclusion.
I co-founded Insights University at Univision, a research initiative designed to invite external thought leaders to facilitate industry discussions on consumer insights across departments and offices. I also co-lead a national marketing and communications initiative for the young professional affinity group.
Share your favorite song, movie, or book, and why it appeals to you.
I am a huge fan of Khaled Hosseini's books, particularly A Thousand Splendid Suns. I read the book as a teenager, along with The Kite Runner. I really enjoy Hosseini's rich style of writing. I almost feel as if I'm in the action.
What is your superpower?
Hunger. Ambition is my superpower. Regardless of the obstacles, I stay focused on the big picture and all the personal, professional, and academic goals I desire to accomplish. Coming from an immigrant household only fuels my ambition and encourages me to stay the course.
What gives you hope?
I would say three things give me hope. Foremost, it is seeing organizations, such as MLT, among others, thrive at preparing students and professionals of colors with the breadth of knowledge to not only enter but also excel in these prestigious academic and professional spaces. Secondly, it's seeing more minorities occupy leadership roles. There's more to be done, but it gives me hope that one day I, along with others, can be in those impactful positions. Lastly, I get hope from my mother, who immigrated from Latin America and raised my sister and me here in the States.
This content has been edited for brevity and clarity.
Published in 2019