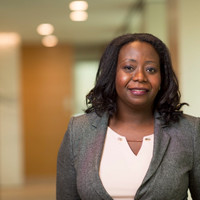 Rosedel Davies-Adewebi
ORGANIZATION
Morgan Stanley
EDUCATION
Undergraduate: Boston University
MBA Program(s): University of Michigan Ann Arbor - Ross School of Business
MLT PROGRAM
MBA Prep 2009
---
Complete this sentence, "If not for MLT..."
... I would not have harnessed the power of knowing that I am the driver of my life and career.
Please describe the impact MLT had immediately upon completing your program.
MLT taught me the validity of the adage-- "Your network is your net worth." This has been invaluable knowledge that I carry with me to this day. Not only has my participation in MBA Prep inspired me to continually invest in my professional development and in honing my skills, but also it has inspired me to equally invest in cultivating my network.
How has MLT changed the financial/economic trajectory for you and your family?
I have doubled my income with each organization I've worked for upon graduating from my MBA program.
Has MLT elevated your personal and professional aspirations? If so, please provide an example.
Yes. MLT alumni networking events are particularly edifying. It is powerful to see a group of professionals of color breaking through barriers and achieving success across industries. Participating in these events has increased my professional ambitions particularly around entrepreneurship.
How has MLT's community helped advance your personal and/or professional happiness?
I would say that participating in MLTs community reinforces and amplifies a growth mindset for me, which in turn drives my desire to create professional fulfillment.
Speak to a challenge MLT helped you overcome and how did that help your trajectory (i.e. confidence that you belong, growth mindset, vulnerability).
Working with MLT on my interviewing skills helped me make a big, and rarely made post-MBA, transition from the non-profit sector to the private sector. Working with Desiree and Catherine particularly helped me build my confidence and craft a narrative about my transferable skills and the value I can create in any sector.
Have you helped advance vulnerable people on their path to economic mobility? If so, how?
I have served as a mentor to start-ups launching in developing countries, and have been committed to mentoring women of color in order to support their rise through the ranks while I was working at the United Nations.
Share your favorite song, movie, or book, and why it appeals to you.
"Golden" by Jill Scott is one of my favorite songs. Her words have powered me through each professional transition and remind me of what one is charged with doing with his or her life every day- treat it as a golden gift.
What is your superpower?
My capacity for empathy is my superpower. It has helped me to find connections with a range of people around the world, thus strengthening my own and the networks of the organizations I've worked for. Furthermore, my empathetic nature helps me to tap into the needs of hidden markets. This, combined with my analytical nature, I have created and grown global initiatives to meet those needs and generate new market opportunities for the organizations I have worked for.
What gives you hope?
The truth of Margaret Mead's quote- "Never doubt that a small group of thoughtful, committed citizens can change the world; indeed, it's the only thing that ever has,"- gives me hope in a very volatile and uncertain time.
This content has been edited for brevity and clarity.
Published in 2019