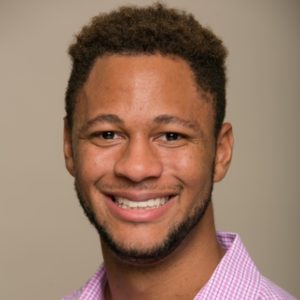 Joshua Jordan
ORGANIZATION
Bank of America Merrill Lynch
EDUCATION
Undergraduate: University of Houston
MLT PROGRAM
Career Prep 2017
---
Complete this sentence, "If not for MLT..."
I wouldn't have the confidence to be myself. It exposed me to so many people who grew up like me, had similar stories to mine, but were already beginning to leave their mark on the world.
Please describe the impact MLT had immediately upon completing your program.
MLT opened doors that would have never otherwise been opened for me. It also gave me a family. No matter what city I travel to, I know at least one person who lives there because of MLT. That's a cool feeling, knowing your network literally spans the width & breadth of this land.
How has MLT changed the financial/economic trajectory for you and your family?
I would have never gotten the job I have without MLT. Not only did MLT expose me to the opportunities of my dreams, it also prepared me to take hold of those opportunities and be confident that I am good enough.
Has MLT elevated your personal and professional aspirations?
If so, please provide an example. Being exposed to so many motivated, talented people of color has elevated my level of thinking. Seeing MLTers starting businesses, buying properties, and just killing it in life motivates me to live my best life! It also gives me concrete examples that all of my dreams are in reach—if I just work for them!
How has MLT's community helped advance your personal and/or professional happiness?
In my current position, another MLTer and I started in the same analyst class and now sit next to each other. Funny how life works! Some of my best friends are also MLTers. I travel with them, go visit them, ask their opinions about life, finances, business opportunities, and everything in between. MLT has honestly provided an extended family that I can lean on for anything.
Speak to a challenge MLT helped you overcome and how did that help your trajectory (i.e. confidence that you belong, growth mindset, vulnerability).
I am a very selfless person. I was dead-set on doing non-profit work, and never saw the value in a corporate career. In MLT, I learned that if you work for an organization that has values that align with yours, you can help make the world a better place through your work.
Have you helped advance vulnerable people on their path to economic mobility? If so, how?
I have helped as many people as I can. I have referred countless students to MLT and have assisted many with the application, and have given them interview tips. Through my church and my job, I have been able to tutor students in vulnerable situations with the hopes that education can one day help change their economic status.
Share 2-3 ways you've been able to accelerate your organization's journey toward greater diversity and inclusion.
I have been an adamant proponent of MLT. I have been able to help with National Association of Black Accountants. I have also encouraged senior leaders to try to expand the talent pipeline from schools other than the traditional target schools.
Share your favorite song, movie, or book, and why it appeals to you.
This sounds like a stereotypical Christian, but my favorite book is the Bible. The Bible is the story of GOD's love for mankind. It also contains so much wisdom and insight that is applicable not only for everyday life, but also for how you navigate your career.
What is your superpower?
My superpower is my positive attitude. Because of my faith in Christ, I believe all things will ultimately work out for my good.
What gives you hope?
My hope is found in my faith in Jesus Christ.
This content has been edited for brevity and clarity.
Published in 2019