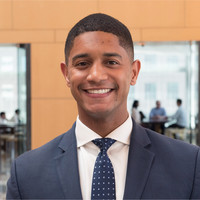 Derek Oliver
ORGANIZATION
Goldman Sachs & Co.
EDUCATION
Undergraduate: Howard University
MLT PROGRAM
Career Prep 2015
---
Complete this sentence, "If not for MLT..."
I would not have been fully equipped with the tools necessary to escalate my professional growth and development, along with experiencing the lasting benefits of having a dedicated coach and supportive cohort community. Also, if not for MLT, I would have not had the chance to become a coach, elevating my role and having the chance to rejoice in the successes of my scholars.
Please describe the impact MLT had immediately upon completing your program.
MLT immediately opened my eyes to the world of opportunity that is available in both my professional career and personal development goals. The skills that I learned and tools that I harnessed set me up for success not only in my internship, but also as I transitioned into full-time.
How has MLT changed the financial/economic trajectory for you and your family?
MLT has continued to help me build the unshakable professional foundation that I have been striving for, supporting my career on Wall Street and in the world of high finance. As I continue to rise through the ranks, build my credentials and solidify my foundation, financial positioning will continue to no longer be a concern for myself or my loved ones.
Has MLT elevated your personal and professional aspirations? If so, please provide an example.
MLT has acted as a catalyst for both my professional and personal aspirations. From a personal perspective, it made me want to be more deeply involved in MLT, specifically, and philanthropy, in general. In addition, in my personal life, it has cemented my long-term goals of pursuing higher education. Both my coach, Andrea O'Neal, and the MLT community at-large have been an inspiration.
How has MLT's community helped advance your personal and/or professional happiness?
MLT has provided a platform that I can rely on if I am in need of help or support, and at the same time gives me the opportunity to make an impact on upcoming youth - which brings me genuine joy.
Speak to a challenge MLT helped you overcome and how did that help your trajectory (i.e. confidence that you belong, growth mindset, vulnerability).
MLT gave me a reality check. Through working with my Coach, Andrea O'Neal, I not only was able to more intimately understand the reality of the investment banking industry, but also how critical and important it is that I approach all of my tasks, no matter how big or small, with rigorous detail and purpose - in both my personal and professional life.
Have you helped advance vulnerable people on their path to economic mobility? If so, how?
I have had many opportunities to help advance people on their path to economic mobility through coaching, guidance, and mentorship. I have connected with countless Fellows—whether in my own cohort or in a following cohort—who have had an interest in the investment banking industry. I have had the chance to answer questions, explain the industry and its dynamics, help prepare for interviews and also help navigate the internship and full-time job process. Additionally, I am an MLT Ascend Coach and have had a chance to work with my scholar who was able to receive both an internship offer and a full-time offer.
Share 2-3 ways you've been able to accelerate your organization's journey toward greater diversity and inclusion.
I have had the opportunity to personally help many interviewees and interns prepare for upcoming interviews, internships and full-time roles—with many of them being successful in securing return and/or full-time offers. Additionally, I was an intern captain as a second-year Analyst at Goldman Sachs, and during the selection process, I ensured that we took an approach to selection that assessed the holistic traits of all candidates along with creating a balanced, diverse cohort.
Share your favorite song, movie, or book, and why it appeals to you.
The 7 Habits of Highly Effective People is a fantastic book and one of my favorites. The book provides a substantial amount of insight into key building blocks of both personal and professional development while helping open the reader's eyes to key interpersonal principles of life and interaction that are consistently present, but not always as obviously noticeable.
What is your superpower?
Execution under any circumstance.
What gives you hope?
Knowing that communities of people exist that endlessly devote their time, energy and funds into bettering the lives of others.
This content has been edited for brevity and clarity.
Published in 2019