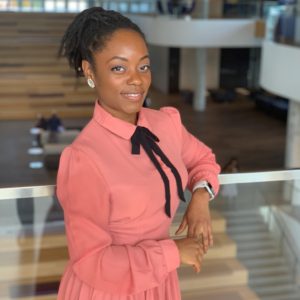 Vincella Smith
ORGANIZATION
Johnson & Johnson
EDUCATION
Undergraduate: Florida State University
MBA Program(s): Northwestern University - Kellogg School of Management
MLT PROGRAM
MBA PD 2016
---
Complete this sentence, "If not for MLT..."
I would not have become the first African-American female student body president of the Kellogg School of Management. Full-stop. The exercise of recruiting before business school freed me up to bring my full, passionate self to Kellogg and gave me the free will to exercise service in the best way I know how.
Please describe the impact MLT had immediately upon completing your program.
Upon completing MLT Professional Development, I had increased confidence in my abilities, and access to resources. More importantly, it provided me with a breadth and depth of a network of diversity that is simply unparalleled.
How has MLT changed the financial/economic trajectory for you and your family?
I can't even begin the think through the time-value of money exchange that MLT and going to business school have had, and will continue to have, on the intergenerational wealth I will create for my family. In my first year out, I've doubled my pre-business school salary.
Has MLT elevated your personal and professional aspirations? If so, please provide an example.
MLT, both formally and informally, is a constant reminder of what is possible— to dream big and never settle. Seeing and, most importantly, experiencing what those like MLT Founder John Rice and others have been able to accomplish really sets a mold for what's possible. I'm still perfecting my aspirations, but the experiential reminder is so valuable.
How has MLT's community helped advance your personal and/or professional happiness?
The friendships and connections I've made through MLT are bar-none—whether to benchmark current experiences, or get valuable perspective, the MLT community has made my life so much more fulfilling.
Speak to a challenge MLT helped you overcome and how did that help your trajectory (i.e. confidence that you belong, growth mindset, vulnerability).
The friendships and connections I've made through MLT are the ways I've gotten to experience the power of MLT most up-close and personal. I will never forget how my MLT peers helped me overcome the mental hurdle of deciding to run for student body president at Kellogg. I'd faced more uncertainty once I discovered there had never been an African-American female student body president before, and two of my MLT peers and Kellogg classmates helped me to better frame my perspective. I'd shared I wished I'd never thought to ask, and didn't want that to weigh in on my decision, because I didn't want others to claim that was the only reason I'd done it. They helped me silence those fears, and to actually see that experience as one that would open the doors for many others behind me.
Have you helped advance vulnerable people on their path to economic mobility? If so, how?
As a Teach for America alum, and one who aspires to social impact, I made and continue to make it a point to speak to those who come from non-traditional backgrounds, like teaching and non-profits, to explain the value this experience has added for me. Especially when it comes to the trade-off decision of choosing the best school for your goals.
Share 2-3 ways you've been able to accelerate your organization's journey toward greater diversity and inclusion.
At Kellogg, we were able to ignite all sorts of new diversity and inclusion initiatives in our administration: a dinner series that creates familiarity in order to enable the discussion of D&I topics like privilege. At Johnson & Johnson, I've found pleasure in the traditional pay-it-forward recruiting efforts for the incoming wave of diverse talent, as well as taking on stretch projects that involve vulnerable populations and people of color.
Share your favorite song, movie, or book, and why it appeals to you.
Zhané's "Sending My Love." An oldie, but goodie, this song is the perfect reminder of the simple power we all have to share our light with others.
What is your superpower?
Genuinely connecting with people.
What gives you hope?
Love. It's the most fundamental emotion and the one we all can easily partake in, when we're in our most natural state.
This content has been edited for brevity and clarity.
Published in 2019