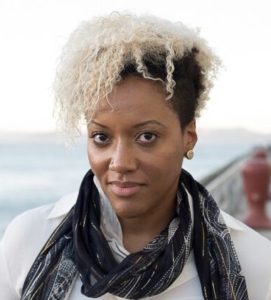 Stephanie Thomas
ORGANIZATION
Impact America Fund
EDUCATION
Undergraduate: University of Pennsylvania
MBA Program(s): University of Michigan Ann Arbor - Ross School of Business
MLT PROGRAMS
MBA PD 2013, MBA Prep 2013
---
Complete this sentence, "If not for MLT..."
The pursuit of an MBA, for many Black professionals, would solely be left to just that—a pursuit without the intent to retool what's gained from that journey in order to further our representation, influence, agency, and progress in the world."
Please describe the impact MLT had immediately upon completing your program.
For me, the impact was felt through the momentum that sustained me and my career well after the program's end. More immediately, however, upon program completion, it was evident that I had been ushered into a new realm of potential where I could finally dictate where I wanted to go and how I wanted to show up in the world. With increased self-determination, I now felt empowered to seek those opportunities that truly felt right for me and confident enough to forgo the ones that did not. I can honestly admit it was a major mindset shift that I wouldn't have achieved as early in my professional life.
How has MLT changed the financial/economic trajectory for you and your family?
The influence of MLT on my family is more of a non-financial phenomenon, in which traditional definitions of "value" have been confronted and challenged, forcing all of us to reimagine what is possible when our dreams are no longer held down by forces that attempt to make us economically insecure. Discussions around family legacy, asset ownership, intergenerational wealth transfer, land ownership, entrepreneurship, and financial freedom have all entered our daily conversations and planning around a future of prosperity and wholeness.
Has MLT elevated your personal and professional aspirations? If so, please provide an example.
The MLT process provided me the time and space to level up my own beliefs in what I could achieve career-wise. It also informed my need to establish a commitment to what I truly desired for my work and to exercise complete agency in that decision-making. Everything from choosing business schools amidst compelling offers, to holding out on my options for full-time employment post-graduation— these were all personal decisions anchored by lessons I'd learned early throughout my experience with MLT peers, coaches, partners, and staff.
How has MLT's community helped advance your personal and/or professional happiness?
I often look at my community as family and MLT has been that for me. Some of my closest friends from MLT reflect this notion, and have served as faithful mentors, sponsors, supporters, and guides throughout. You eventually realize that the individuals who feel called to the MLT community are the true gems that make the experience incredibly joyful. I feel grateful for my tribe and for everything I've been able to learn and share with them as a result.
Speak to a challenge MLT helped you overcome and how did that help your trajectory (i.e. confidence that you belong, growth mindset, vulnerability).
MLT gave me the space and the courage to not only figure out my story, but also how to tell it in a way that was truly unique to me. This approach, in turn, became my guidepost for how to live more authentically and boldly. Without that permission and the experience of establishing a narrative to call my own, I would not have mustered the courage to chart a path divergent to those of my peers, yet very aligned with who I am at my core. It was a long process for me to have the patience and fortitude to not pursue career opportunities that seemed to "make sense" in order to finally come across what felt in sync with my "why."
Have you helped advance vulnerable people on their path to economic mobility? If so, how?
I invest in early-stage companies that have goals to scale and grow, but also strive to expand economic opportunity for those left out of the economy. The founders of these companies demonstrate an inherent commitment to supporting vulnerable communities in the pursuit of economic justice through technology-driven enterprise. These collaborations work to capture opportunities in large markets while creating access and agency for populations typically overlooked by those same markets.
Share 2-3 ways you've been able to accelerate your organization's journey toward greater diversity and inclusion.
As a startup organization that is over 90 percent women and 100 percent people of color, I look at how our work pushes the bounds of a broader ecosystem with implications for diversity and inclusion that are expansive, nuanced, and still emerging. Bridging the gap between our external aspirations and my role at Impact America, I've developed partnerships across the spectrum with several national organizations that have a dedicated mission to increase venture capital funding, mentorship accessibility, and the distribution of high-quality educational content for underrepresented founders. We believe these initiatives will enhance coordination across service providers and resource centers which will drive better outcomes around know-how, capitalization, and inspiration to upstart within entrepreneurial enclaves that are severely underserved in the venture and tech startup space. In addition, I am committed to the established outcomes set by a group of boards, councils, and sector congregations that are working to build new infrastructure and systems that standardize inclusive practices that have proven effective. This is critical for protecting the momentum of what has been achieved while embedding accountability measures that keep us all honest about existing gaps and their impacts on longer-term efforts. It remains clear that the work ahead is not limited to the effective launch of new businesses by people of color and women, but also to the successful growing, scaling, and financial reinvesting of these enterprises as drivers of meaningful economic development, value creation and wealth generation for communities that have largely been left out. And finally, as a venture capitalist, I strive to analyze ways in which our investments can be catalytic for founders who view our dollars as a bridge or on-ramp to the next stage of growth for their firms and their respective markets. Too often, individuals who represent similar communities to those served by MLT are also lacking inroads to support, resources, and know-how for scaling a successful enterprise. As a result, many founders of promise never get to fully lift their ventures off the ground. In understanding this dynamic of the venture capital market and attempting to establish more access for those historically overlooked, I am able to do work that begins to organically drive more equity and diversity of representation into the sector while also optimizing for the best opportunities to fund great businesses. It is by counting those who have not been previously counted that we are able to unlock not only new opportunities, but also an expansive capacity to become incredibly more inclusive within our economy and within society as a whole.
Share your favorite song, movie, or book, and why it appeals to you.
I'm probably the worst at this question since my interests vary and often have no rhyme or reason to them. One book that stands out as a keeper is Cheryl Strayed's Tiny Beautiful Things. It's a collection of stories - and Strayed's own responses to them—excerpted from an advice column she ran for years called "Dear Sugar." I appreciate that many of the stories are incredibly human and emotionally complex and, nonetheless, the author puts her best foot forward in giving guidance to those who seek her wisdom, while painting a fuller picture of the realities of love and life. It's one of those books to keep on a nightstand as a reminder of what truly matters amidst the many "priorities" that regularly demand our time and energy.
What is your superpower?
I believe that what is inherently powerful in how I show up is rooted in my ability to reflect back to others a greater sense of themselves that they otherwise would not see on their own. What often limits us is how we view ourselves. I've struggled with this personally for years and therefore I often feel compelled to offer up a way to work through it when I recognize that same challenge in another.
What gives you hope?
My profession allows me to connect with incredibly brave, passionate, brilliant souls who envision a world that is more vibrant and equitable than the one we live in today. Having the privilege to look at the world through their eyes as they tell the stories of why they get up each day to build for that future vision is what gives me tremendous hope.
This content has been edited for brevity and clarity.
Published in 2019