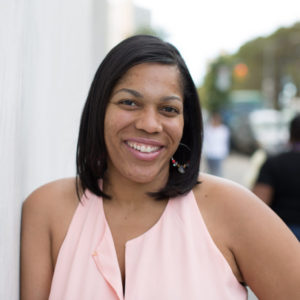 Stacey Frazier
ORGANIZATION
NYC Department of Education
EDUCATION
Undergraduate: Spelman College
MBA Program(s): University of Michigan Ann Arbor - Ross School of Business
MLT PROGRAM
MBA Prep 2008
---
Complete this sentence, "If not for MLT..."
I would not be the mentor that I am today. Many of the lessons that I impart to others are ones that impacted me the most as an MBA Prep Fellow.
Please describe the impact MLT had immediately upon completing your program.
Upon completing the MBA Prep Program, I was confident and ready to successfully start Business School. Not only did I feel like I had found the right fit, but I was ready to tackle the challenges that I would face.
How has MLT changed the financial/economic trajectory for you and your family?
MLT prepared me to go to the right business school for me. Armed with that degree, the relationships, and the skills developed, I am in the most marketable position to pursue my career goals.
Has MLT elevated your personal and professional aspirations? If so, please provide an example.
One of the things that I have been committed to is mentoring. In addition to serving in my 4th year as an Ascend Coach, I also mentor women who are looking to pursue an MBA through the Forte Foundation's MBA Launch program as well.
How has MLT's community helped advance your personal and/or professional happiness?
The MLT community has provided me with a family of like-minded individuals. Some of my dearest friends are people I met through MLT. I also have the privilege of giving back to future generations.
Speak to a challenge MLT helped you overcome and how did that help your trajectory (i.e. confidence that you belong, growth mindset, vulnerability).
MLT impressed upon me the value of relationships. It helped my personal growth and development as I learned to focus on making personal connections with people a priority. That has helped me in my career in ways that I couldn't imagine. I was on the verge of being laid off due to funding constraints, but the relationships I had fostered with colleagues got me a position on a new team without ever even having to interview.
Have you helped advance vulnerable people on their path to economic mobility? If so, how?
I am passionate about education and believe that it the great equalizer. It opens up doors of opportunity that would otherwise be closed. I use my experiences to mentor first generation college students and women looking to pursue their MBAs.
Share 2-3 ways you've been able to accelerate your organization's journey toward greater diversity and inclusion.
As a hiring manager, I give opportunities to diverse candidates who might otherwise be overlooked. I have also assisted our team with strategically sourcing contracts to support our agency's Equity and Access work.
Share your favorite song, movie, or book, and why it appeals to you.
"As" by Stevie Wonder. I love this song because it speaks to the possibility of the impossible coming true.
What is your superpower?
My superpower is my ability to tell a story. I use my words and creativity to make people feel like they were right there.
What gives you hope?
The innocence of children gives me hope. It reminds me that there are still chances to get this life thing right!
This content has been edited for brevity and clarity.
Published in 2019