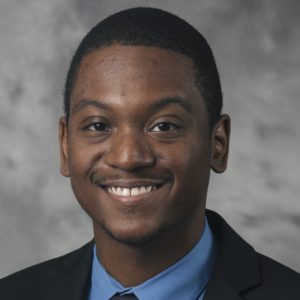 Sheldon Anderson
ORGANIZATION
Deloitte
EDUCATION
Undergraduate: University Of Florida
MBA Program(s): Purdue University - Krannert School of Management
MLT PROGRAMS
MBA PD 2016, MBA Prep 2016
---
Complete this sentence, "If not for MLT..."
If not for MLT, I would not have had the opportunity to move out of my comfort zone, and experience what a career off the traditional engineering path looks like.
Please describe the impact MLT had immediately upon completing your program.
I had a total of 14 MBA internship interviews and countless mock interviews before my other MBA peers had even seen a recruiter on campus. As a result, I had my summer internship lined up early in my first semester, so I could focus on making the most of my MBA experience.
How has MLT changed the financial/economic trajectory for you and your family?
It was never about money for me. It was always about reaching my full potential.
Has MLT elevated your personal and professional aspirations? If so, please provide an example.
Yes, in ways I would have never imagined. I always saw myself working hard to climb the corporate ladder but—post-MBA—I now see opportunities, laterally, that I can also pursue. This ranges from pursuing entrepreneurial ventures to seeking non-profit board positions. The opportunities are endless.
How has MLT's community helped advance your personal and/or professional happiness?
I still lean on my MLT coaches and key people within my MLT community whenever I feel like I've reached a crossroad or a roadblock. Post-MBA life can get stressful because every step is uncharted territory. However, it's good to have lifelong friends and mentors to provide just enough direction to keep you going on the right path.
Speak to a challenge MLT helped you overcome and how did that help your trajectory (i.e. confidence that you belong, growth mindset, vulnerability).
MLT has been an incredibly humbling experience for me. Being surrounded by some of the brightest minds in the country and hearing their goals and accomplishments was definitely intimidating at first. I learned, however, that just as impressed as I was of my peers, they were equally impressed by me and my journey. MLT has taught me that it's okay to feel small in some ways, but to always remember that my experiences and dreams can be just as much an inspiration to others, as theirs are to me.
Have you helped advance vulnerable people on their path to economic mobility? If so, how?
While in business school at Purdue University, I was asked to give a workshop to a group of underrepresented minority elementary and middle school children in our community. As I ran the workshop, it was incredibly fulfilling to hear these young black and brown students get excited about the power of saving and to see them understand concepts of financial responsibility that many adults struggle to grasp.
Share 2-3 ways you've been able to accelerate your organization's journey toward greater diversity and inclusion.
The same way that MLT has given so much to me, I make every effort I can to push forward their mission. I have participated in conference calls and panels to share my experiences with other MLTers behind me. In addition to that, I've also been heavily involved in diversity and inclusion recruiting efforts at my current employer, Deloitte. I'm happy to share that, this year, I will now be on the other side of the table leading a workshop at the next MLT conference, helping the MLTers behind me realize their goals and ambitions.
Share your favorite song, movie, or book, and why it appeals to you.
My favorite song is "Buffalo Soldier" by Bob Marley. Not only does it speak to my Jamaican heritage, but it is also a strong reminder of the struggle that my ancestors endured to grant me the privilege to be where I am today.
What is your superpower?
I have no superpowers. I am just a man who strives to take advantage of every blessing I've been graced with.
What gives you hope?
Faith, family, and friends. At the end of the day, that's what matters most.
This content has been edited for brevity and clarity.
Published in 2019