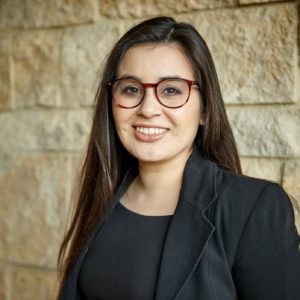 Nancy Hinojos
ORGANIZATION
Deloitte
EDUCATION
Undergraduate: Georgetown University
MLT PROGRAMS
Career Prep 2014
---
Complete this sentence, "If not for MLT..."
It would have been really challenging for me to get the critical coaching and skillset I needed to be successful in consulting- not to mention I wouldn't have my peers in my MLT class that include some of my best friends and most trusted advisors today!
Please describe the impact MLT had immediately upon completing your program.
As soon as campus recruiting kicked off, I immediately knew how to navigate the process. I felt confidence and comfort in the experience and network that I built through MLT - it was exhilarating to know that if I worked hard I would GTO! (Get the offer) I also want to recognize Coach Angie, who helped me prepare for conversations with mentors, coaches and leadership - a soft skill that became increasingly valuable for me in my international business and consulting career.
How has MLT changed the financial/economic trajectory for you and your family?
I was introduced and prepared for key industries that offer substantial economic mobility. The learning and exposure in consulting have been irreversible and invaluable, it's empowering to keep experiencing comprehensive professional development.
Has MLT elevated your personal and professional aspirations? If so, please provide an example.
Yes. Prior to MLT, in particular, I remember not knowing how consumed and distracted I was by stereotype threat and impostor syndrome. MLT enabled a space that helped me challenge those feelings. Distinctly, I remember my last conference with MLT Career Prep, where we talked about the GMAT, business school and next steps for career development. I felt ready to tackle those next steps. Today, I'm preparing very intently for the MBA / MS graduate degree application cycle, equipped with the key experiences and inspirations that MLT offered.
How has MLT's community helped advance your personal and/or professional happiness?
Several of my peers in my MLT cohort are my most trusted advisors today. Before big decisions, they've become part of my personal Board of Directors—I go to them to explore different pathways. It's encouraging, helpful, and joyful to speak with them about my journey and hear about theirs, too.
Speak to a challenge MLT helped you overcome and how did that help your trajectory (i.e. confidence that you belong, growth mindset, vulnerability).
I will never forget my first call with Coach Angie. She gave me critical feedback about time management that was transformative for me and helped set me up for success with MLT and beyond. Secondly, MLT helped me hone in on a new level of scrappiness. If opportunities became inaccessible for whatever reason, I felt like I had tangible supported strategies to find a way to at least have a meaningful conversation.
Have you helped advance vulnerable people on their path to economic mobility? If so, how?
After I graduated from college, I moved to Mexico City with the Binational Business Fulbright award to work with the social impact ecosystem. In particular, I worked with funds and social impact entrepreneurs as they designed and strengthened innovative business models that were sustainable. From B2B revenue models that taught underserved young women web development, to leasing models that provided renewable electricity to rural communities, I worked with business models that aimed to generate meaningful social impact, substantially. Then, I took my experience and energy to Deloitte. As a global firm, we've offered skills-based volunteering to similar social impact models around the world.
Share 2-3 ways you've been able to accelerate your organization's journey toward greater diversity and inclusion.
I remember being anxious about case interviews for consulting. Since joining Deloitte, I've joined our Deloitte MLT efforts to support underrepresented minority candidates in preparing for the case interview process. Happy to report that each candidate that I've worked with has received a full-time offer.
Share your favorite song, movie, or book, and why it appeals to you.
I really enjoy Coco, the Disney & Pixar movie showcasing Mexican culture and tradition around the Day of the Dead. It's powerful when media includes (and does research before producing) key, authentic elements of Mexican culture.
What is your superpower?
Analytics, bring it on! I'll clean an unorganized Excel in minutes.
What gives you hope?
When I see communities organizing to create positive social change domestically and around the world.
This content has been edited for brevity and clarity.
Published in 2019