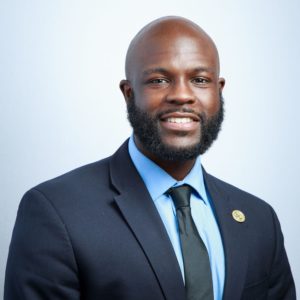 Mohamad Merilan
ORGANIZATION
Credit Suisse
EDUCATION
Undergraduate: University of Florida
MLT PROGRAM
Career Prep 2016
---
Complete this sentence, "If not for MLT..."
I most likely would not have the career I have on Wall Street, living in one of the most talked about cities on the planet.
Please describe the impact MLT had immediately upon completing your program.
MLT helped me find a career that I love and enjoy doing. MLT gave me a huge network to tap into, and from which to make lifelong friends. The professional development and exposure to companies is by far the best provided by any organization for minorities.
How has MLT changed the financial/economic trajectory for you and your family?
My family did not have the money to pay for my college education. My mother raised three kids on her $20,000 salary, so money was always tight. MLT opened doors for me and enabled me to give back to the woman who has given so much to me. MLT changed my life—for the better—forever.
Has MLT elevated your personal and professional aspirations? If so, please provide an example.
MLT attracts and develops the best talent in the nation. To be surrounded by the best and brightest and most ambitious talent has always made me determined to be my best. I plan to own my own business, in order to build generational wealth.
How has MLT's community helped advance your personal and/or professional happiness?
I moved to New York City with no ties to family there. However, I felt the sense of community at MLT alumni outings and at the casual meet-ups that are often scheduled. MLT is not just a program, it's a family. A perfect example was how my coach, Rishal Stanciel, always checked on my sister when my sister was ill with breast cancer. Coach has always been there for me.
Speak to a challenge MLT helped you overcome and how did that help your trajectory (i.e. confidence that you belong, growth mindset, vulnerability).
The majority of my life has been spent in Florida, living in the same neighborhood. MLT helped me see how big the world is—and showed me what life is like beyond my neighborhood. Being exposed to so many different people and cities really changed how I see life. By giving people the tools and resources, great things happen. MLT does just that.
Have you helped advance vulnerable people on their path to economic mobility? If so, how?
Two of the best business books I've read are Total Money Makeover by Dave Ramsey and Unshakeable by Tony Robbins. I continually share ideas from these books with my mentees, fraternity brothers, and work colleagues; in doing so, I seek to help them learn financial fitness, and with understand what it takes to become successful investors.
Share 2-3 ways you've been able to accelerate your organization's journey toward greater diversity and inclusion.
At Credit Suisse, my goal is to increase the company's diversity. That is why I planned an MLT holiday networking event on the Credit Suisse campus, hosted by the Black Professionals Network. Also, I'm heavily involved in campus recruiting for candidates who might work for Credit Suisse. Finally, in my rotational program at Credit Suisse, I facilitated a discussion on sponsorship and diversity in the workplace.
Share your favorite song, movie, or book, and why it appeals to you.
My favorite book is The Go-Giver: A Little Story about a Powerful Business Idea by Bob Burg and John Mann. This book describes the Five Laws of Stratospheric Success. Value: Your true worth is determined by how much more you give in value than you take in payment. Compensation: Your income is determined by how many people you serve and how well you serve them. Influence: Your influence is determined by how abundantly you place other people's interests first. Authenticity: The most valuable gift you have to offer is yourself. Receptivity: The key to effective giving is to stay open to receiving. I believe these lessons, as represented in the Five Laws of Stratospheric Success, are essential to achieving personal growth and professional development. Plus, the book is a great read!
What is your superpower?
I believe my superpower is my connection to people. I've always been a selfless person, and I love being a positive change agent. I want people around me to rise up because I believe in an abundance mentality.
What gives you hope?
What gives me hope is being able to change the narrative of my family history. I am determined to accomplish and succeed while setting the standard of a black man in America. I am filled with hope, knowing God gave me the talent to help others live better lives. God gave me my purpose, and I won't stop helping others until He says I'm done.
This content has been edited for brevity and clarity.
Published in 2019