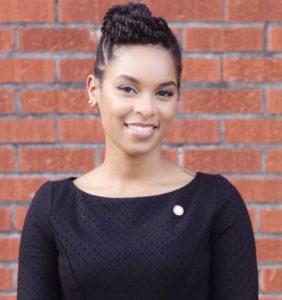 Kenya Hunt
ORGANIZATION
Estee Lauder
EDUCATION
Undergraduate: Tuskegee University
MBA Program(s): Harvard Business School
MLT PROGRAM
MBA Prep 2017
---
Complete this sentence, "If not for MLT..."
If not for MLT, I wouldn't have had the guidance I needed to get into Harvard Business School or the direction I needed to do a drastic career switch after business school.
Please describe the impact MLT had immediately upon completing your program.
My coach noticed that all of the schools on my application shortlist were fit schools and mentioned that I should consider betting on my myself by applying to an aspirational school. Without that push from my coach, I would have never applied to Harvard Business School!
How has MLT changed the financial/economic trajectory for you and your family?
I'm actually taking a pay cut by going to my new job after business school, but at least I'll be happier!
Has MLT elevated your personal and professional aspirations?
If so, please provide an example. Absolutely. When I got into MLT, I told my coach that my short-term goal was to work in product development at a beauty company and that my long-term goal was to start my own beauty brand. My coach worked with me and helped me to see that in order to run my own brand in the future, I'd have to get experience in setting strategy, launching new products, and developing new marketing campaigns for existing products. She successfully convinced me that I could gain those experiences better by becoming a marketer. Once I was introduced to brand management/product marketing, I fell in love with the role. After my first year of business school, I interned in marketing at The Estee Lauder Companies, and silently thanked my coach every day for introducing me to the role early in my MBA Prep days!
How has MLT's community helped advance your personal and/or professional happiness?
While I was in MBA Prep, I always thought that the MLT community was one of the best aspects of the program. Having the privilege of knowing 300+ black and brown people, who are all striving for more out of their lives was so inspiring. Now that I'm nearing the end of my business school experience, I've really appreciated the privilege of knowing people at every top business school in the country.
Share your favorite song, movie, or book, and why it appeals to you.
My favorite song is "Black Effect" by the Carters [Beyonce and Jay-Z]. I love this song because it's a great example of how the Carters use their combined superstar platforms to advocate for the Black community through their music.
What is your superpower?
My superpower is the ability to use both my analytical and creative skill sets when solving problems. What gives you hope? Knowing that this, too, shall pass.
This content has been edited for brevity and clarity.
Published in 2019