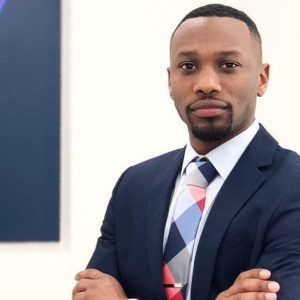 Jamar Harrison
ORGANIZATION
Delta Airlines, Inc.
EDUCATION
Undergraduate: University Of Maryland-College Park
MBA Program(s): Indiana University - Kelley School of Business
MLT PROGRAMS
MBA PD 2017, MBA Prep 2017
---
Complete this sentence, "If not for MLT..."
I would not have fully discovered the depths of my true potential. MLT made me believe in myself and challenged me to push harder and farther than I ever would have thought possible.
Please describe the impact MLT had immediately upon completing your program.
The network, the coaching, and the support doesn't stop after the program. In fact, the personal and professional relationships built during my time at MLT became the foundation on which I learned during my time at school and in the workplace. I joined a 'program' and finished with a family.
How has MLT changed the financial/economic trajectory for you and your family?
MLT has positioned me to be financially successful by giving me access to resources and opportunities that have brought me financial stability. This allows me the opportunity to give back through monetary donations to ensure that the next generation of minority world-changers has even more resources to be successful in their own journeys.
Has MLT elevated your personal and professional aspirations? If so, please provide an example.
I've always wanted to work in aviation, but MLT has given me the confidence and courage to set my sights on a senior-level executive career within aviation. More than that, MLT has pushed me to focus my career on providing visibility and giving access to minority youth interested in aviation-related careers. How I view my purpose and career impact has been broadened and amplified because of MLT.
How has MLT's community helped advance your personal and/or professional happiness?
I have gained so many best friends, counselors, confidantes, supporters and more through MLT. This community has inspired me to be a better person and continually gives me the encouragement to be the fullest, most authentic version of myself.
Speak to a challenge MLT helped you overcome and how did that help your trajectory (i.e. confidence that you belong, growth mindset, vulnerability).
MLT helped me get over the fear of sharing my most authentic self with others, both personally and professionally. I learned to unapologetically own what makes me unique and not shy away from it. By doing so, I was able to be fully present and be completely authentic in any interaction I had, both inside and out of the classroom and workplace.
Share 2-3 ways you've been able to accelerate your organization's journey toward greater diversity and inclusion.
After interning at Delta Air Lines, I made it a personal goal to increase the pipeline of diverse MBA talent interested in aviation. I dedicated a lot of free time to having informational calls, coffee chats and mock-interviews to help prepare my peers for success, especially within the MLT community. By doing so, four minority MBA candidates have successfully secured internships or full-time jobs within the airline industry. This has given me both joy and additional fire to continue to increase the talent pipeline in the future for other minorities.
Share your favorite song, movie, or book, and why it appeals to you.
Maya Angelou's I Know Why The Caged Bird Sings. It's a book that focuses on identity and shows how it's possible to turn trauma into triumph.
What is your superpower?
My ability to empathize. I have a heart for understanding and serving others. I get it from my father, an Army veteran, and my mother, a beautician of over 30 years.
What gives you hope?
My niece and nephews give me hope. I see so much potential in them and know without the shadow of a doubt that our world will be a brighter place because of them and their future impact.
This content has been edited for brevity and clarity.
Published in 2019