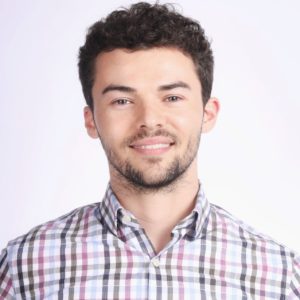 Brandon Hoffman
ORGANIZATION
Samsung NEXT
EDUCATION
Undergraduate: California State University - Fullerton, Cypress College
MBA Program(s): University of Pennsyvlania - The Wharton School and Harvard University - John F. Kenedy School of Government
MLT PROGRAMS
MBA PD 2013, MBA Prep 2013
---
Complete this sentence, "If not for MLT..."
I can confidently say that I would not have made it as far as I have, professionally and personally, if not for MLT. The relationships and opportunities that developed after joining the class of MBA Prep 2013 have changed my life on many levels.
Please describe the impact MLT had immediately upon completing your program.
MLT accelerated my preparation going into business school and allowed me to hit the ground running as soon as school started. This was important to me because I felt as though I would have to continue proving myself given my non-traditional academic and professional background (community college, Cal State Fullerton, and personal banking). That wasn't the case. Though I had never even had an internship before in my life, by the time I started classes at Wharton, I already had an Investment Banking internship and fellowship in-hand. That made all the difference with regards to my confidence when recruiting, and among peers from more privileged backgrounds.
How has MLT changed the financial/economic trajectory for you and your family?
Having been homeless more than once as a teenager and in my early 20's, I was primarily focused on establishing not only stability but also generational wealth for my family and myself. That is exactly what has happened over the last several years. With the doors that MLT opened in giving me a fair chance to get into a top business school, my career has developed in a way that allows me to ensure my son and loved ones never have to worry about stability in their lives.
Has MLT elevated your personal and professional aspirations? If so, please provide an example.
Before MLT, I was honestly skeptical of organizations that attempt to help those who are underserved, because I had personally never experienced an effective one. I found many non-profits had noble causes and good intentions, but they were never really able to impact my life. So I became more reliant upon myself and trusted the guidance of no one. However, MLT exceeded all expectations and changed my outlook. After benefitting in a major way from the guidance of MLT coaches and support from the community—the first time I ever felt a part of a real community, by the way—my personal aspirations of helping others became magnified! MLT showed me how powerful an effective organization can be in affecting change, and so I aspire to create an organization of my own to generate impact at scale.
How has MLT's community helped advance your personal and/or professional happiness?
Early on, the MLT network allowed me to understand the professional career paths that I could take by going to business school. Candid conversations and advice at that time served to be invaluable to make the most of my time in school and post-graduation have helped me navigate Wall Street and Silicon Valley toward my goals. Personally, I am beyond grateful for the family that I have gained from MLT. My closest friends are almost all from MLT, and they have all pushed me closer to finding happiness and joy in this life. These friends are my brothers and sisters. MLT is family—I mean it in every sense of the word. And, as someone who was abandoned by his own, I can say that family is everything!
Speak to a challenge MLT helped you overcome and how did that help your trajectory (i.e. confidence that you belong, growth mindset, vulnerability).
When I first joined MLT, I was overwhelmed at how successful everyone was. It seemed all Fellows had come from top Ivy League schools and were working at top investment banks. Initially, my confidence sank, and I didn't feel as though I belonged. This is likely what I would have felt if I had entered b-school without being a part of MLT; however, the MLT community revealed itself to be caring and accepting. All of my peers made me even better and pushed me even harder, allowing me to get into the top schools. When Wharton started, I came in already feeling as though I belonged, because I had about 20 of my close friends from MLT matriculating along with me. This meant the world to me, especially during a time of such change—not to feel alone.
Have you helped advance vulnerable people on their path to economic mobility? If so, how?
While at Wharton and Harvard Kennedy School, I worked with Black and Latinx students through personal sessions and group workshops to provide assistance with personal finance, financial literacy, and the building blocks of investing. I found that many students of color lacked the comfort and familiarity with such important topics, even as they were embarking onto some of the best paying jobs they had ever had. I believe it is important to arm our college and business school graduates of color with the tools necessary to be empowered financially, so that they may create pathways of economic mobility back in their communities.
Share 2-3 ways you've been able to accelerate your organization's journey toward greater diversity and inclusion.
At Samsung NEXT, I am building the Diverse Founders Initiative from the ground up with MLT alum, Antonio Key (MBA Prep 2013), and we have been pushing the organization to be more present, engaged, and supportive of diverse founders of color and the ecosystems that support them. Ultimately, we are striving to invest in more diverse founders and make our venture fund more inclusive in its investment processes to drive structural change beyond the work we are doing as individuals. Also, we were able to get approval for a sizeable marketing budget dedicated to diversity & inclusion (D&I), which has allowed us to support Black and Latinx organizations for entrepreneurs in meaningful ways. Lastly, as a member of the diversity & inclusion advisory board, we have been granted permission for a new role to be hired (a Global D&I Lead), which would be the first of its kind at the organization.
Share your favorite song, movie, or book, and why it appeals to you.
Atlas Shrugged is one of my favorite books because of its themes of individuality, strength, and purpose. In the world of business and trying to keep up with everyone's measure of success (i.e. money), I keep a powerful passage in mind, like a mantra that keeps me focused on the long-term: "Money is only a tool. It will take you wherever you wish, but it will not replace you as the driver." I didn't rise above my circumstances, join MLT, or go to business school only to make money. I know that money is simply a means and won't bring about joy on its own. Instead, I am focused on using money as a tool to bring about change for those around me and in the community.
What is your superpower?
I have the ability to turn negatives into positives. All of the adversity in my way growing up only fueled my desire and drive to overcome it. The more negativity, the stronger I become. My superpower is being able to see opportunity when others see an obstacle, because I believe that probabilities don't apply to the individual, no matter how steep the odds. Individuals defy odds all the time.
What gives you hope?
My son gives me continued hope in the future, which I am determined to positively affect in every way that I can for him and the children of the next generation. My hope is that I have learned from all I endured and encountered as a youth so that others won't have to.
This content has been edited for brevity and clarity.
Published in 2019