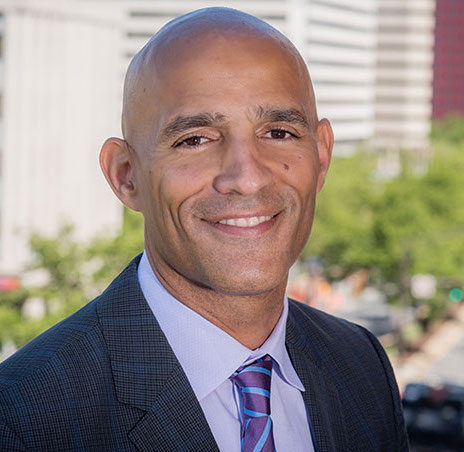 John Rice is the CEO & Founder of Management Leadership for Tomorrow (MLT), a national non-profit organization that fights racial and economic disparities by empowering a new generation of diverse leaders. Since 2002, MLT has been transforming the careers of people of color and the leadership pipelines of our most influential organizations. MLT drives breakthrough results for individuals, institutions, and communities.
MLT's acclaimed programs prepare people of color for high-trajectory, post-college jobs that deliver economic mobility for their families. Through MLT, our Rising Leaders tap into the social capital—the playbooks, coaching, and networks—they need to become senior leaders who can transform our vulnerable communities. MLT also provides comprehensive talent solutions for corporate and social sector organizations that combine best-in-class recruitment, retention, and diversity strategies.
Building on more than 15 years of experience and deep partnerships in developing and implementing DEI strategies, MLT launched the MLT Black Equity at Work Certification, a first-of-its-kind, clear standard and roadmap for companies that want to achieve Black equity.
Serving 8,000+ students and professionals nationwide, MLT is a leading source of minority talent at 170+ blue-chip partner companies, including Amazon, Boston Consulting Group, Citi, Deloitte, Goldman Sachs, Google, Greylock Partners, PepsiCo, and Target, as well as at the nation's top MBA programs. John has been featured on CBS News, CNBC, CNN, the cover of Fortune, as well as in The Atlantic, the Wall Street Journal, the Washington Post, and The Economist. He was named one of Forbes Top 30 social entrepreneurs in the world.
Prior to MLT, John was an executive with the National Basketball Association, where he served as managing director of NBA Japan, and as director of marketing for Latin America. Before joining the NBA, John spent four years with the Walt Disney Company in new business development and marketing.
John serves on the Board of Trustees of Yale University, and is a Director of Walker & Dunlop, an NYSE-traded real estate finance company. He was appointed to President Obama's Advisory Commissions on Educational Excellence for African Americans and on Historically Black Colleges. He is an advisor to Northeastern University's Center for Inclusive Computing. John also serves on a number of non-profit boards, including the Woodrow Wilson National Fellowship Foundation and venture philanthropy fund New Profit.
John grew up in Washington, D.C. His father Emmett J. Rice was a governor of the Federal Reserve System. His mother Lois Dickson Rice was considered "the mother of Pell Grants." John's older sister is Susan Rice, a diplomat and the Director of the United States Domestic Policy Council.
John received his MBA from Harvard Business School and his BA with honors from Yale, where he was a three-year starter on the basketball team. He resides in the Washington, D.C. area with his wife Andrea and their two children, Mateo and Kiki.