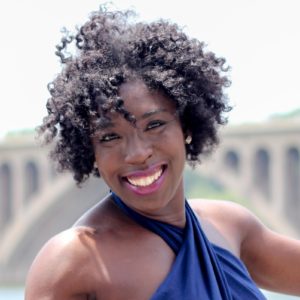 Shermica Farquhar
ORGANIZATION
American University
EDUCATION
Undergraduate: Georgetown University
MBA Program(s): University of Chicago - Booth Graduate School of Business
MLT PROGRAM
MBA Prep 2009
---
Complete this sentence, "If not for MLT..."
I would not be where I am today. From an alum's coffee chat introducing me to the concept of venture philanthropy for arts, to a spirited alum on a panel at our second session that inspired me to apply to Chicago Booth, to the brainstorm session eight years after I joined MLT —that created the Soka Tribe name—.MLT has had an immeasurable impact on my life.
Please describe the impact MLT had immediately upon completing your program.
An MLT Partner extended my first internship offer before official recruiting started at my school. The employer relationships created during my MLT MBA Prep program allowed for a deeper level of awareness of firm cultures and my potential summer pathways.
How has MLT changed the financial/economic trajectory for you and your family?
MLT MBA Prep supported me through a successful business school process, which then enabled a career switch with a 180 percent increase in salary. That jump from a media marketer to a management consultant was critical to creating a space where I felt secure enough to walk the entrepreneurial path.
Has MLT elevated your personal and professional aspirations? If so, please provide an example.
MLTers were my first exposure to "mastermind groups." The term is very trendy now, but a decade ago, when we were finding our way through the application process, that's what those monthly cohort meetings were about. As I would later explain to the Chicago Booth Admissions committee, as a first generation Trinidadian-American education and creating financial stability were intertwined priorities. For our first assignment, the "Passion Pitch Party," my slogan was "Dancing for Dollars." Amidst a lot of laughter at the verbiage, my cohort convinced my that I did not have to divorce my passion for dance and desire for financial security. Today I remember that day and can't help but smile.
How has MLT's community helped advance your personal and/or professional happiness?
MLTers are in my first line of defense personally and professionally. Although I was assigned to one coach, MLT gave me a network of them. The diversity of thought and experience has been unparalleled to any organization. I have been to weddings, funerals and everything in between. When I started Soka Tribe, there was an outpouring of support from the MLT family. The branding brainstorm was with MLTers. When I traveled to teach in new cities, MLTers acted as ambassadors. When I started taking people to Trinidad Carnival, MLTers made referrals. I value connections and MLT gave me the opportunity to build with an amazing group of people that have consistently been a source of happiness.
Speak to a challenge MLT helped you overcome and how did that help your trajectory (i.e. confidence that you belong, growth mindset, vulnerability).
My MLT experience increased my confidence by allowing me to focus on my story and not be consumed by serving as the representative for my race and gender. Being surrounded by brilliant women of color as we went through a very vulnerable process— sorting how we could shape our futures and present our visions to the admissions community— was invaluable and incredibly reassuring.
Have you helped advance vulnerable people on their path to economic mobility? If so, how?
I have offered Negotiations 101 Workshops targeted at artists. Many of the artists learned some basic frameworks to help empower them in future negotiations. They left the feedback that the structures and prep research I reviewed was useful and made them feel more confident for future conversations. Also, Soka Tribe became an employer in the Summer Youth Employment Program, in addition to summer projects with metric driven outcomes. I include career planning, resume reviews, and interview preparation throughout their summer. I have selected to work with 22 to 24-year-old youth because if they have struggled to find full-time work or are underemployed, these additional offerings can be really impactful at this age.
Share 2-3 ways you've been able to accelerate your organization's journey toward greater diversity and inclusion.
At Accenture, I tackled diversity and inclusion through recruitment and retention. I leveraged my position as campus liaison to connect diverse candidates to internal contacts with very similar backgrounds and alignments to increase the likelihood of an advocate relationship.
Share your favorite song, movie, or book, and why it appeals to you.
"No Weapon" by LFS ( Loyalty + Focus =Success). It's a soca song. inspired by the bible verse "No weapon formed against you shall prosper." The song celebrates finding success and staying positive in the face of struggles and naysayers. The entrepreneurial journey has been a rollercoaster ride. The song reminds me that "pure heart we doh fraid no weapon, And we doh runaway from no weapon, Once we have faith we straight! No weapon, Could prosper against we! No Weapon." I take a moment to dance it off and get back to it!
What is your superpower?
Harvesting untapped energy, I have the ability to dig deep within myself and others in inspire literal or figurative movement. My energy has been described as infectious. This definitely helps keep Soka Tribe Dance classes exciting and create fruitful collaborations.
What gives you hope?
Time gives me hope. With time we have the ability to create and to change. The idea that change is the only constant used to create a great level of angst. These days, however, I realize opportunities come from the unexpected.
This content has been edited for brevity and clarity.
Published in 2019