Welcome to Vanguard! A message from MLT Alum Antonia Singleton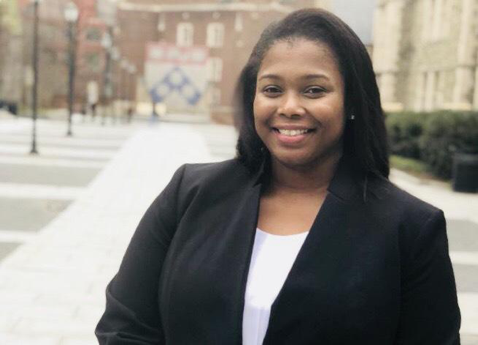 MBA Professional Development Alum Antonia Singleton offers words of advice for the newest class of MBA Prep fellows as they head into Summer Seminar!
As one of Vanguard's newest crew members, I am pleased to welcome you to Vanguard and to Philadelphia. Over the past two years, as an MBA candidate at The Wharton School, I have enjoyed living in and exploring this city of brotherly love. And now, post-MBA, I get the opportunity to call this city home, as a member of the 2018 cadre of Vanguard's Leadership Development Program.
Falling in love with Philadelphia was easy, but finding an organization that cared about its employees' personal and professional development, while also providing career trajectory flexibility was challenging. Ironically, after much research, intentional interviewing, purposeful networking, and actively building relationships and getting to know junior and senior leaders at Vanguard, I believe I have found my match. From selecting which business school to attend, to selecting which company to pursue my career, cultural fit and personal and professional development were always top of mind. That is exactly why I chose Vanguard.
Headquartered in Malvern, Pennsylvania, Vanguard is less than 40 minutes outside of Philadelphia and is in close proximity to the Chester County suburbs, New York City, New Jersey and everything in between. Consequently, in addition to its cultural experience and developmental opportunities, working at Vanguard offers great flexibility in living, traveling and commuter experiences.
I am grateful for the opportunity to transition into a new career at Vanguard this August, and I honestly could not have done this without the help of MLT. From getting accepted into the MLT 2016 MBA Prep class, to completing the MLT 2016 MBA Professional Development Program, I have had tremendous support from my peers at the top business programs across the country, MLT alumni and MLT staff – this MLT community has gotten me to where I am today. I honestly cannot thank them enough for providing me with the coaching, mentoring, resources and opportunities to dream and achieve goals far greater than I could ever imagine.
If there is one thing I gathered from MLT's seminars, it is to be intentional and consistent about making the most of your time when in front of your peers, MLT staff and business school and company representatives. Time is finite, and this Summer Seminar is no different. With that said, I encourage you  to:
Make a list of things you really care about to ask students and representatives. Canned questions and/or questions that you can Google the answers to will not help you in the long run. Additionally, it will show that you took time and effort to think about what you are looking for and what you care about most.
Take notes, reflect and digitize the experience as soon as possible. Remembering who you spoke to and what you spoke to them about is difficult. Take notes, reflect and capture these experiences as soon as you can, so you can reference them later on in the process.
Build meaningful relationships, and do not limit them to school and company representatives. Your peers are just as resourceful and impactful as the representatives you will encounter throughout this journey. Get to know them just as well.
Have a great weekend and I look forward to connecting with you all!