Alicia LeBeouf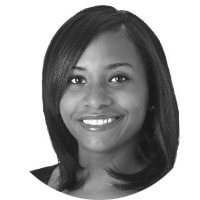 Apply to CAP if you have progressed in your career post undergrad/business school and you want to be positioned as an enterprise leader.
1. What was your career focus prior to joining MLT's CAP program?
Before MLT, I was focused on gaining the appropriate leadership skills to get promoted and lead a larger team. On paper I felt prepared, but I needed extra coaching, assessment, and tools to ensure that my transition (promotion) was seamless and a success.
2. What skills were you looking to develop when you applied to CAP? How did MLT address those areas of opportunity?
The skills that I wanted to develop include: strategy, team leadership, and executive presence. CAP had various team and one-on-one coaching sessions dedicated to these topics. The coaching also allowed time for a personal assessment of other skills I needed to develop as a leader. The strategy sessions and business school case studies helped me continue to hone my critical thinking skills and apply them to real-world situations. Overall, my "confidence" as a leader improved dramatically due to my time in CAP.
3. How has participating in the program catapulted your career forward?
I've had one full promotion and one in-role promotion since I completed the program in 2010.   I've also consistently been given additional areas of responsibility. MLT has boosted my confidence as a leader and created a platform for me to develop leadership skills to drive enterprise value.  Because my cohort was filled with mid-level managers from other companies, I was also able to think strategically about career destination planning by benchmarking with a group of like-minded peers. Since completing CAP, I have stayed in contact with my coach and members of my MLT cohort.
4. For MLT alum looking to advance in their professional careers, why should they consider applying?
The MLT mission continues to touch leaders beyond Career Prep and MBA Prep. It doesn't end after those programs. MLT CAP incorporates the same rigor as its other programs and helps talented professionals evolve as leaders in the business community. Apply to the program if you have progressed in your career post undergrad/business school and you want to be positioned as an enterprise leader, assess your current leadership gaps and create a thoughtful plan about how to move forward in your career.
5. How can one fully capitalize on all that this program has to offer?
Be engaged and be committed.  In order to have an awesome career-catapult experience, you have to put into the program as much as you want to get out.  Come open/vulnerable and ready to receive coaching.  Also come with your organization's and manager's support.