Side Hustle 101 with MLT Alum Nicaila Matthews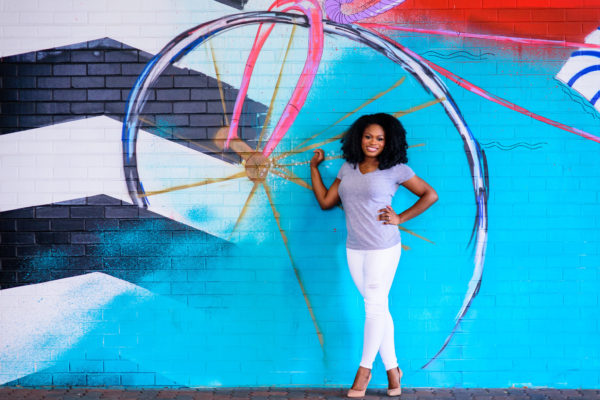 MLT Alum Nicaila Matthews (Career Prep 2005, MBA Prep 2013) is a Side Hustle expert. After graduating from University of Michigan's Ross School of Business in 2015, she reignited her love for writing and marketing through blogging. What was intended to be a website portfolio, ultimately became a launching pad for Side Hustle Pro, the first and only podcast to spotlight bold black women entrepreneurs who have scaled from side hustle to profitable business. Learn more about her path to Side Hustle Pro below.
---
Tell us a bit about yourself and your career journey until now.
I am originally from Jamaica, but I grew up in the "Boogie Down" Bronx. I have always been drawn to creative paths, so I majored in communications at the University of Pennsylvania (where I was also an MLT Career Prep Fellow). After I graduated from UPenn, I joined MTV as a Summer Associate and was fortunate enough to join them full time, first in the Standards and Practice division and then working in Nickelodeon press. I quickly learned that celebrity PR was not for me and ended up having a mid-twenties crisis where I quit my job with no real plan (OK, I thought I was going to get a Fulbright and move to London but that didn't happen). So I moved in with my parents and started soul-searching.
During that time, I discovered blogging and freelance writing and I loved it. I started sharing my content on social media, and that ultimately led me to my next role, as a social media assistant with an online retailer, Ideeli. That would set me on the path of social media marketing and I never looked back. After Ideeli, I transitioned to working for Georgetown McDonough school of business as an Assistant Director of Marketing. It was then that I finally made the decision to go back to school for my MBA. I loved the on the job experience in marketing but felt like I was teaching myself and learning by trial and error. So, of course, I applied for MLT MBA Prep and was blessed to attend the University of Michigan's Ross School of Business.
Michigan had the most impact on who I am today with Side Hustle Pro. It was there that I started to rethink my career plan for my life. Michigan has a very entrepreneurial culture, with centers that support students who want to be entrepreneurs. Although I didn't have the guts to start something while I was there, the exposure in business school demystified entrepreneurship and proved to me that it is up to me to create the life I want.
What motivated you to start the Side Hustle Pro Podcast? 
When I graduated from business school with no offer, I went back home and felt like a failure. I didn't want to stay down in the dumps so I created a website portfolio to show my skills as a digital marketer.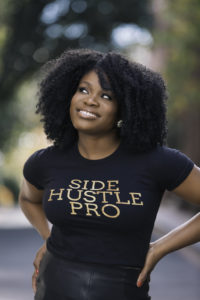 I contemplated just starting my own boutique social media marketing firm, but I was afraid of entrepreneurship. That's because I was only used to seeing one narrative of entrepreneurship, that of white men. I was drawn to stories of women of color who had a job on the side and became entrepreneurs (because that was a more realistic path to me). Since I didn't see those stories, I decided to devote my blog to sharing them myself. My blog eventually evolved into the podcast that it is today.
What is the goal of your podcast?
The goal is to educate and inspire by sharing the stories of black women entrepreneurs. I love knowing that listeners are inspired to finally take their side hustle seriously. I know that for many of us MBAs, it's not feasible to just jump off a cliff and start a business because we have student loans to pay! My hope is that people gain valuable insights on how to start as a side hustler before becoming a full-time entrepreneur. In the future, I ultimately want Side Hustle Pro to be an educational platform, a destination where you can find resources and mentors.
How do you choose your guests?
It's easy to find people who are doing "dope" things. What's harder is making sure their business is viable and finalizing who to speak to. I read a lot. I write down names of women of color when I read articles on Fast Company, TechCrunch, etc. I also have no problem with reaching out to people I don't know and I am not afraid of rejection. Even in my personal network, I've reached out to a lot of people. The MLT network is so great that I'm thankfully one or two degrees of separation from a lot of awesome women.
What two pieces of advice would you give someone trying to start a side hustle?
Give yourself a short, fixed amount of time to "plan" and then just start.
A lot of people say they don't have time, but it's not about time, it's about your choices. You may have to sacrifice some things, but it will all be worth it.
What advice would you give someone interested in starting a podcast?
I would say start here. I wrote an entire post where I detail my process and all the tools and resources I used to get started as an independent podcaster. Also, read as much as you can, learn as much as you can. A podcast is a lot more work than people think. Ask yourself why you want to launch a podcast and will you be willing to do it even when you don't feel like it? I always tell people the advice I received was to only start a podcast if you commit to doing it consistently for an entire year.
What is the most challenging aspect of maintaining a podcast?
The most challenging part right now is running a business as a side hustler. It's hard to juggle a full-time job and find the energy to shift focus to your own business after work and on the weekends, but I do it because I love it!
Why do you think having a side hustle is important?
Everyone should have a side hustle. Side hustling is the best way to keep your talents and skills fresh. Often when we get into a job, our focus narrows to one function. With a side hustle, you can explore other interests that you have. You also get to call the shots without waiting for a million stakeholders to weigh in. For me, side hustling also helped me to learn marketing techniques on my own that I now use in my current role. I started testing Facebook advertising with Side Hustle Pro and am now able to bring that skill set to NPR. Ultimately, side hustling makes you more marketable and gives you more options.
What one or two books would you recommend and why?
The Slight Edge by Jeff Olson is an excellent read about discipline. As side hustlers, we have to push through and remain focused because we only have so many hours in the day. I think of the lessons from this book whenever I'm tempted to procrastinate.
You Are A Badass by Jen Sincero: We can be our number one enemy sometimes by letting our doubts and fears take over. This book helped me to refocus and push past the negative self-talk and start being the badass I am.
Listen to Nicaila's podcast:
SideHustlePro.co/Podcast On Apple or via her website: SideHustlePro.co.
Keep up with her on Instagram: @SideHustlePro