A Playbook for Economic Mobility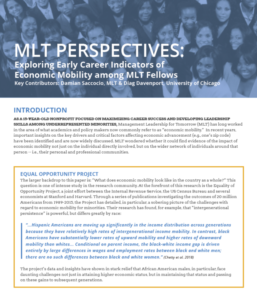 Working at MLT, I've had the distinct honor to not just write about one of the most pressing issues of our time, economic mobility and persistence of that mobility, but to be actively engaged in advancing the careers and lives of thousands of talented young people scaling the ladders of achievement and reward.
While MLT is widely respected for its career preparation programs, part of my charge here is to move that reputation beyond qualitative and toward a solid, rigorous research-based foundation. Our first major effort in that regard was released last spring in association with Brandeis University's Institute on Assets and Social Policy (IASP): Preparing People of Color for Leadership: An Evaluation of Management Leadership for Tomorrow's Career Prep Program.  
Recently, we released a short white paper that leveraged a unique data opportunity MLT has as part of its application process: the ability to compare a set of randomly selected Fellows with a comparison group that is similarly motivated. Specifically, we compared 100 randomly selected MLT Career Prep Fellows to 100 waitlisted MLT applicants over the two years of the CP Program.
The results suggest that MLT's formula of professional one-on-one coaching, personalized playbook for success, and strong peer network of similarly interested individuals does, indeed, have a measurable impact on the economic mobility gained by those in the program. There is also a positive effect on the breadth of their professional communities.  
| | | |
| --- | --- | --- |
| Group | Starting Salary | More than 400 Linkedin Connections |
| MLT Fellows | $71,656 | 84% |
| Waitlisted (Control Group) | $57,089 | 70% |
Although such numbers are directional and not conclusive, they are encouraging nonetheless. Moreover,  when combined with qualitative assessments from Fellows themselves (as provided in a survey of CP 2018 Fellows), it makes for a powerful narrative.  Here's what some of the MLT Fellows said about the benefits of MLT's approach:
One-on-one coaching: "My connection with my coach really helped me grow into a much more confident individual who is now ready to take on Corporate America."
Personalized playbooks for career success: "Mock interviews, alumni network, interview prep, pitches, networking, etc. MLT has been INVALUABLE for me and I am forever grateful to it. It's the only reason I've accepted a full-time offer, and it's something I will never forget."
Creating a community of professional peers: "The Closing Seminar was phenomenal since it allowed me to reconvene with countless of my MLT fellows and discuss our prospective professional paths."
Helping underrepresented minorities climb the economic ladder is an important goal that MLT pursues with unusual effectiveness. Scaling up such programs and ensuring their effects are long-lasting are the next set of goals.  As John Rice, MLT's Founder and CEO, notes about the future:
Career Prep Fellows receive one-on-one coaching from experienced professionals, a personalized playbook to hit the "readiness bar" at leading employers, and an accelerating network of relationships – all of which enables them to complete the last mile of their journey to economic mobility. Expanding our work so that thousands more minority students land high-trajectory jobs is not just our goal, it's also our obligation. White papers like this are important to raise awareness of how vulnerable college students remain on the path to economic stability.
As we start 2019, it is with the confidence of past success and the promise of future progress that MLT and its 1,000 current Fellows engage the challenges and opportunities the year will bring. It is a team effort on behalf of coaches, staff, and, of course, Fellows of which we can all be proud.
---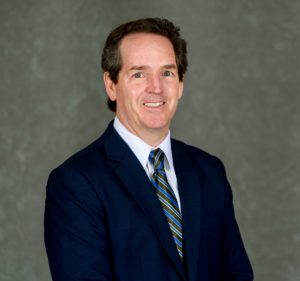 Damian Saccocio is VP for Technology and Analytics and is a long-time adjunct Professor at Georgetown McDonough School of Business, where he teaches Technology Strategy.