MLT: Helping Minority Students Succeed in Tech
By: MLT Staff
Crystal Loza (MLT Career Prep, 2017) is the first in her family to graduate from college, yet the Arizona State University senior has already landed a coveted position with tech giant Microsoft. Loza, who will be working as a data and applied scientist when she graduates next spring, says she's delighted to join her dream team, within her dream company.
The technology sector in which she will be working is among the fastest growing in the world, with high paying and highly sought after career opportunities. Unfortunately, it's also a sector struggling with gender and racial diversity issues — making Loza's story all too rare. Management Leadership for Tomorrow, MLT, is working to change that. In partnership with many top tech companies, we've made significant progress over the past year, helping Loza and other students from underrepresented backgrounds succeed in tech.
Increasing Exposure and Building Interest
We've previously found there is an information and exposure gap that prevents many talented minorities from pursuing careers in tech, and our findings in 2017 reaffirmed that. This year, MLT matched 350 Career Prep Fellows, undergraduate students, with a wide variety of corporate and social sector organizations. Incredibly, just half of the MLT minority students who successfully completed internships in the tech industry this past summer began their junior year pursuing a career in technology.
That number was even lower for minority women like Loza, 60% of whom were not pursuing a tech career when they started junior year. "I think I had an interest in tech but it wasn't definitive," Loza says. She credits an MLT assignment, which called for her to research different industries, with helping her to recognize where her true interest lay. "I was researching tech and consulting and I realized that consulting really wasn't for me. I think there were specific things about it that I was looking for but I found that I could find those exact same things in the tech industry," she says.
Preparing Fellows for Success
Before Loza and her Career Prep cohort began their summer internships, they already had access to nearly a year of MLT skill-building assignments, ongoing one-on-one coaching, and attended at least three in-person workshops to complete hands-on training with MLT's corporate and nonprofit partners. Many MLT Fellows are low-income and/or first generation college graduates, and all are underrepresented minorities. Like Loza, more than 90 percent of Fellows have full-time offers before they graduate.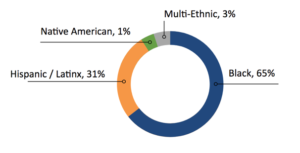 Fellows with Tech Internships
Loza was one of 77 members of MLT's Career Prep program who secured tech internships this past summer, sixty percent of whom were women of color. The students come from more than 50 colleges and universities around the country, many of which are left out of the typical tech recruiting process.
Fellows worked for approximately 20 different companies over the summer, in a variety of roles across functional areas. More than one MLT intern worked for the following companies, which represent some of the best in the world:
Adobe

Apple

Cisco

Facebook

Google

Intuit

LinkedIn

Microsoft

Pandora
What's Next
Although Loza is a first generation college student, she feels her background also helped to prepare her for success in the tech industry. "I didn't know how to pay for college but I spent hundreds and hundreds of hours figuring it out and applying to college. And so I think that kind of got me in the mentality that anything is possible." Loza is joining a community of more than 6000 MLT alumni who are changing the face of success in the workplace.
MLT also recently welcomed a new class of 370 undergraduate juniors into our next Career Prep class. Find more information on becoming an MLT Fellow or becoming an MLT institutional partner to develop and recruit more diverse talent.
###