MLT Ascend: How Coaching Provides a Gateway to Developing Leaders of Tomorrow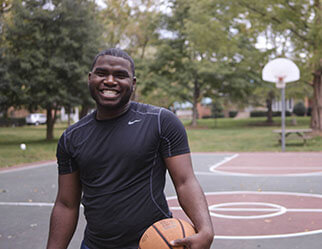 The following post is by Micheal McElveen, MLT Ascend College Program Associate
As a young professional and the first in my family ever to go to college, I understand many of the trials and triumphs MLT Ascend Scholars will encounter on the journey towards college completion. The most intriguing aspect of this new position was the opportunity to support students from a similar background in a meaningful way, given my own personal experiences. From my days escaping the ever-present pitfalls and peer pressure of Watts, California, to exploring beyond my hometown to attend college 2,600+ miles away in Washington, DC, to graduating high school with 3.5 GPA yet struggling through my first 3 semesters in college with a 2.5 GPA, I can relate to what our scholars may encounter. I have witnessed both sides of the token: from losing a $25,000 scholarship because I did not meet the demands of my merit award to making dean's list by senior year. Eventually, I graduated from American University with a job at one of the top 10 public relations firms in the country. Through all of these ups and downs, it is the lessons learned and values gained from my many coaches along the way that I will pass on to our scholars.
When my role at MLT expanded to include coaching college undergraduates, I leveraged my unique perspective to start building rapport with my cohort of 20 students. For those off to a strong start, I challenge them to forge ahead with even more discipline and ambition. For those that have stumbled, I can truly tell them that it will be okay and that – in time and with discipline – they will achieve their goals for college and beyond. Because the journey to-and-through college is not always a smooth transition. However, the journey itself builds everlasting character, which is invaluable.
My first year working for MLT has helped me refine my long-term career goals. Although I knew my career would revolve around creating opportunities for others, that path has revealed itself as a career in human resources management. I am passionate about leadership and developing talent!
It is gratifying to know that my work as a program associate and coach for MLT Ascend is making a difference in the lives of the students whom I am privileged to serve – students who will build careers in service to others. It is also an honor to be featured in Citi Foundation's global campaign, Accelerating Pathways, which highlights efforts to support economic opportunities for youth adults around the world.
The MLT Ascend program is possible through generous support from the Citi Foundation and Executive Leadership Foundation.